Design Icon: Fornasetti Atelier
Discover the story behind the iconic designs of Fornasetti Atelier, from its foundation in the 1950s by Piero Fornasetti and his mastering of the art of variation and decoration, to the modern direction taken by his son Barnaba Fornasetti to launch the Atelier as an international institution in the collective imagination. Explore home décor, furnishing accessories and classic pieces in the Atelier's classic style, all handmade in their historical Milanese location.
​True Italian heritage and Milanese spirit are expressed with a handful of fundamental values: a deep love for handcrafted production, an unmistakable eye for beauty and style, and ongoing inspiration from the artisanal traditions that have established Made in Italy as a symbol of quality and excellence.
Founded in the 1950s in Milan, ​Fornasetti is the creation of free-ranging artist Piero Fornasetti, and is one of the finest example of these incredibly rare and honest values, combined with a visionary and non-conformist spirit. Today, under the guide of his son Barnaba Fornasetti, his legacy has been brought to the twenty-first century adapting to modern needs without compromising on its immediately recognizable visual language and iconic home accessories designs.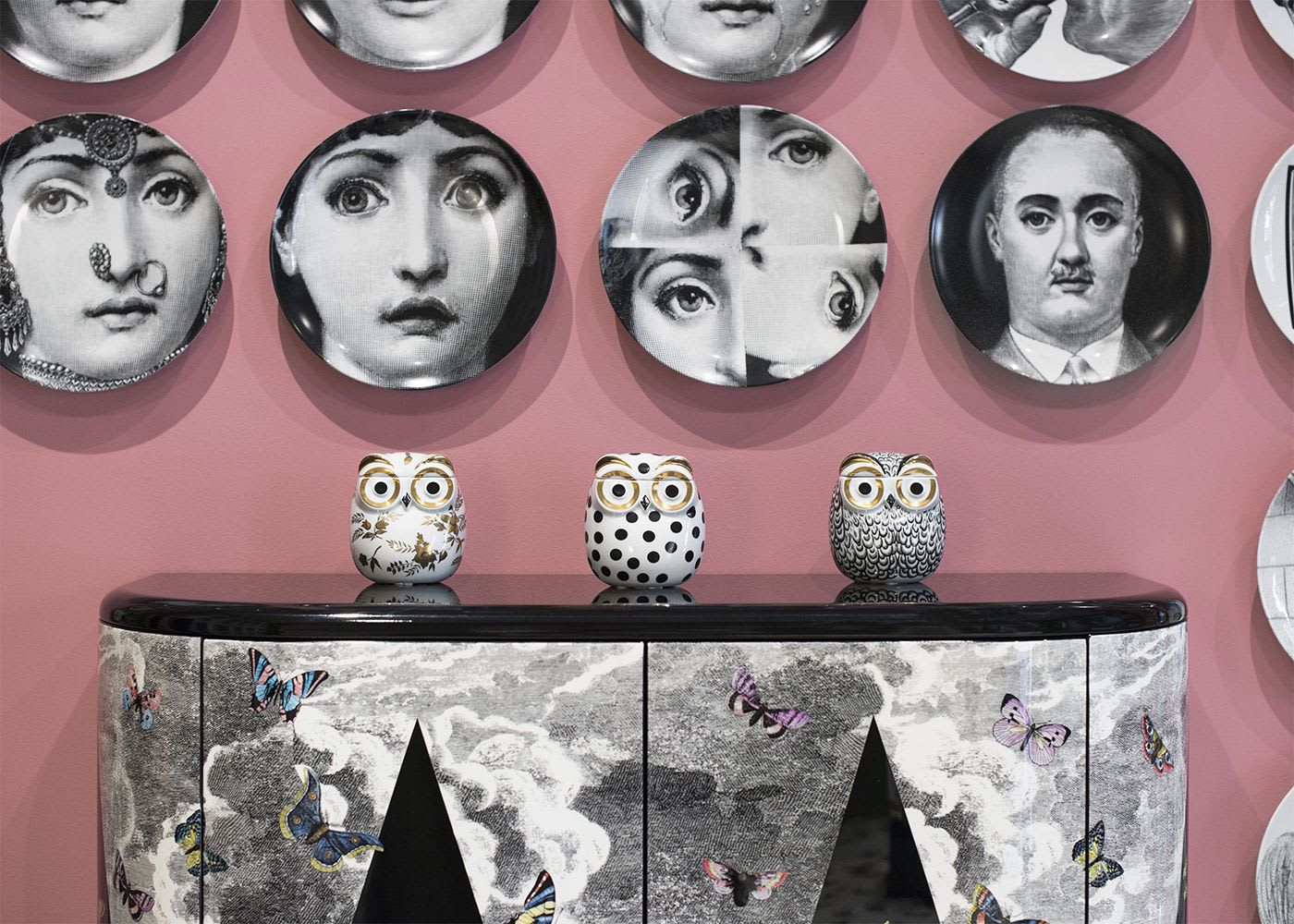 The history of ​Fornasetti and its iconic collection starts in 1930, when Piero Fornasetti opens the Art Printshop, a reference for many of the most relevant artists of its time, such as De Chirico and Fontana. A defining meeting with Gio Ponti in 1940 encourages Fornasetti to work on his idea of designing and producing home accessories for everyday use with recognizable decorations that would bring an artistic essence to every house. While the two work together on a number of design, installation and interior decoration projects, the Art Printshop is transformed and expanded to accommodate the production of those furniture and accessories, and the Fornasetti Atelier is born.
Years later, in 1956, the first Fornasetti store opens its doors in Via Manzoni in Milan, one of the streets that are most representative of the luxurious yet playful Milanese attitude towards life, further embedding the Atelier into the city's vibrant post-war atmosphere. With precious porcelains, sophisticated furnishing accessories and so called conversation pieces, the incredible variety of the collections showcased in the Atelier spans from artistry to design and is conceived to be used, observed and contemplated as a true piece of art.
​Piero and Barnaba Fornasetti
This world completely emerged from the vision of Piero Fornasetti; while his name is today associated with the world of design and décor, he was fluent in many artistic languages such as painting, drawing, graphic and product design. These varied and different inspirations became the reference point for his many designs and ideas, that he later merged to create an entirely original aesthetic that was translated in his Atelier into furniture designs and home décor pieces. His so-called "practical madness" was to put beauty, art and creativity at the service of utility, and this intuition is what launched the Atelier and its founder into the collective imagination as one of the most representative institutions in the design world.
His process began with different influences, but always stemmed from the same, rigorous principle: his designs were to be born from his imagination and dreams, following poetic metaphors and visionary figures, almost as he was declaring to the world the freedom of thinking and creating without any limit.
His son Barnaba Fornasetti has been for over thirty years at the heart of every design of the Atelier, bringing his father's vision to the modern century. By playing with this instantly recognizable pieces, adding variations and delicate changes, Barnaba managed to expand ​Fornasetti internationally without renouncing to the dreamy aesthetics and carefree imagination that makes the company who they are.
What I did was something more than decoration: it was an invitation to the imagination - Piero Fornasetti
​Themes, Variations, and Unmistakable Décor
Right at the beginning of the Atelier's history, Piero began to work on his vision of designing pieces with a distinct functionality combined with the simplicity and beauty of each material and its artisanal production, helped by his artistic fellowship with ​Gio Ponti. His idea of décor and furniture as a continuous contamination process between his influences and idea started with repetitions of the same subjects and icons, such as the Sun and Harlequins, depicted on every piece from trays to classic seatings. These subjects, stemmed from his imagination, were also traditional symbols of the Italian cultural heritage, thus appealing to a vast clientele that recognized these designs as parts of their collective past.
In 1952, this process culminated in the creation of his most famous work to date, the series "Tema e Variazioni" (theme and variations): the face of a stunning woman, with a charismatic yet puzzled gaze, repeated an infinite amount of times in different pieces with a handful of changed details each time. The face was that of Lina Cavalieri, a late nineteenth and early twentieth century artist with a career that started as a showgirl, then a soprano and lastly an internationally renowned film actress, celebrated as the most beautiful woman in the world.
Piero Fornasetti was stunned by the features of the "most beautiful woman in the world", mesmerised by her gaze and figure to the point where he dedicated entire collections to picturing her in over a hundreds variations. She was his muse even though he never met her, and her influence and vitality continue to be today one of the staple Fornasetti's visual vocabulary. From ​consoles and ​storage benches to ​classic seatings, her eyes, lips and traits are as Piero intended them to be: immediately recognizable, alluring and inspiring.
Past and present blend seamlessly in the Atelier, always oriented towards future innovation without compromising on tradition. Every piece is still completely handmade in the Milan atelier, that doubles as a workshop and showroom to showcase a selection of its creations. From the artisanal techniques that have been employed for centuries to technological improvements, the process ensures that no piece is ever the same and the uniqueness of every design is supported by the subtle imperfections of the traditional crafting method.
Every material, from ceramics to wood to different metals, follows techniques rooted in Italian culture, combining design and decoration to art. Today, ​Fornasetti is an emblem of these values, aiming to pass them of over the decades to those who contemplate one of its stunning pieces.
I am my furniture and the pieces are my personal biography - Piero Fornasetti