Alabaster: The Art in Stone
Interview with Gloria Giannelli. Keeping a tradition alive through innovation and passion for art.
​by Nenad Ciric
Creativity, perseverance and longevity – three keywords that describe the career of the Volterra born alabaster artist Gloria Giannelli. Ever since early age the fascination with one of the signature artisan crafts in this part of part of Tuscany has led her to set up her own studio and shop to create beautiful and elaborate works of art from the alabaster stone which is typical of this region. Her accomplishments have been recognized in Italy and abroad with prestigious awards and accolades. Together with fellow local artisans Gloria founded the association Arte in Bottega Volterra aimed at promoting the traditional craftsmanship and helping new generations of artisans find their own voice. Artemest talked to Giannelli about her career path, the importance of Made in Italy today and about many peculiarities that make her work a true example of Italian creativity and excellence.
​ARTEMEST: You started your career very young. Can you talk to us about your beginnings and how did you approach this form of art?
GLORIA GIANNELLI: Volterra where I grew up and still live is known for its alabaster workmanship which dates back to the Etruscan civilization. It seemed like a natural choice for me. I attended the local art school and specialized in alabaster art and subsequently opened my own shop.
A: Alabaster is a precious stone and craft that boasts a centuries-old history. Why did you choose this material as a starting point for your works of art?
GG: I was always fascinated with the alabaster sculptures. When I was a little girl, Volterra was full of little alabaster shops and the artisans were very much admired for their work and skills. I believe that has greatly influenced and inspired me to start my own creative journey. Even though I tried to work with other materials like crystal and glass, I always found that alabaster was the right fit for me and the fact that it requires constant innovation and learning is very stimulating.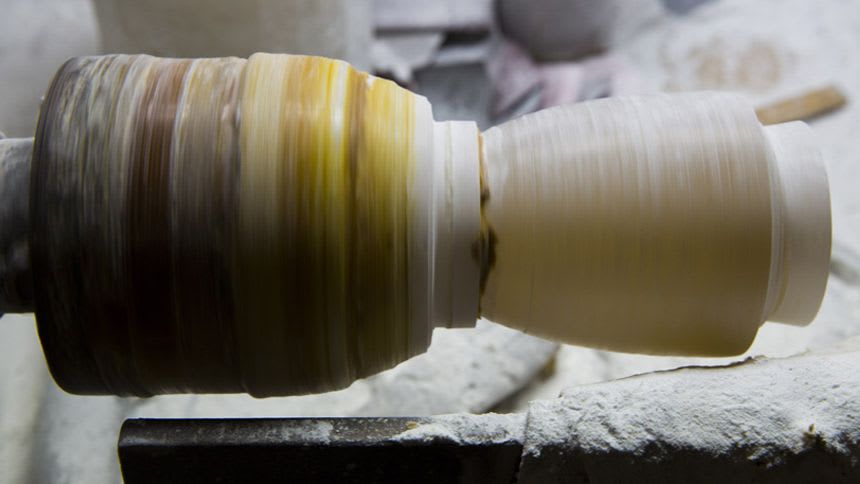 ​A: Your works are richly decorated with floral and geometric patterns. Where do you find inspiration for you alabaster sculptures?
GG: All my works are characterized by elaborate fretworks and trimmings that require a lot of patience and research. I am very connected to my roots and Volterra is at heart of all my designs. For example the floral patterns are my interpretation of the typical local grape leaves. The ancient Etruscan vases serve as inspiration for geometric decorations. And of course, the Tuscan landscapes are another frequent leitmotiv.
​A: From an idea to a finished product - can you take us through the different phases that are required to complete one of your works.
GG: It starts with a sketch of my design followed by the turning on a lathe. Once this process is completed I start engraving the object using an instrument that resembles the dentist's drill. Depending on the complexity of the design, the time needed to complete on object varies from a couple of hours to several days.
​A: Today more than ever, the fusion of traditional craftsmanship and cutting-edge technology is notable in various forms of art. Some artisans have welcomed this innovation with open arms, others have remained immune to this trend and still today prefer to work with only their hands, creativity and raw materials. What is your point of view?
GG: Technology certainly helps. The instruments that are available today allow me to work faster but also in a more precise and delicate way. In the past, the instruments that were at our disposal were much harder on the material and the risk of breaking or damaging the object during its making was great. For me personally, the new instruments and technology are more than useful but an artisan's work in the end must be characterized by manual work. Otherwise, if the work is done mostly by the machines, you lose the richness and tradition of our craft.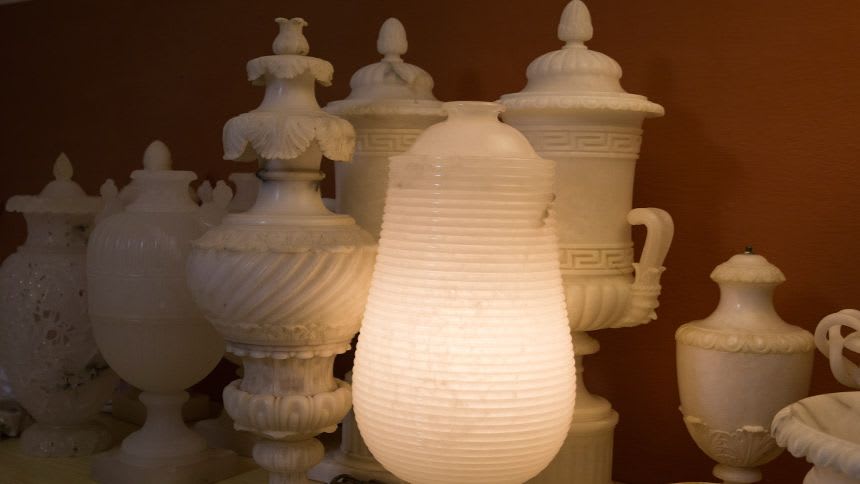 ​A: Is there one item from your vast collection that stands out for its particular beauty and meaning it has for you?
GG: Up until the last week, I kept a special lamp in my shop for two years. It was made in amber alabaster in Art déco style decorated with leaves and roses motifs. I was very attached to it but last week an Australian couple visited my shop and chose to buy precisely this piece. I was a bit saddened to let it go but I realize it is part of my job. Before sending it away, I gave it a hug and we properly said goodbye to each other. I could try to recreate it but it would never be the same. The color of alabaster and the decoration change from one piece to another and that is what makes the finished piece unique and priceless.
About the author Nenad Ciric is a writer and social media specialist based in Milan, Italy.