New Life at the Press Club
George Calombaris and March Studio's triple project in Melbourne, Australia. A feast for the eyes and the palate.
By Marta Lavinia Carboni
Melbourne's Central Business District is also Australia's intellectual capital. Hidden behind the neoclassical front of the old Herald Sun building, now you find a very particular culinary project. George Calombaris is an eccentric Australian chef who was also judge at Masterchef. He owns many places in Melbourne, including The Press Club: 84 elegant seats where you can enjoy high-quality Greek food.
Things change in 2013 when Calombaris and his business partner George Sykiotis, supported by the Made Establishment group, decide to renovate and open three new restaurants each with its own decor, a project signed by March Studio architects Rodney Eggleston and Anne-Laure Cavigneaux – already known for the international flagship store Aesop and other successful projects around the city.​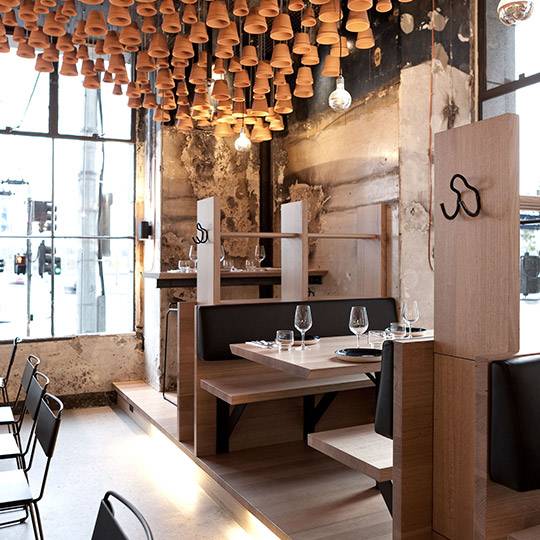 The first one to open is Gazi: a fun Greek restaurant where you can grab Greek street food sitting between raw walls and a marvelously wavy and cozy ceiling made of hundreds of terracotta vases of all sizes. The project's purpose was to give a very nice acoustic to the place playing on the crowd's happy and bubbly conversations.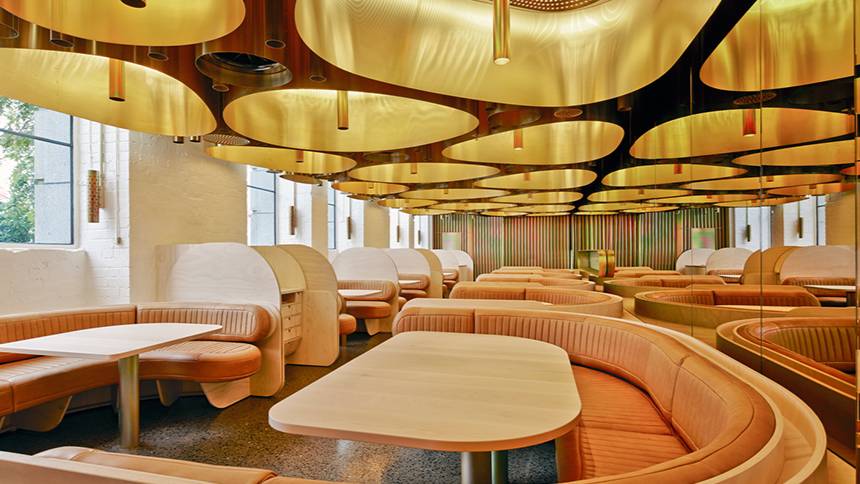 ​The Press Club 2.0 opens later on within the space that was once the bar. Intimate and well planned up to the smallest detail, the place has a studied approach to food. The tables are clustered inside circular warm wooden benches upholstered in soft leather. The ceiling consists on irregular ellipses in brass that have been hand shaped to form an organic volume covering the entire room, from the walls to the windows, settling above each table to create a bubble. Inside you find perforated plates that distribute sound and tubes for lighting, speakers and other services. On the back of the room, which seats 32 people, you have a piece of furniture, actually a corian made from a mixture of brass and steel, that serves as a bar and glasses of all shapes stand there keeping their balance. The water pipes come down from the ceiling and evolve into an entrance door opening to Flinders street.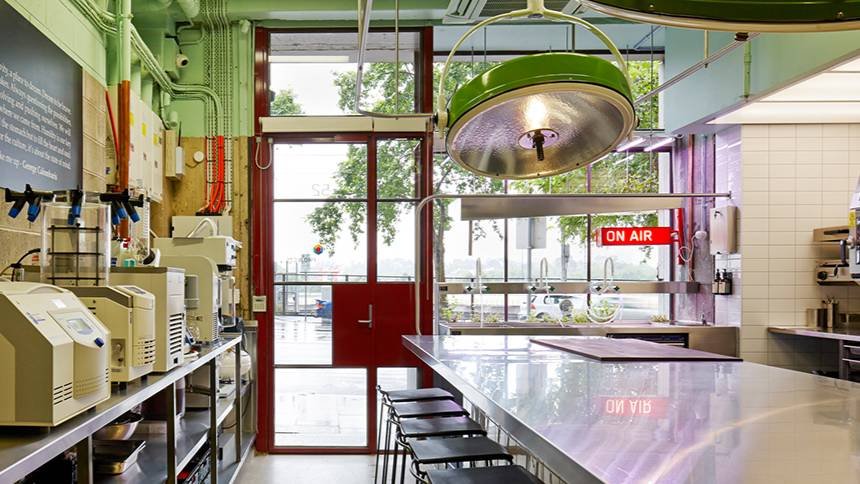 Last one is Press Projects, a small experimental kitchen that opened recently. You can taste the dishes and discover the menu by making an appointment. March Studio – a name to keep in mind when it comes to international architecture -is behind the design. This is actually a very tight and rectangular place-laboratory, the walls are pale green, the pipes visible, the bricks white, and the stainless steel kitchen island stands in the middle of the room.
Three spots, one next to the other. A small revolution when it comes to Australia's culinary world, new formats, high-quality food, a passion now shared by many. A way to enjoy the art of conviviality.
​About the author Marta Lavinia Carboni works at Vogue and Elle Decor Italia. She designs and likes to do research, with a preference for color and space. Carboni worked for Nava, Zucchi and Italo Treno.