Conscious Minimalism by Alix Lawson
Understated and mindful décor designed with a thoughtful approach is the essence of Conscious Minimalism. Discover Alix Lawson's interiors and her "less is more" design approach: pursuing the concept of simplicity as a new way of conceiving luxury.
​​Alix Lawson founded her eponymous brand in 2018 with the aim to embrace a thoughtful approach to design and revive her passion for minimalism. After 15 years in the design industry, Alix decided to manifest her point of view, offering an antidote to the so-called "luxury overdose" of the London scene.
She firmly believes that real luxury lies not in richness and ornateness but in the absence of useless frills. Starting from this idea, she coined the term Conscious Minimalism, which translates into her signature understated style, infusing interiors with raw materials and wisely blending Scandinavian, Australian and Japanese design styles.
​How would you describe your personal style and what's your signature touch that makes your projects unique?
My studio represents my personal style which is contemporary minimalism, a blend of Scandinavian, Australian and Japanese design styles which strives to bring tranquility and intelligent design into homes. My design aesthetic is a move away from the noise of traditional 'luxury' and opulence and a reroute towards subtler design with great focus on materials and mood. Minimalism, or at least my minimalist aesthetic is not about an absence, or a lacking, it is more a conscious simplicity - a choice to do more with less. I'm a firm believer that simplicity is the new luxury.

Are there any specific trends that you're currently blending in your practice?
I'm not one for following trends as I strive to create interiors with longevity. However the new Japandi term has been relevant in my projects for the last few years. Layering tone on tone is one of my go-to methods for minimalist spaces and is such a simple way to bring a calm refinement to a room.
​Where do you draw inspiration for your projects?
From nature - I was raised in Australia, where indoors and outdoors merge constantly and nature is at the core of everything we do. Days at the beach looking out at the ocean and vast skies have heavily influenced my design approach. I have always had a slight nomadic spirit, and traveling is my favorite hobby, so wanderlust also features heavily in my sources of inspiration.
What would be your dream project to work on?
My own! I would love to design and build my own modernist house overlooking the ocean. Clean lines, timber, concrete and glass, all with a seamless connection between the indoors and outdoors.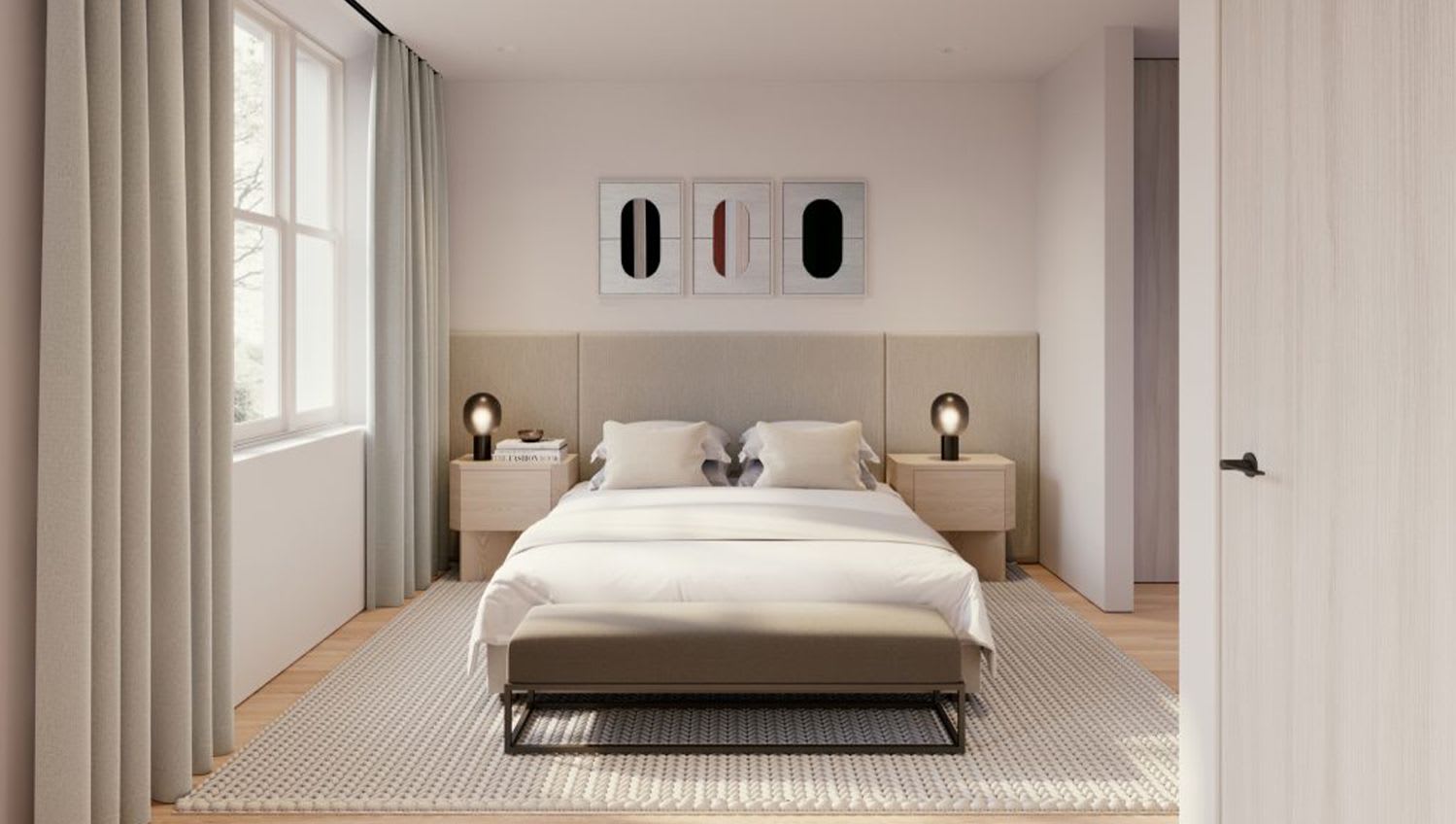 ​What do you think the next big trend in interior design is going to be?
This past year has accelerated the need for calm. The stress of Covid-19, lockdowns and working from home for months on end has forced a re-evaluation of priorities and a societal shift in lifestyle. Where we once valued business, we value relaxation, where we once crammed into the underground we have re-discovered the joy in a long and aimless walk.
The meteoric rise of mindfulness in the public conscience over the past year cannot be underestimated. But I believe the calm we pursue in retreats, detoxes and meditation apps should start with our homes, where we now spend more time than ever. This need to cleanse our living environments and shift towards calmer design can be seen in the interior term of the moment: 'Japandi.' The key to Japandi's success as a design fusion is how one concept balances out the other, the Scandi notion of "hygge" (comfy cosiness) softens the at times clinical elements of Japanese design and this blend produces a pared-back sense of calm. The Japandi trend offers the perfect blueprint to achieve peace and quiet in your home.
​Do you have an interior design master that you look up to?
Tadao Ando, my greatest interior and architectural influence. The way he plays with light and simplicity has been hugely influential in my career and creative development. Ando brings nature into his work in such a seamless way, the 'outside-in' element resonates with me as a reminder of home in Australia, where using interiors and architecture to frame nature is so prevalent. His graceful simplicity is the considered minimalist approach I bring to my work and his ability to bring an intense sense of calm to his design is something I strive to emulate.