Brass Treasures by Brass Brothers & Co.
Enter the Florentine workshop of Brass Brothers & Co. and meet Simone, Pierfrancesco and Michelangelo who have surrounded themselves with designers, architects and expert craftsmen with over 50 years of experience and together they produce unique lighting and furniture brass pieces.
​​Two Florentine brothers and their cousin took over the family brass laboratory, and with love, dedication and an eye to the future, created a new brand of lighting fixtures and furnishings inspired by the objects they used to look at every day as children, and by the harmony and beauty of their city.

In ​Brass Brothers & Co. workshop Simone, Pierfrancesco and Michelangelo have surrounded themselves with designers, architects and expert craftsmen with over 50 years of experience, which has enabled them to manufacture an artisanal, customizable line of products entirely made in and around Florence. The result is a contemporary line of items with a vintage feel and a close attention to materials, in which craftsmanship and design coexist and interact.
Tell us about your products and what makes them special.
Our objects are first and foremost the product of artisanal manufacturing that makes each of them unique. Our esthetic ranges from a contemporary style to a more Baroque look, but the common ground is the artisanal production process, from creation to design all the way to the execution. Our clients can choose to customize finish and, partially, dimension and models, and those who can visit our workshop will see the old-fashioned atmosphere of a mid-century artisan laboratory combined with the professional expertise of a company with 50 years of experience.
Could you describe the production process?
We purchase the raw material in plates, pipes and rods, according to the object we intend to produce. We design each object on the computer and make a model in wood or wax or even with 3D printers. Depending on the final product, there are different manufacturing processes (cutting, turning, welding, and so on). The majority of the work is executed in the workshop in via Senese, by Porta Romana, except for metalwork such as smelting or chemical finishing, that can't be done within the city limits and for which we have spaces outside the city. Lastly, we assemble the pieces adding electrical material, in case of lighting fixtures, or, if required, other materials such as glass, crystal, marble or wood.
Tell us the story of the company.
My father, Antonio Calcinai, opened his laboratory Il Bronzetto in 1963 after learning the trade with a brass artisan. My brother, cousin and I used to go to the workshop after school and earned our weekly allowance by helping out with small jobs. After my father's death in 1997, Simone, my brother Pierfrancesco and I became owners. In 2010 my cousin Michelangelo joined us and introduced us to technological innovations such as the 3D printer and digital design. We constantly strove to improve and in 2015 invested in a larger space and a new marketing plan that created the brand Brass Brothers & Co.
Who are the most important people in your company?
The three of us get along very well both personally and as business partners. I am the curious and creative one and because of that I work with clients and look for inspiration in the world around me. My brother Pierfrancesco is the cornerstone of the company: meticulous and always on time, he is in charge of managing the production and warehouse and supervising human resources. Our cousin Michelangelo is a genius with technology, solving difficult manufacturing issues when needed.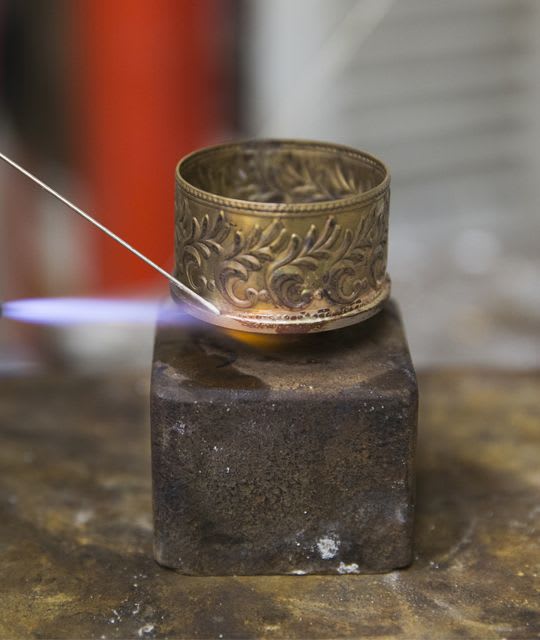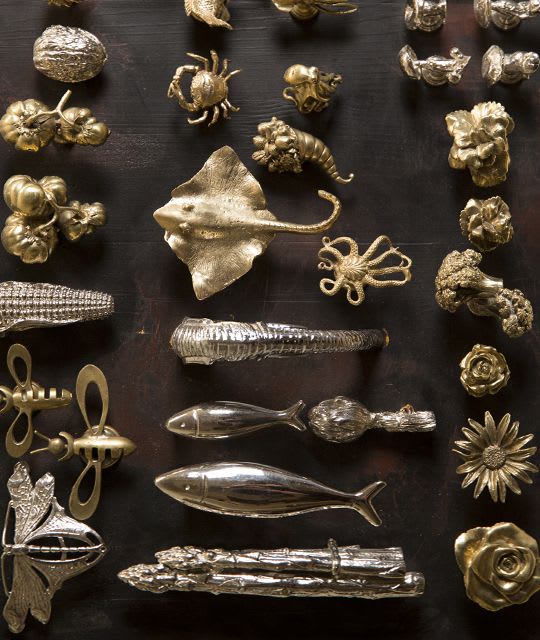 How do your surroundings influence your work?
Florence is constantly before our eyes and in our minds, and we share with our fellow Florentines a love of harmony, beauty, and high quality. We still often use ancient technologies in producing our objects and some of our pieces are a modern variation of Renaissance and Baroque models that you can still find in the urban fabric or in the aristocratic homes of our clients.
Are there special projects or collaborations you are particularly proud of?
You can find our products throughout Florence in renowned museums like the Uffizi, luxury hotels such as Villa Cora, or in prestigious private homes all over town, such as the residence of the Ferragamo family. We are expanding internationally, working for clients in Europe, Russia, the United States, and China.