Gianluca Pacchioni's Metal Artworks
Read the interview curated by the Cologni Foundation with, master in the art of forging metals, Gianluca Pacchioni, nominated among the 75 MAM -Maestro d'Arte e Mestiere in 2016, the tribute created by the Cologni Foundation that encompasses some of the most talented artisans in Italy.
Born in Milan, and with a background in economics and business, ​Gianluca Pacchioni moved to Paris in the nineties where he was plunged into the Paris art world. Overcome with a passion for sculpting metals, he experimented, self-taught, in a shared studio at the Quai de la Gare. These experimental works gained him his fame and popularity. He returned to Milan wanting to combine his ideas with the flexibility, experience, and creativity of Italian artisans. Gianluca Pacchioni now works in his beautiful Milan-based workshop continuing his exploration with different metals, and innovative techniques.
Tell us your story.
After a degree at the Bocconi University in Milan, I moved to Paris. Here, during the 90s, I got in touch with the artistic universe of the French capital and I discovered my passion for metalsculpting: I started to practice it first as a self-taught apprentice, in a studio shared with other artists at Quai de la Gare. These experimentations led to my very first collection of metal sculptures: pieces of furniture presented by the Vivendi Gallery in Place des Vosges. These were intense years, during which I absorbed beauty and creativity taking part in the artistic life of the city, attending the ateliers and the underground squats. Paris is democratically open to the young artists: there is a culture of sharing and easy access to the teachings and public subsidies. But the artisanal realization of the pieces is something else: it is much more difficult to make your own project come true. My return to Milan was necessary to work in close connection with the Italian artisans, and to treasure their expertise and creativity. The transition from designer to "homo faber", that marked my history, derives from this close relation with craftsmen.
​Which training have you followed? How did your education influence the choice of your profession?
I am a self-made artist. I invented my technique and my style. My professional growth is the result of a series of meetings, of attending wonderful workshops with craftsmen and artists that sometimes inspired me, sometimes gave me their tools and machines; but most of all, they were a continue source of inspiration. I personally follow all the aspects of the creative and productive process, in my Milanese atelier where I settled the forge and the laboratories in 1998.

Tell us how your works come to life. Where do you find your inspiration?
I love the material, I love its imperfections, its scars. I love contrasts and I try to highlight them.I spend entire days abusing these metals but at the end I touch them, I caress them. Formally, I find useful inspiration in the vegetal world; but the aesthetic research is never ending.
​Which materials and which techniques do you use?
My research and my investigation never come to an end: from iron and all its patinas, to stainless steel, to bronze, brass, aluminium, patinas and experimental techniques of liquid cold metals. The laboratory realizes works with innovative workings and techniques, mixing them with traditional ones like forging or fusion, or in a dialogue with the goldsmith's ones. For example, the technique of the liquid metal becomes a new filter I can revisit and rework with some of the historical pieces of my collection, like the lightning sculptures "Cut" or the sculptured mirror "Pupil". The pieces, nowadays created with these techniques, allow me to add endless variations. A very important part of the process is the one concerning the patinas previously obtained, with waxes created ad hoc for every need.
Do you think that young generations could be interested to follow in your footsteps?
Unfortunately, I don't think that young generations are really interested to "get their hands dirty" though, during my last
exposition in Milan, I met lots of curious and smart students interested in the techniques of my works. Their questions were really focused. It could be a positive sign!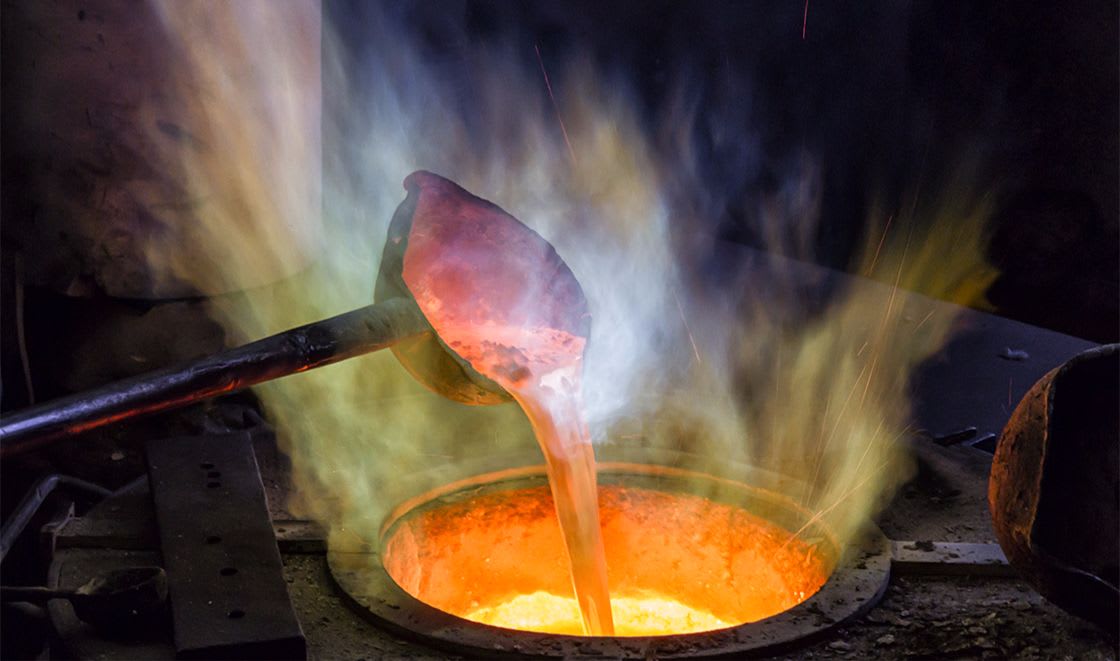 ​The interview to this great master is realized by the ​Cologni Foundation for the Métiers d'Art.
The Cologni Foundation for the Métiers d'Art is a private, non-profit institution, founded in Milan by Franco Cologni in1995. It promotes cultural, scientific and educational initiatives for the protection and diffusion of the metiérs d'art (artistic professions). Through the editorial series "Mestieri d'Arte" (Metiérs d'Art) and "Ricerche" (Research), published by Marsilio Editori, it aims to retrace these highly skilled practices throughout history up to the present day. The Foundation has created the magazine "Mestieri d'Arte & Design (Arts & Crafts & Design)" together with the Swan Group. Through the apprenticeship programs in the "A School, a Job. A Road to Excellence" project, the foundation supports high-quality craftsmanship training for younger generations.