Pierfrancesco Solimene's Ceramics
Four generations of ceramists have followed in this Campania-based family run workshop. Pierfrancesco Solimene stands for unmatched quality, care for detail and ancient craftsmanship techniques, that are expressed in colorful and exquisite ceramic creations. Discover more about this unique atelier based in Vietri Sul Mare, one of the most renowned Italian centers for ceramic production.
​Four generations of ceramists have been at the helm of the Solimene brand. Tell us your story.
Solimene Art is a family-run company whose ceramic production began with my great-grandfather and my grandfather Francesco Solimene (1912-1979), a skilled potter who was able to give life to completely experimental forms. His works contributed to creating the inventory of shapes and colors known as "glass ceramics". Unfortunately, Francesco fell ill in 1966, yet remained active in the factory reaching artistic maturity and complete mastery of the craft: it was during this happy creative phase that he produced unique pieces of great value that literally flew off the shelf, both nationally and abroad. Meanwhile, his disease progressed and he passed away in 1979. He was the first to pursue his father's passion and since then, like a candle lit from father to son, ceramics has become part of the life of all the Solimene family. I have been exposed to this material from a very young age, one could say that I grew up with "bread and ceramics"! I vividly remember painting tiles as a child, the bowls overflowing with colors and the astonishment I felt in admiring the final result after firing the ceramics. Over the years and with the expansion of the family, the company has changed: in 2003, Solimene Art was established, first under the guidance of Antonio Solimene, followed by Pierfrancesco Solimene, and now with us in the present day, representing the fourth generation of potters.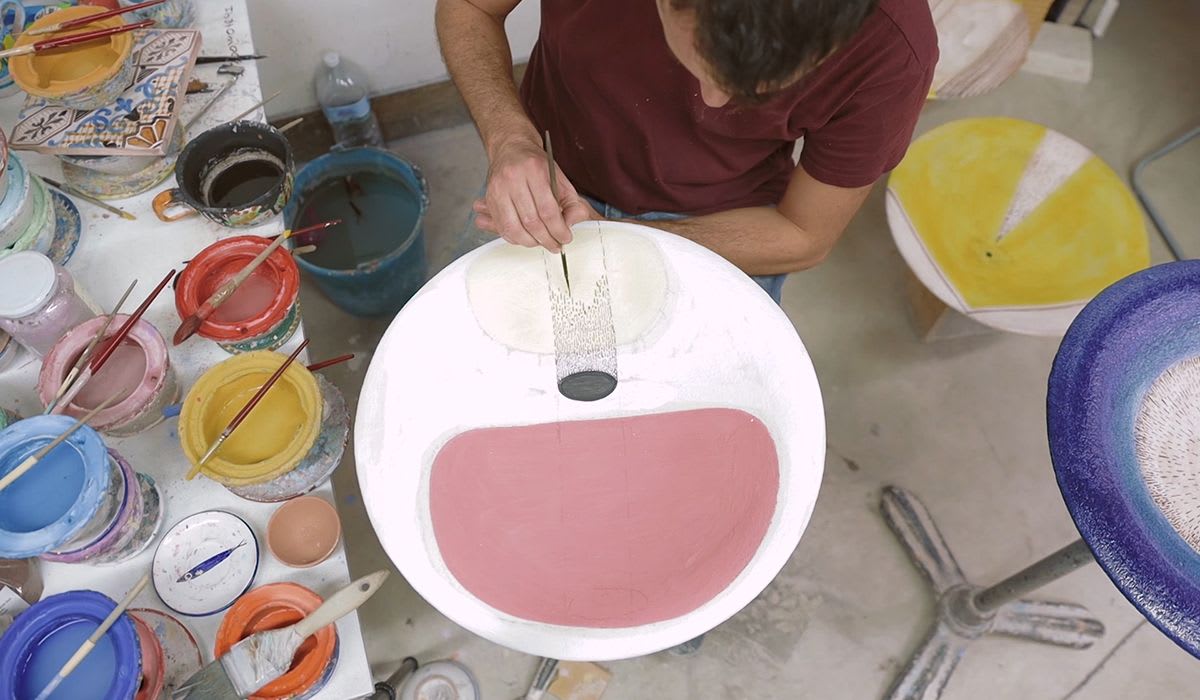 ​The Solimene workshop is located in the picturesque town of Cava de' Tirreni, located on the Amalfi coast, near Vietri Sul Mare. How has your territory influenced your production?
For years our territory has been a never-ending source of outstanding ceramic craftsmanship, the most prolific artistic period is the so-called "German period". In the early 20s in Vietri there was a succession of students from the Academy of Applied Arts in Vienna as well as German artists, who gave life to the artistic imagery distinctive of Vietri and Mediterranean ceramics that is still in use today. Clearly this heritage becomes an important starting point, and above all a valuable lesson for a reality such as ours in which ceramics is present everywhere, from common objects of daily use, to the majolica domes that enrich the landscape. We must look at such an ancient material always with fresh eyes.
Your ceramic creations, produced by hand in every stage, stand out for their unique beauty. What are the main sources of inspiration for your production? What makes a Solimene Art piece really special?
One of our main objectives is the desire to reclaim the hand-made process, that is the entirely artisanal methods carried out in workshops. We always value the product not as a mass-produced object but as an artistic one, endowed with uniqueness and originality
​How important is experimenting with new techniques and materials?
I have always been interested in experimenting with "new" aesthetic solutions, both for the texture of the surface and the evolution of the décor, constantly keeping in mind that what I do has a daily encounter in the homes and lives of people. So, although I am bound to an almost archaic manual skill, I try to create a dialogue with a contemporary aesthetic taste.
Solimene Art has collaborated with architecture and design studios for the development of splendid ceramic collections, such as the "Mediterraneo" series of dishes. Can you anticipate new projects for the future?
The ​Mediterraneo series was created by​ Sovrappensiero Design Studio and it was one of my first collaborations with a design studio. Lorenzo and Ernesto came to our workshop more than 5 years ago, and I was struck by the enthusiasm and strength they were able to convey in their works. Numerous other collaborations have followed since then, including one with Hands on Design, a Milanese studio that brings together artisans and designers, with whom we have presented at Fuorisalone in 2018 projects by designers ​Sara Ricciardi, Massimo Barbierato and StudioIrvine. We have some exciting news on the horizon, but cannot reveal anything just yet.