Wood Carving by Daniele Nencioni
Meet Daniele Nencioni, the wood sculptor and artisan based in the famous craftsmanship neighbourhood of Santo Spirito in Florence since 1980. Through skillful woodcarving, Daniele creates stunning works such as handmade mirrors and wooden chairs, and has worked over the years on impactful projects such as the reconstruction of the Imperial castle in Moscow.
​Daniele Nencionistarted his activity in 1980 in Santo Stefano, the world-renowned craftsmanship neighbourhood in Florence; immersed in such a vibrant atmosphere, his artisanal activity has become over the years synonymous with authentic Made in Italy. Daniele works with wood and specializes in the art of woodcarving by hand, creating stunning sculptures and furnishing pieces such as mirror frames, décor accessories and seatings. Each work is carefully put together following ancient traditions, that have been handed down from generation to generation in the Tuscan area.
With such an impressive activity, Daniele Nencioni has had the opportunity of working on magnificent and influential projects, such as the reconstruction of the Imperial castle in Moscow, Montecassino's sacristy and yacht décor and furnishing. Read our interview with Daniele and discover where he draws his inspiration from, why he picked wood as his mean of work and his unmissable spots in Florence.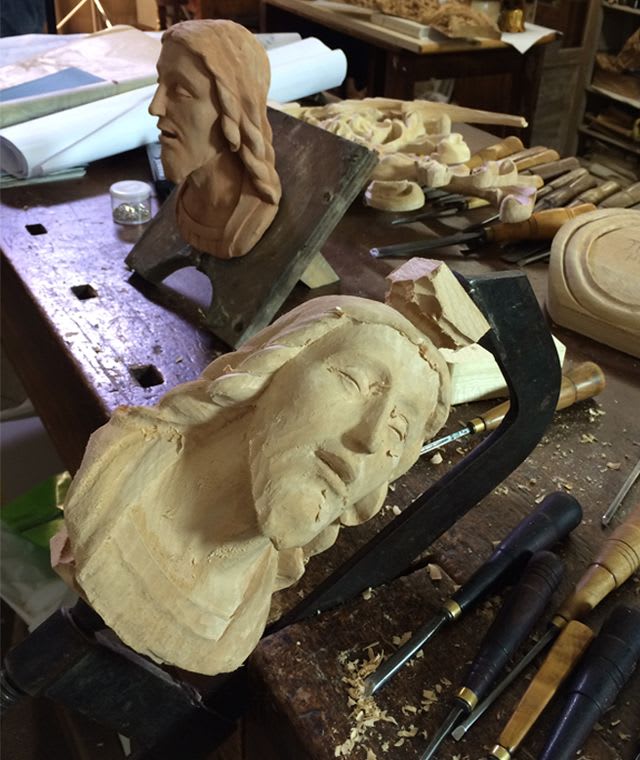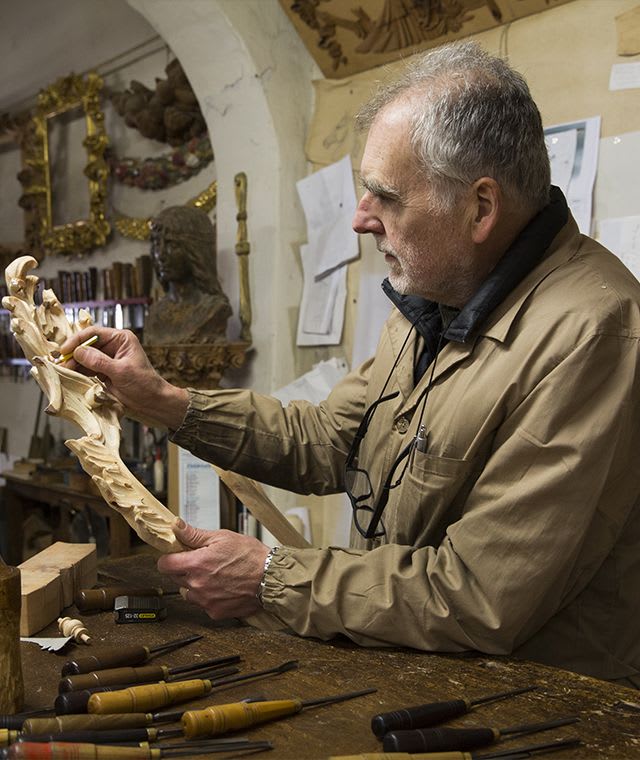 ​Your workshop is based in Santo Spirito, one of Florence's famous craftsmanship neighborhoods. In what way does the territory influence your work?
We know that the best place for our workshop is the neighborhood of Santo Spirito because it is rich in antiques, it is close to the most important museums of the city and to the fellow artisans whom we have known for years and who help us with the creation of our works.
Which is the most interesting project you have worked on?
At a very young age, when I had just started my internship, I assisted my boss in the reconstruction of Montecassino's sacristy which was bombed during WWII. I had the opportunity of observing him study the XVII century Neapolitan style, and creating new drawings for the destroyed parts of the sacristy. Although fragmented, the engravings left from the carvers of the time continue to communicate with us until today.
​What inspires your most peculiar works?
We usually create our pieces by collaborating with the client and by meeting their requests. That is what mainly inspires our works.
What do you believe to be the most fascinating characteristic of wood?
Every tree and every single essence seems to have the specific purpose of becoming something else, something that challenges time and that will accompany man in many areas of his life.
Which part of Florence do you love the most?
I'm aware that my workshop is of service for a common good, although it is experiencing some difficult times with the cultural detachment from tradition. However, young people who peek in the workshop understand the beauty of learning a craft, and the possibility that such a craft may become your life's purpose, as it happened to me.