Handpainting on Velvet by Anna Paola Cibin
Meet Venice-born artist Anna Paola Cibin and discover how she creates unique decorative pieces by painting on velvet, a technique inspired by the old Venetian tapestry tradition. Her talent, passion, and constant search for details produce entirely original and captivating art pieces blending Venetian-glass elements, gold-and silver-leaf decorations on precious velvet.
Venice-born artist Anna Paola Cibin studied art and design at the Institute of Art in Venice. After a brief period in London, she returned to Venice to collaborate with Murano's glass masters, and in 1997, she began painting on velvet, a technique inspired by old Venetian tapestry tradition. Her talent, passion, and constant search for details produce entirely original and captivating art pieces blending Venetian-glass elements, gold-and silver-leaf decorations on luxurious velvets. Her works have been showcased in Vienna, Paris, London, New York, and Singapore.
Read our interview with Anna Paola Cibin on Artemest magazine, and discover her manufacturing process, her love for velvet and where she finds her inspiration from.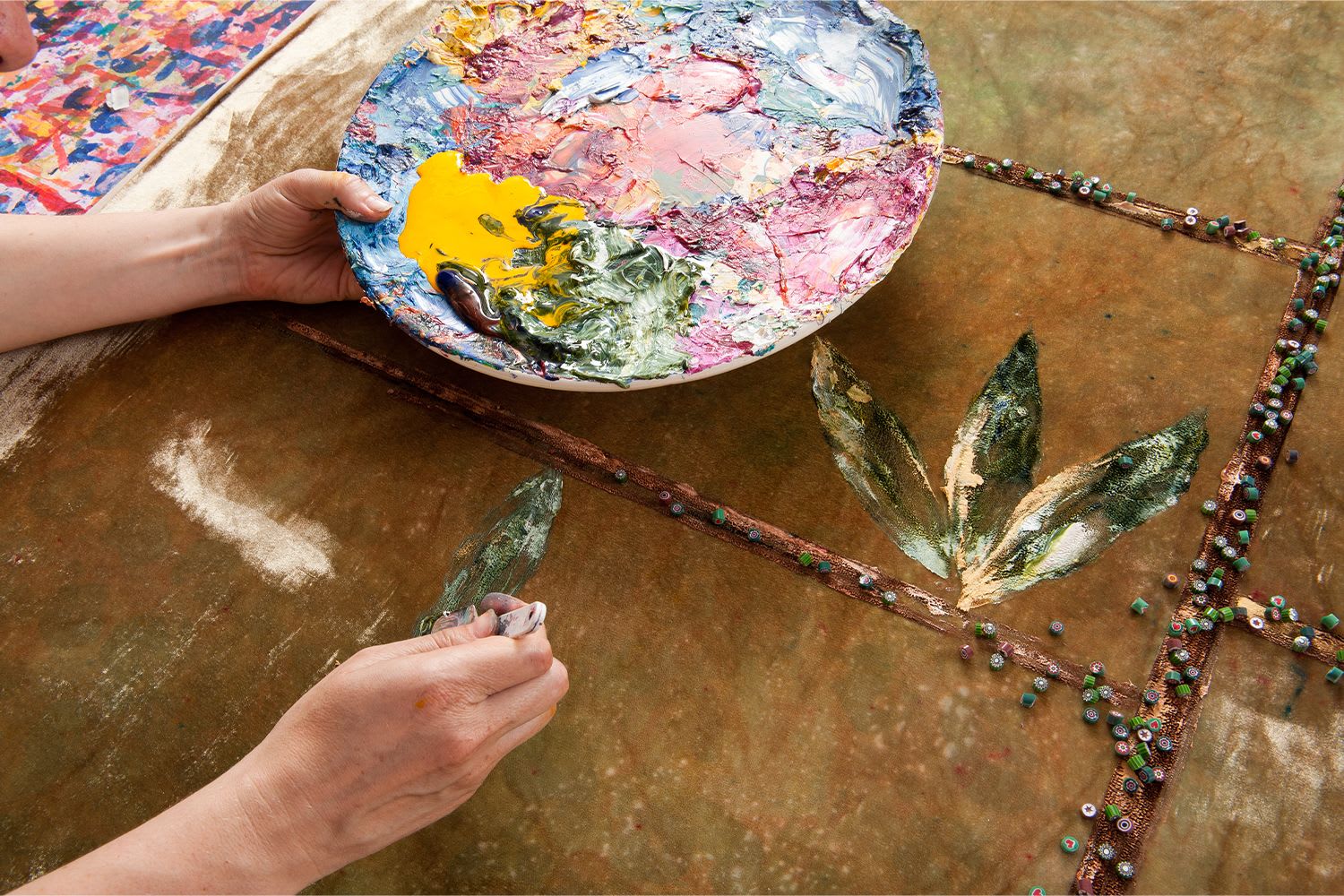 ​How did you approach the world of craftsmanship?
Ever since I was a child, I have been fascinated by all those types of jobs that require manual skills, knowledge of raw materials, and a sense of creativity. I would say it is almost a "family matter": I used to help my father who was a furniture restorer and a woodworker, and I used to play with the swatches from the fabrics that my mother employed to create dresses and costumes. My parents showed me the importance of working hard even on the smallest things, and they taught me to love what one does and to do it artfully.
What inspires the abstract landscapes of your works?
Sometimes the images appear already fully shaped in my mind, without my having thought them; other times I am inspired by a peculiar color, or by the detail of an object, or of a photograph. Almost every time, however, my idea begins to take shape from the sea, from its colors, and the sinuous movements of fish.
​Why did you choose the velvet painting technique?
What fascinates you the most about this refined material? I enrolled at the Art Institute of Venice, in the Weaving department, and although I knew I would have to work with fabrics, I still did not know how, until I learnt how to dye velvet: in that moment I found out velvet was going to be "My" fabric. Since then, I studied the history of coloring and printing on ancient Venetian tapestry, which was carried out using blocks of wood. After perfecting this technique, I realized that it was not enough to express all of my ideas, and I began to create some working tools and spatulas that I would then use to impress color on velvet: this is how I conceived my velvet painting technique. Velvet cannot be painted using soft brushes, so my small tools became a sort of "hard brushes". Everytime I dye white silk velvet with colors, I enter a magical atmosphere. When colored, silk velvet becomes iridescent, it plays with the light at times creating or concealing the main drawing or the glass details. Everytime I complete one work, I believe I have just realized the first half of that work, for the second half is filled in by light, lending it unexpected reflections.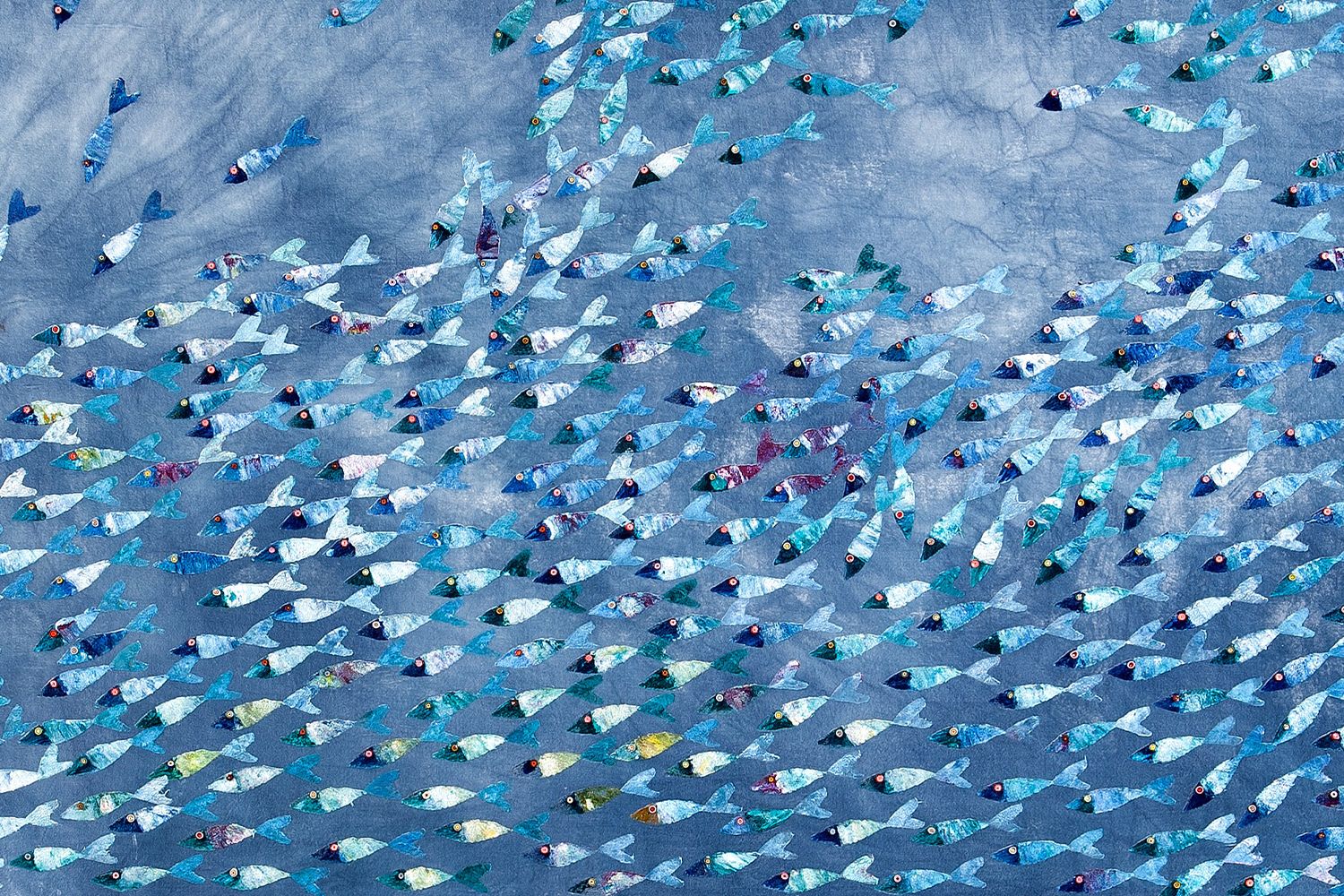 ​Tell us about the manufacturing process of one of your works.
First of all I prepare the velvet and the dyes. I prepare the pigments. I usually don't even need to try them first, for the right color is always immediate. It rarely happens that the color does not come out as I wanted, and in that case I temporarily give up and start over the next day. Secondly, I immerse velvet in water and I move it based on the effect and the intensity I want to obtain. After that, I hang it and leave it to dry for a long time before stretching it and attaching it on the table to slowly begin to paint it. This painting technique involves various layers and overlaps. The image that I had previously thought partly changes on the velvet surface, taking on an instinctive shape. Then, I leave it to dry for two days at least, and then I assemble or directly work on it based on whether it is a tapestry, a screen, or a cushion. At the very last moment I add glass, Murrinas, or gold leaf.
Is there a particular project that you wish to carry out with your works?
I wish to create a public work, something that can be shared, that people can feel a part of, and I wish to create this in Venice, my city… but I am already working on it.
What places are not to be missed during a first trip to Venice?
The first time in Venice, one must absolutely experience the steamboat tour by night along the Canal Grande. It will feel like a dream. One must also go to the Rialto fish market at seven in the morning, and walk through the Jewish Ghetto, and the surrounding area where one can breathe in the local atmosphere, filled with "Bacari", typical Venetian bars that cannot be missed.