Artemest NYC Designer Lounge
Artemest opens a New York Designer Lounge: a space where interior designers, press & private clients can visit by appointment. Designed by MR Architecture + Décor, the lounge features a selection of Artemest furnishings: an elegant sofa by Tacchini, silk patterned carpet from Kristiina Lassus, Murano glass and brass chandelier by Alberto Donà, and a rotating selection of unique decorative pieces.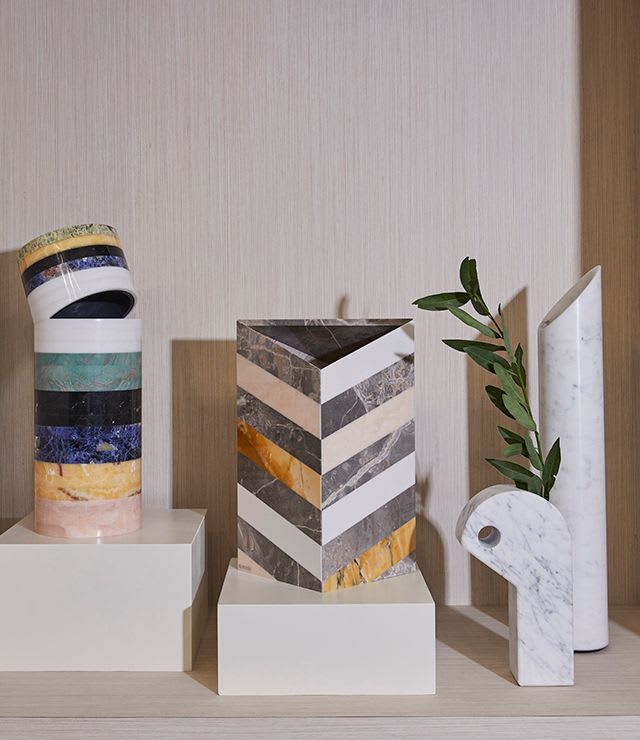 ​Artemest is pleased to announce the opening of its NYC Designer Lounge. The space will serve as a working studio for Artemest, where interior designers, press and private clients have the opportunity to visit the space by appointments to review existing merchandise, create bespoke pieces, and in the case of interior designers use the space to schedule appointments with their private clients to work on custom projects.
The lounge has been designed by David Mann, founder of ​MR Architecture + Décor in collaboration with Ippolita Rostagno, Co-founder & Creative Director of Artemest. Upon entering the space located on the 10th floor of 259 West 30th, you are welcomed by a cozy central lounge decorated with some of Artemest's fine pieces: an elegant white curvilinear sofa by ​Tacchini flanked by a white Carrara marble and brass coffee table by ​Hagit Pincovici, two oval tables by ​Tato designed by Ignazio Gardella paired with elegant chairs by ​Pacini & Cappellini create a striking harmony.
The lounge is anchored by a large silk patterned carpet from ​Kriistina Lassus and a large chandelier in Murano glass and brass by Venetian artisan ​Alberto Donà. In addition to the striking selection of furniture and lighting by Artemest's artisans, guests will find a rotating selection of decorative pieces such as the Paduka wood sculpture by ​Tropica Design, eclectic blown-glass vases by ​Memphis Milano; representing the varied range of materials and specific Italian crafting techniques.
259 West 30th Street- 10th Floor
10001, New York City​
T. 646 597 4570
Space available by appointment, book via email nyclounge@artemest.com