Coralla Maiuri: Colorful Ceramic Art
Meet artist Coralla Maiuri and gaze through her dynamic universe of colorful and opulent ceramics. Her artworks are inspired by the decorative Baroque style: a triumph of pastel colors and golden drops conveying a feeling of pure poetry and wonder.
​​Coralla Maiuri is a renowned artist based in Rome and Milan. Her works are highly appreciated for their signature glamor and have been exhibited around the globe. Resulting from experimentations with different materials, her ceramic and porcelain creations are inspired by her passion for nature and are crafted and decorated by hand.
Born in Mexico to an Italian father and a Polish mother, Coralla is a multifaceted artist with an innate talent. Self-taught and devoted to experimentation, she found her artistic language in ceramics, working on her art pieces in her studio located in a 16th-century Roman palazzo. This is where the magic happens: each piece is molded by the free spirit of the artist, creating an explosion of abstract images.
Meet Coralla and browse through her delicately gold-leafed plates, oversize vases splashed in expressionistic swaths of color and a blaze of exquisite table accessories full of grace and joyful spirit.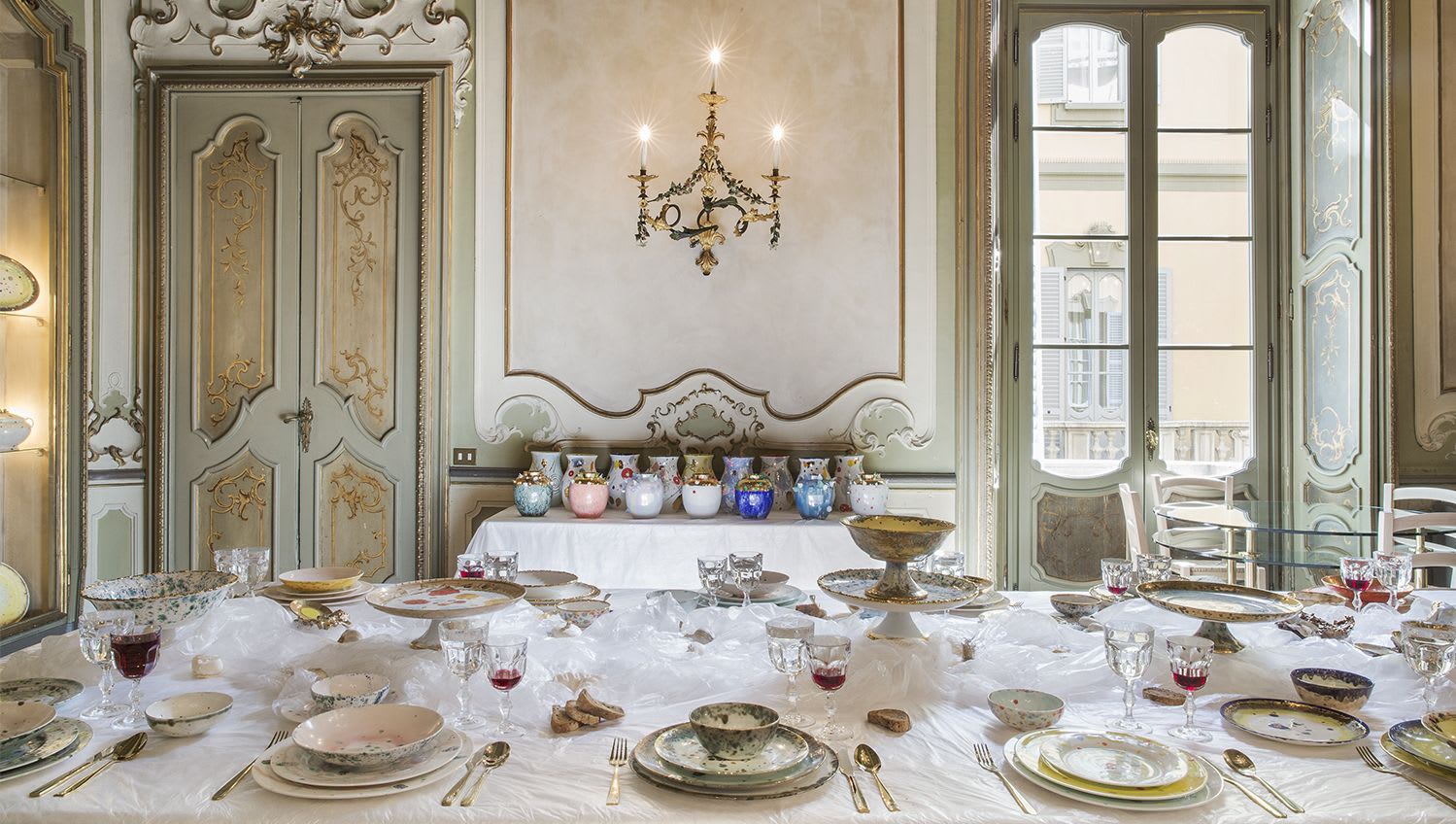 ​Your creations seem to come from dreamlike, faraway worlds, with an extremely sophisticated and unique design. Where do you draw your inspiration from?
I don't know where my inspiration comes from, I simply do what makes me feel good: imagining things I hope the world will be enthralled by.
Tell us about the creative process behind your creations.
I don't know what creative process means, personally it's like a vague sensation floating inside of me and if I manage to grab hold of it, much like a diviner, it can be transformed into shapes and colors, like a painting, plate, textile or a combination of silicon and gold.
Porcelain is the material you have chosen to channel your creativity, through bright colors and original shapes: what fascinates you the most about this material? Why did you decide to enrich it with gold and silver?
I use many other materials as well, yet I have chosen to showcase porcelain. I prefer bone china, which has the advantage of sustaining textured decorations thanks to its resilient chemical structure, whereas other European porcelains would break very easily. As for the gold and silver, I bring them into play because they confer an ethereal touch to my creations, much like the way gold was used in sacred art, Baroque churches, religious iconography, and the golden backgrounds of 14th- and 15th-century wood panels.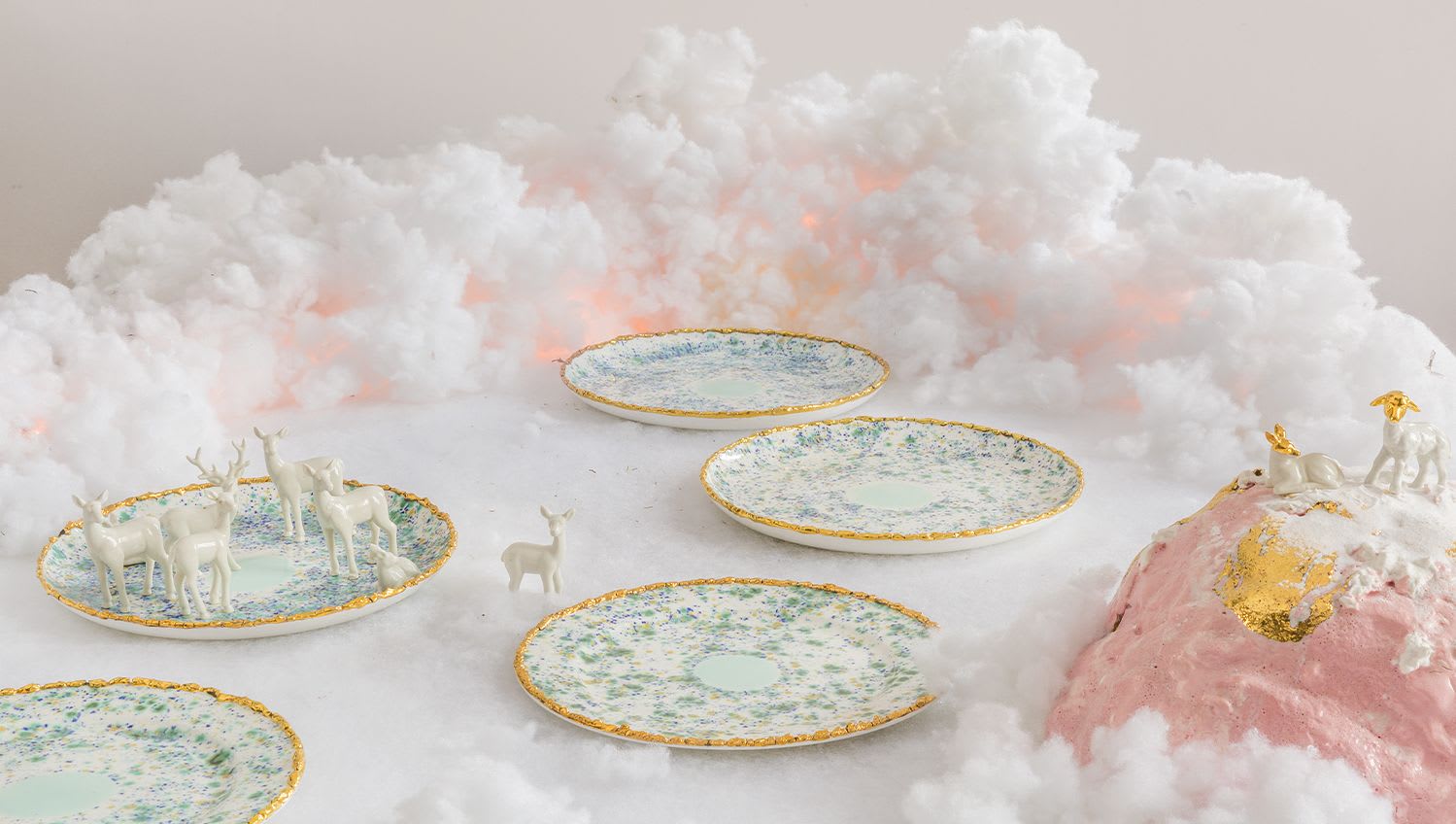 ​You have very diverse geographical and cultural roots: how does your background influence your art? Do you feel a deep connection with your roots?
It is true. I was born in Mexico. My Polish mother was an actress, born in Brazil to diplomatic parents from a family of intellectuals and explorers. Her uncle was curator of the Polish pavilion at the first Universal Exhibition in Paris. My father Dino Maiuri was a screenwriter, and his uncle was the famous archaeologist Amedeo Maiuri. I can't say I feel a deep connection with my roots, I neither ground myself nor identify strongly with them, however they are indeed part of the weft and warp of one's personality.
​Your ceramics are the expression of a refined creativity, one that combines art and design while enhancing the beauty of handmade objects. How did your passion blossom?
Creativity, refinement and beauty were how I grabbed the attention of my two glamorous parents, whom I loved very much but were always away when I was young, withheld by their passions and vulnerabilities.