Eclectic Design by Extroverso
Meet Manuela Dello Strologo, art director of Extroverso. With a desire to build a bridge between modernity and tradition, she formed a network of creative and dynamic designers that come together to create functional pieces with artful designs.
​​Extroverso is an eclectic design brand born under the vison of Manuela Dello Strologo, it brings together talented designers from different international backgrounds, who united by unconventional aesthetic develop innovative furnishing objects, with the quality of made in Italy craftmanship.
Mainly focusing on seating and tables ​Extroverso's pieces mix and match bold colors with contemporary patterns and unique shapes, to create one-of-a-kind furniture that reflect the identity of their authors. Furthermore, the collaborations between Manuella and the designers are always driven by friendship but above all, they believe that the true essence of the brand goes above the product, by developing the ideas as a team with a shared vision.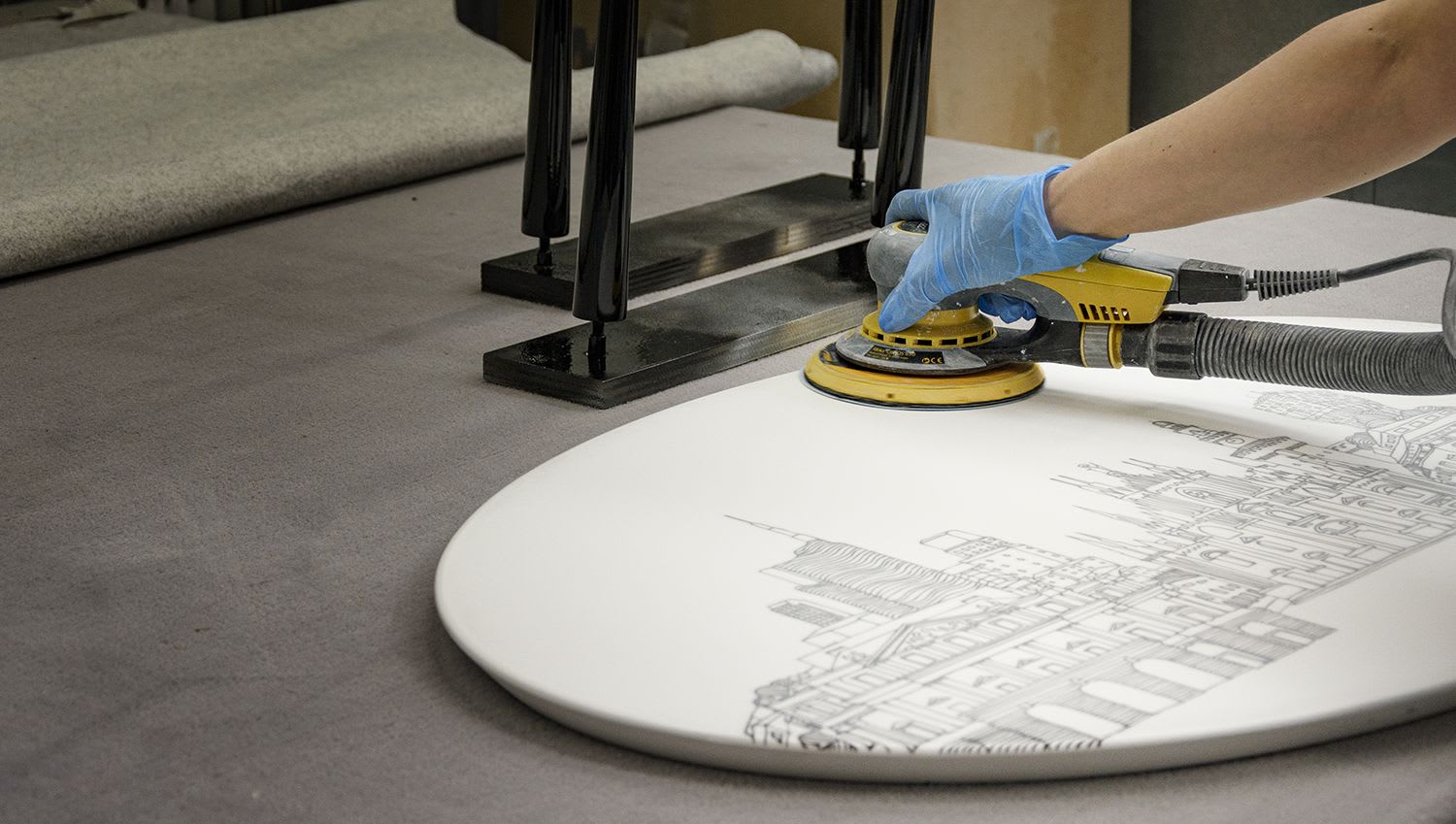 How did your background in geography and economics inform your interest in the furniture and decoration industry?
My liberal arts education (BA in Literature and MA in Social Anthropology) cultivated a propensity for always seeking the "story" behind things: cultural value, social significance, the artist's and artisan's history, local traditions, and workshop artistry. These are all extraordinary aspects that are revealed in the products, objects, and furnishings whose value goes beyond aesthetic beauty.
​In this sense, my background indeed cultivated a concept of furniture whose exclusivity and originality are linked to its artistic, cultural, and artisanal value, beyond functionality and beauty. In our own small way, we are proud to promote handcrafted products and craftsmanship, which are at risk of being lost or unknown and unappreciated.
How did Extroverso's collaborations with designers begin?
The first collaborations emerged from friendships with special, talented individuals, not only in design but also in illustration, fashion, and decorative arts. Anna Sutor was among the first: I adore her style and I have asked her to reinterpret some tables using her drawings. The result is the "Close Up" series of small tables with illustrations of Italian cities, which is still one of our best sellers.
​Then there is Chie Mihara, the famous women's shoe designer: my love for her slightly retro taste and her color combinations led to our collaboration for a capsule collection of novel furniture (shoe rack and coffee tables Ginko and Libelulas).
​In most cases, we feature talented women, whose creativity and personality spark an idea that is further developed together with professionalism and determination.
Given the various creative identities merging into your brand thanks to designer collaborations, what is the red thread linking all your pieces?
Sometimes I wonder about that too!
​We collaborate with designers who are often very different not just in terms of taste but also in background and artistic language. What unites our creations is certainly the unusual design - in other words, the originality and unconventionality with respect to furnishing standards.
​Many of our creations can be considered eccentric and even just a single piece can enliven an interior, be it a modern or classic furniture scheme. Of course, we also work on more neutral and harmonious projects and furnishings (which we always do for custom projects), but we like to combine colorful and jovial elements.
​Another unifying element in our creations is the high-quality craftsmanship, the attention to detail, and prized materials such as leather, wood, and stone which we respect in their natural beauty and enhance with contemporary designs and traditional workmanship.
From bold colors and patterns, all Extroverso's pieces honor the brand's name. Is there a particular piece or collection, that you think specially embodies this concept?
We certainly love colors and graphic patterns, which we use often in prints, fabrics, and decorative elements. The New Moon armchair/chair certainly expresses the concept of how an Art Deco-inspired - and therefore "classic" design - can be dressed in color and different graphics, taking on a totally modern and always new look truly suitable for any interior.
​The collection designed by Inveloveritas was born from the idea of graphically reinterpreting traditional Sardinian textile textures in a contemporary way, recreating the lines and patterns on small tables and panels (printed or perforated).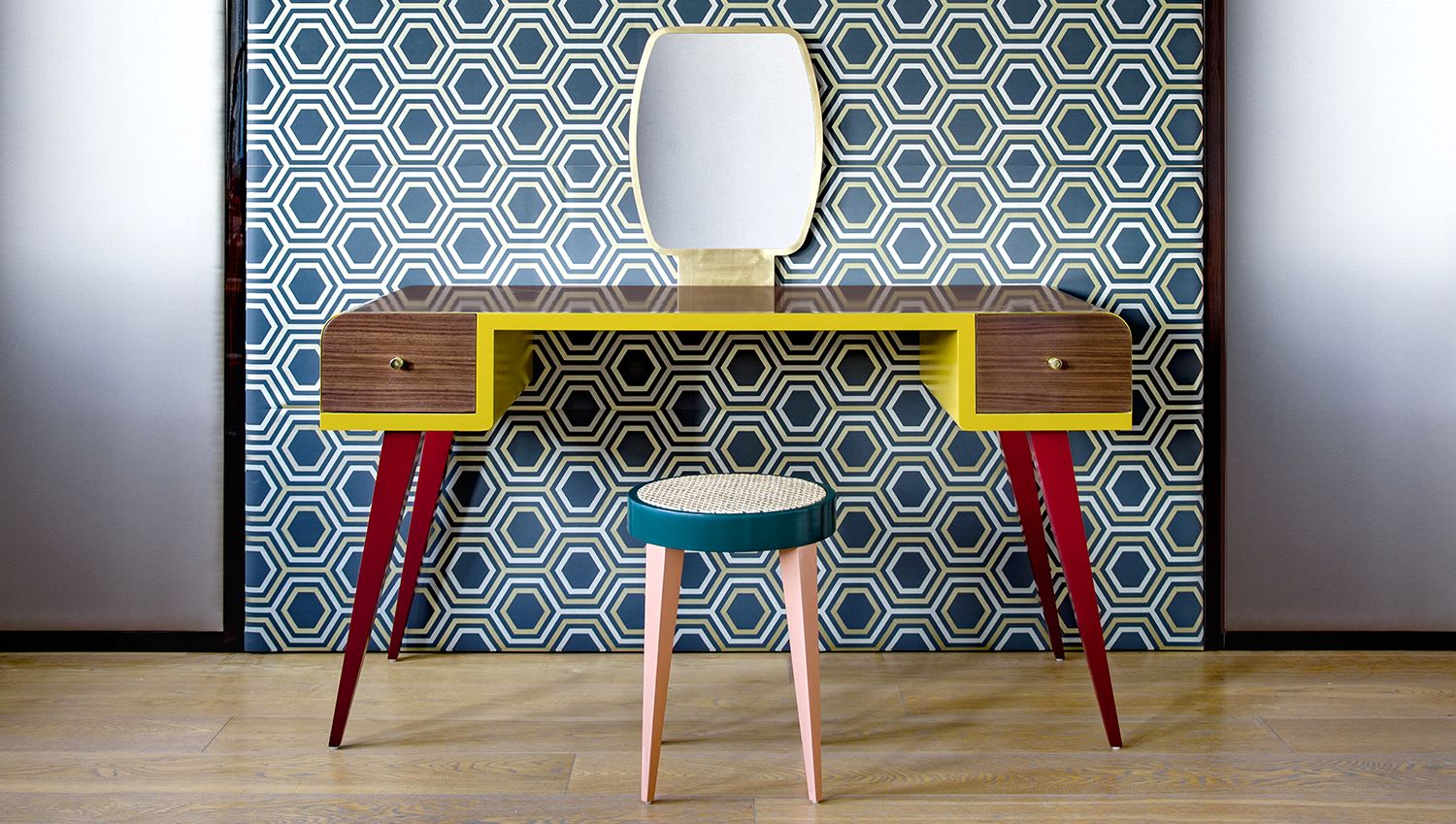 ​Extroverso's designers are defined by their diverse cultural backgrounds. How does this aspect connect to the concept of "Made in Italy"?
Our production to process the parchments and the most delicate finishes takes place in-house (we are indeed artisans), and externally for any other processes through a network of small specialized artisans all located in the province of Como and Brianza.
​For us, "Made in Italy" is this: creating high-quality handcrafted objects and furnishings made mostly through manual processes that express passion and craftsmanship savoir-faire. Italy has a long-standing heritage of masterful craftsmen and being accustomed to beauty has made us so demanding that we take for granted the degree of excellence that the whole world appreciates and envies us for. We try to express this in everything we create, despite the different design and communication styles.
Each collection in Extroverso's assortment is unique, reflecting the style of its creator. How does the collaboration process work? Do you give the designers some guidelines for the collections they create or it's them proposing the pieces to you?
Each story is unique. Some collections arise from the desire to create something together, precisely for the enthusiasm of sharing visions and projects with the person involved, while others result from a "love at first sight".
​Generally speaking, our collections are born from the heart rather than out of great marketing strategies: we discover an artist or an artisan who shows us their skills and pieces, and if they capture our attention or excite us then we develop a project together, always striving to respect creative freedom and the materials used.
​Is there a piece with a special story that you wish to share with Artemest?
For me, and Extroverso as well, the "Close Up" small tables with illustrations by Anna Sutor marks the beginning, and their success has been a source of encouragement. The vaguely retro design of these stackable tables represents the past, the family business of manufacturing Art Deco-inspired furnishings in parchment and other precious materials since the 1930s. The desire to combine tradition and innovation prompted me to reclaim this model and create something new with Anna. She had the original idea for "Close Up" using Italian cities: a close-up of the city's architecture (zooming in from above, from the front, and inside the city) through the artist/illustrator/architect's original vision and clear style. These small tables were first displayed at the exhibition on Italian excellence at le Bon Marchè in Paris, then introduced at la Rinascente in Milano Duomo for 2019 Design Week, and are still in high demand.