Glass Wonders by Simone Crestani
Meet Simone Crestani, a young and revolutionary glass sculptor already considered a luminary in his field. From octopus tentacles to serpentine figures, discover his creations in glass paired with brass and lighting systems and read our latest interview with him.
​Simone Crestani is a glass designer and artisan, considered a young luminary when it comes to glass crafstmanship. By growing up close to Venice, he absorbed the ancient art of glassmaking since a very young age, and trained with expert glassmith Massimo Lunardon to refine his skills and creations. His pieces are unmistakable and unique: ironic, balanced and elegant, inspired by nature.
We interviewed Simone three years ago on Artemest magazine, at the beginning of his partnership, and we caught up with him recently to hear how his and creations have evolved since then. Read our latest interview with Simone and discover his latest inspirations, influences and dreams for the future.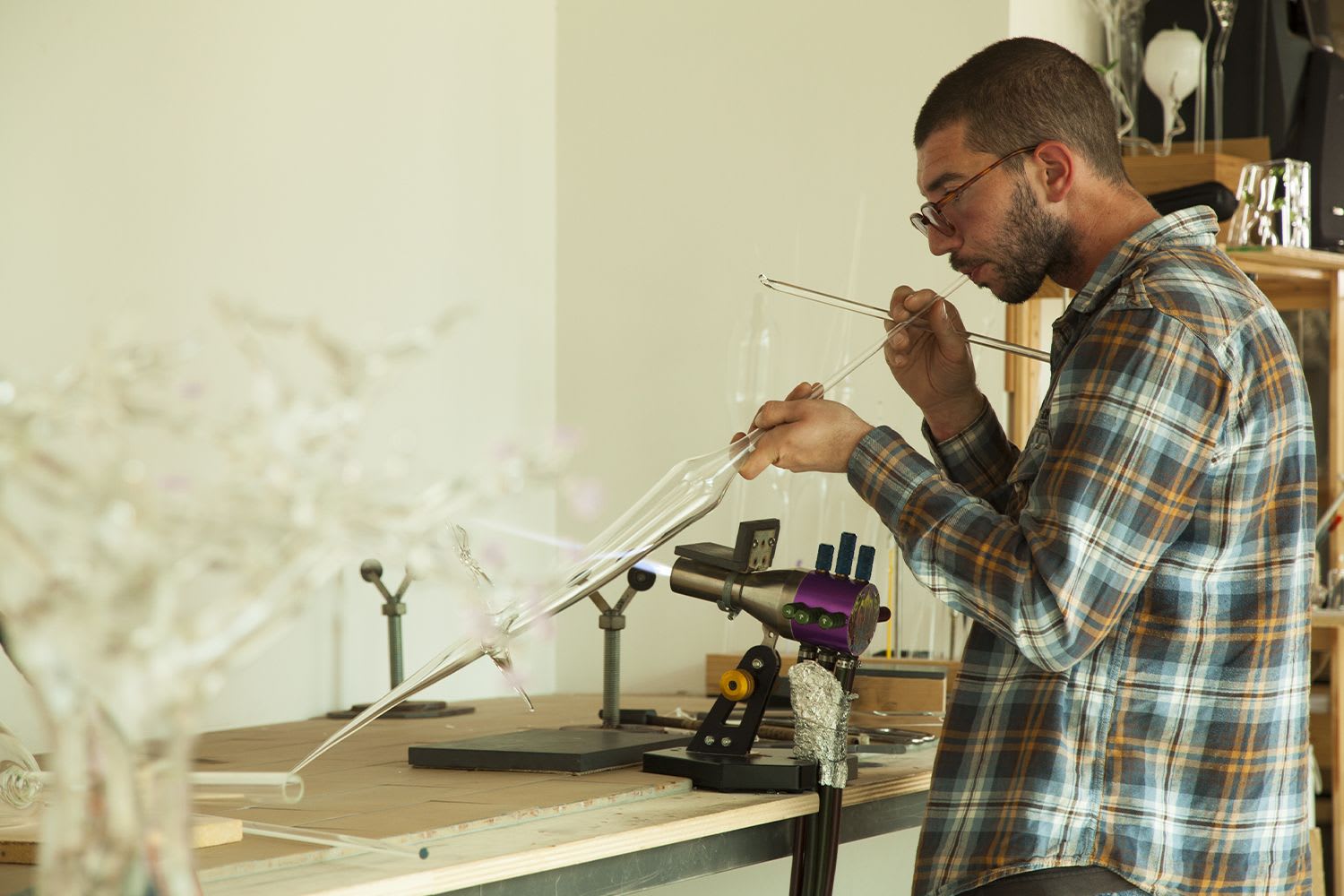 ​We interviewed you a few years ago at the beginning of your partnership with Artemest. How has your business evolved during this period?
Well, the past few years have been frantic, therefore many things have changed since then. I remember that I had just moved to my present workshop, and I was still working alone. Now, my business is well-structured and I work with a team of three trustworthy associates.
What inspires your collections?
My collections are born from a great deal of research and experimentation. I usually explore themes I am interested in, often related to nature, that I read about in books or that I simply think about without a particular reason.
​How do you manage to combine tradition and innovation in your works?
Tradition is very important, since it passes on knowledge and technique. Likewise, it is necessary to complement it with modern, new ideas. The combination of the two is truly the essence of my work.
Have you ever thought of approaching other craftsmanship techniques?
Yes, sure! I often combine glass with other materials such as brass in my works, especially in lighting. These pieces are also produced in-house in my atelier.
​Which is the place that makes you feel most at home? And the one that never bores you in Italy?
My atelier and my home are my little slice of heaven and I'm so happy there I really don't need anything else for now.
How do you view your business in the coming years?
The future plan is to perfect my production in order to make it more exclusive and refined, without necessarily growing any further.