Paper Meets Clay: Paola Paronetto
Discover the stunning works of Paola Paronetto, skilled artisan dedicated to the creation of stunning ceramics décor. By pushing the boundaries of ceramics and ancient clay making, she has created countless innovative techniques to craft unique vases and centerpieces such as blending paper and clay.
Paola Paronetto was born in 1965 in Pordenone in northeast Italy, and started approaching clay making and ceramics crafts at a young age. This passion turned into a hobby that turned into her full time job little by little, and since then Paola has dedicated her life to pushing the boundaries of ceramics, both as a medium and as an art form.
She has honed her craft during many experiences in Gubbio, Deruta, Florence and other cities where ceramics craftsmanship is rooted in ancient clay-making. Her constant experimentation is driven by the beauty of nature and the simplicity of forms. Her most recent artistic endeavor is paper clay, a blend of paper pulp, natural fibers, and clay that results in a unique texture with a delicate and tactile quality.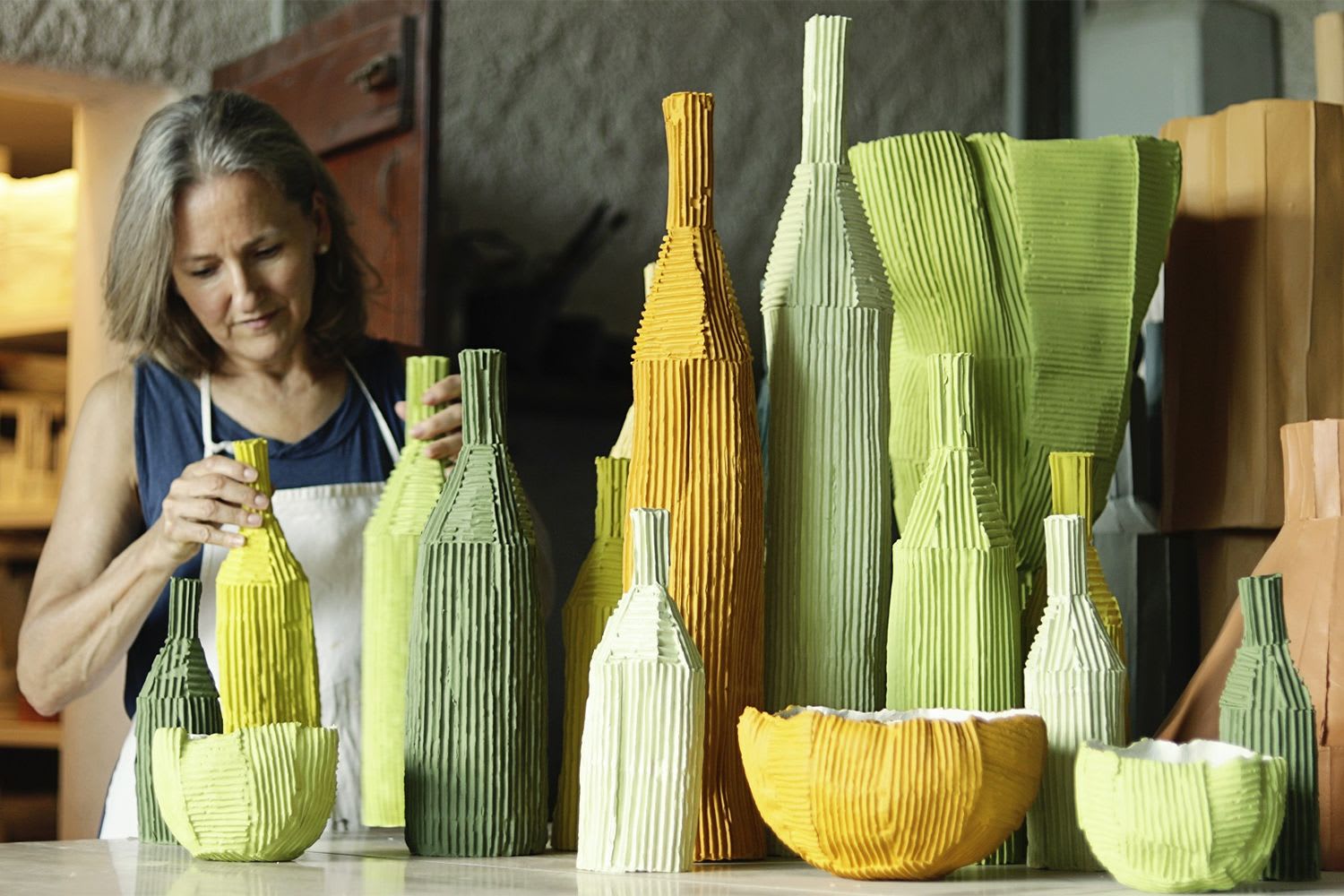 How did you first approach the world of design and hand craftsmanship?
I started playing with clay at a very young age, and little by little this hobby of mine became my current profession. The objects that I have passionately created for over 30 years are presently exhibited in design shops and galleries, which is a great achievement!
Tell us about the creative process of your pieces.
I start with a simple material, paperclay, which is created by adding different proportions of paper to the clay mixture. By experimenting with materials and by pushing them to their limit, I re-invented this technique making it completely new and deeply mine.
​Why did you choose the world of decor?
Perhaps the world of decor chose me: it was spontaneous like a natural tendency. It's good to be able to express oneself in life and it's even better to be able to make it your profession.
What makes your design special?
I think it is its uniqueness, how it reflects my sensitivity and the emotions felt in a certain moment, which I then translate into "special" objects.
How would you describe your style?
Light touch, essential, exciting.
​Which is the city you feel most connected to based on your artistic experimentation?
Certainly more than one. I could say Florence, but then Certaldo as well; more generally Tuscany, for it gave me the most creative stimulus. Presently Milan is the city that most fascinates me for its strong relationship with the world of design and fashion.
What are your future projects?
I would like to keep improving the quality of my work, also in terms of organizing the spaces in the lab, and especially in terms of recreating my time. I would like to slow down and delegate more, in order to adopt a "slow living" life-style. Perhaps this forced break helped me gain back some time for myself, and a quiet that I had completely lost.