Architectural Detailing with Fiona Barratt
From textural mixes of materials to incredible details and sculptural architectures, discover the interiors designed by Fiona Barrat, founder of the eponymous UK-based studio, and read all about her love of mixing vintage and contemporary furniture to create unique and thoughtful projects.
Fiona Barratt-Campbell is an award winning designer and entrepreneur, recognized as one of Britain's leading figures in the international world of interior design. Born and raised in Northumberland, England, Fiona draws on the history of the rugged landscape from which she was immersed growing up; shaped and influenced by its underlying geology laid down some 400 million years ago. Roman influence is a further stimulus, including Hadrian's Wall and its archaeology; the most heavily fortified frontier in the Roman Empire.
Discover our interview with Fiona and read all about her view on trends and the interior designer landscape, from her love for antiques and vintage sourcing to her favorite pieces to style.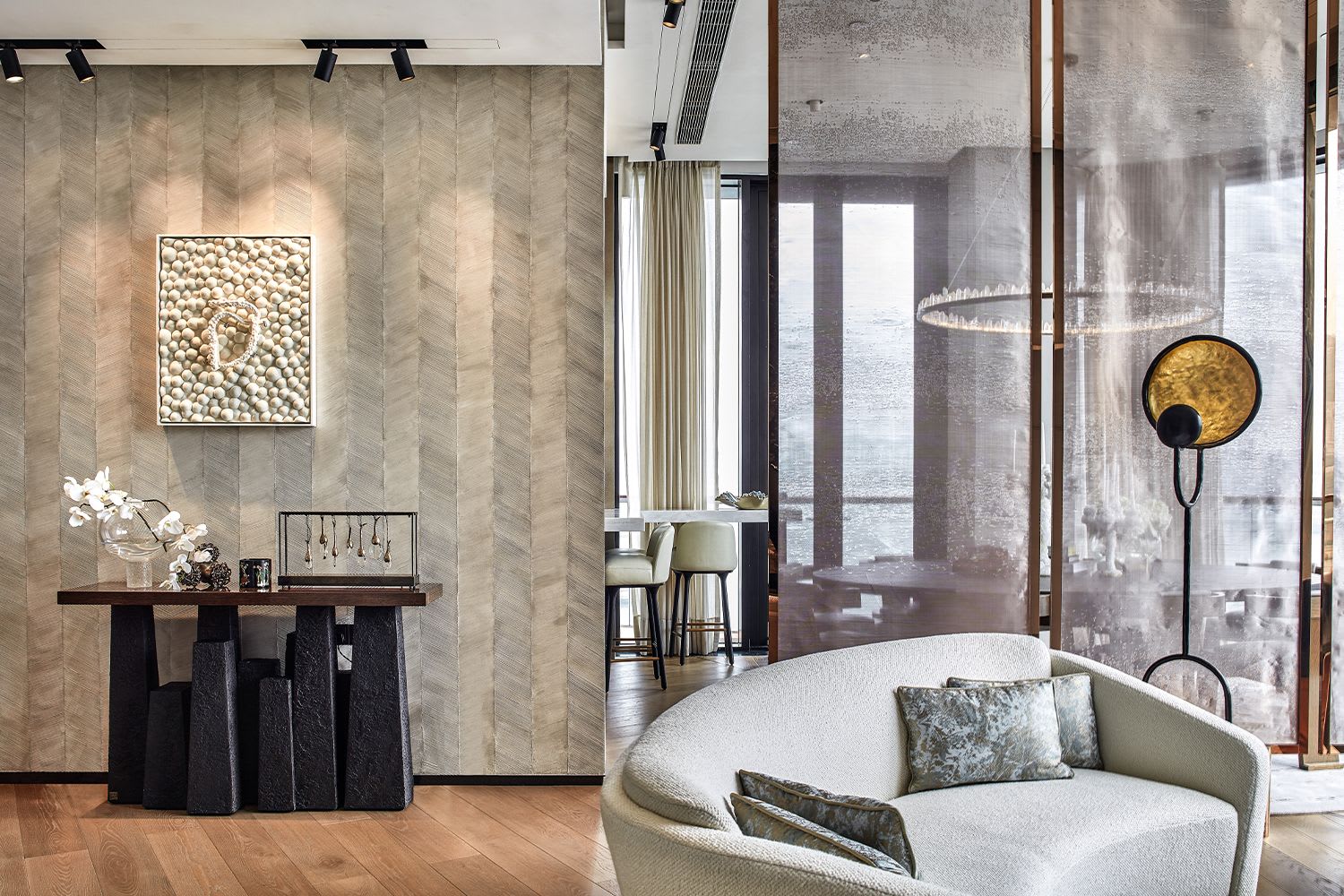 ​How did you first become involved in the world of design? Tell us your story.
I knew that I was always going to have my own business from a young age as design runs in my DNA; Sir Lawrie Barratt, my grandfather, is my greatest inspiration. My interest in property, architecture and interiors began with him and a strong work ethic runs in the Barratt blood. As the founder of Barratt Homes, his motto has helped me build my own empire by instilling the power of 'never give up' into me.
How would you describe your personal style and what's the personal signature that makes your projects unique?
My design aesthetic very much about the detail. From the architectural detailing to the very textural mix of materials. I would say that texture is FBI's USP. We are known for creating interiors that have a unique mix of materials whether it is a manmade textured bronze patina wall, to a sandblasted oak table, high gloss wood, laser cut leather, velvet and cashmere. I like to mix vintage and new furniture and lighting within a scheme as the antique items add character and then textures in finishes and depth and warm. It is really all about the layering and building a story within a space. Accessories sourced from around the world from renowned or new up and coming artists. The result of this attention to detail is an interior that tells a story and most importantly an interior that evokes an emotion, is liveable and creates a comfortable, understated textural experience.
Are there any specific trends that you're currently blending in your practice?
I really don't follow trends. Design is fundamentally about conversation – between styles, locality of a project, cultures, objects and people. I do experiment with textures and materials and I love respecting the architecture of the building to create something inimitable. Working extensively in both the private residential market and the property investment and hospitality markets, the word 'trend' comes up quite a bit. I would say I don't follow trends; I make them!
Where do you draw inspiration for your projects?
Born and raised in Northumberland, I have always drawn on the rich history and landscape, combining the strong identity of the North with the grandeur of Roman architecture. I grew up around all these Roman heritage sites. The Romans were so far advanced, and I'm just fascinated by their use of textures and materials, which I like to adopt in our projects. Nature is also a big inspiration, as it is constantly evolving in terms of patterns, texture, form and colour.
What's the decorative piece you enjoy the most selecting or styling for your clients and why?
I love including antiques and vintage furniture and lighting within a scheme as the antique items add character to the overall design. What is so wonderful about using them is how you can give them new life when it is displayed within contemporary, timeless interiors alongside modern pieces, whilst creating a curated design that has a story to tell.
What is your favorite project you have worked on and why?
I love all the projects I have worked on as they are all so diverse, tailored to the locality of the project and the clients' aspirations. If I had to choose, I would probably say the K11 Artus Artisanal Penthouse, in Victoria Dockside, HK, which is our biggest-scale hospitality project to date.
The brief was very open; we were basically asked to do our own thing and keep very true to our design ethos. Adrian Cheng, the founder of K 11 Artus, loves my story of being from Northumberland and using influences from Rome and nature. It was then me using those elements of our design and making sure they fit into the surroundings in Hong Kong.
What was very important when I was designing the layout is that every room has a view. Every room apart from two bathrooms has a view. It was important for us to design the flow like that. Also, we were able to showcase and unexpected mix of textures throughout the penthouse, which is our USP. I think that's what I really enjoyed. Seeing guests come in and wanting to touch everything – that for me is lovely.
What do you think it's going to be the next big trend in interior design?
I don't do trends. They are not conducive to my design ethic and philosophy. Do what is right for the client as opposed to what is in fashion. Trends will come and go and I want to create an interior that is timeless.