Mazzini 31, Umbria
Discover Mazzini 31, an elegant villa in Monteleone D'Orvieto with a view of the undulating landscapes of the beautiful Umbria. This centuries-old palazzo has been restored to retain the old-world charm, with a touch of contemporary whimsy. A perfect retreat designed for those seeking to unwind and explore the beauty of this stunning Italian region.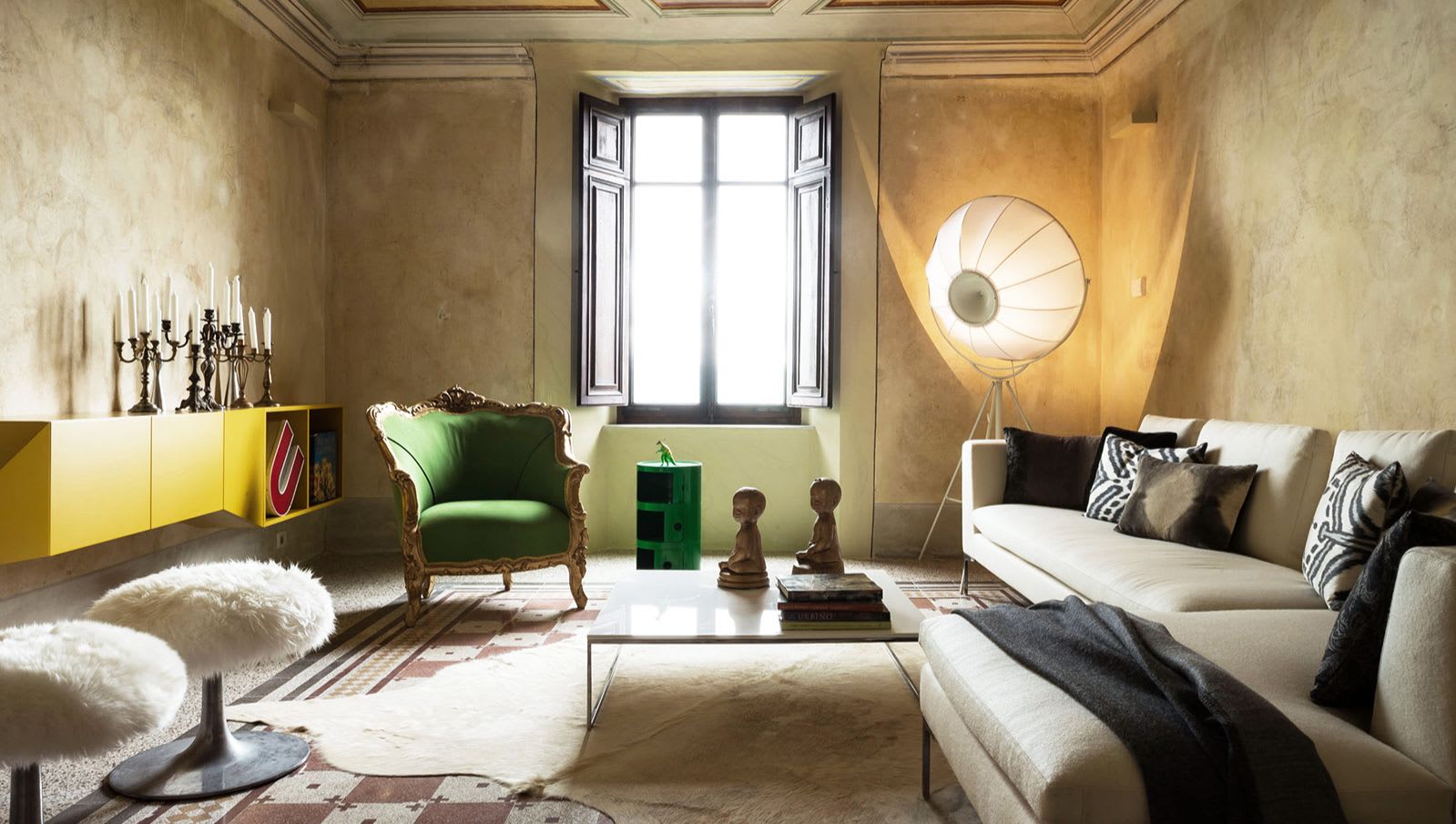 Umbria is an intriguing region of Italy with rolling hills, picturesque towns, and regional delicacies. Easily accessible from both Rome and Tuscany, Umbria's beautiful countryside comes alive in autumn and is an unmissable destination.
Perched on the edge of an Umbrian hamlet Monteleone d'Orvieto with magnificent views of the Chiana Valley, lies a unique villa: ​Mazzini 31. Historically, Monteleone d'Orvieto served as a home for the noble family of Orvieto and is a tranquil oasis of red brick medieval buildings and beautiful vistas away from commercial tourism.
Mazzini 31 is situated within an ancient palazzo, whose interiors were modified and reconfigured multiple times over the last four centuries. In 2012, Architect Patrizio Fradinio of Studio F stumbled across the palazzo and immediately fell in love with the crumbling property, dreamy frescoes and the grandeur of centuries that it retains. Thanks to his passion and vision, Patrizio and his partner Mark carried out a renovation with the idea of sharing the story of the palazzo in the language he knows best: architecture and design.
"During the renewal process we were amazed to discover the hidden inner beauty while we extracted layers of wallpaper, paint, and plaster to reveal an enchanting combination of wall and ceiling frescoes that stretch for four centuries," says Patrizio.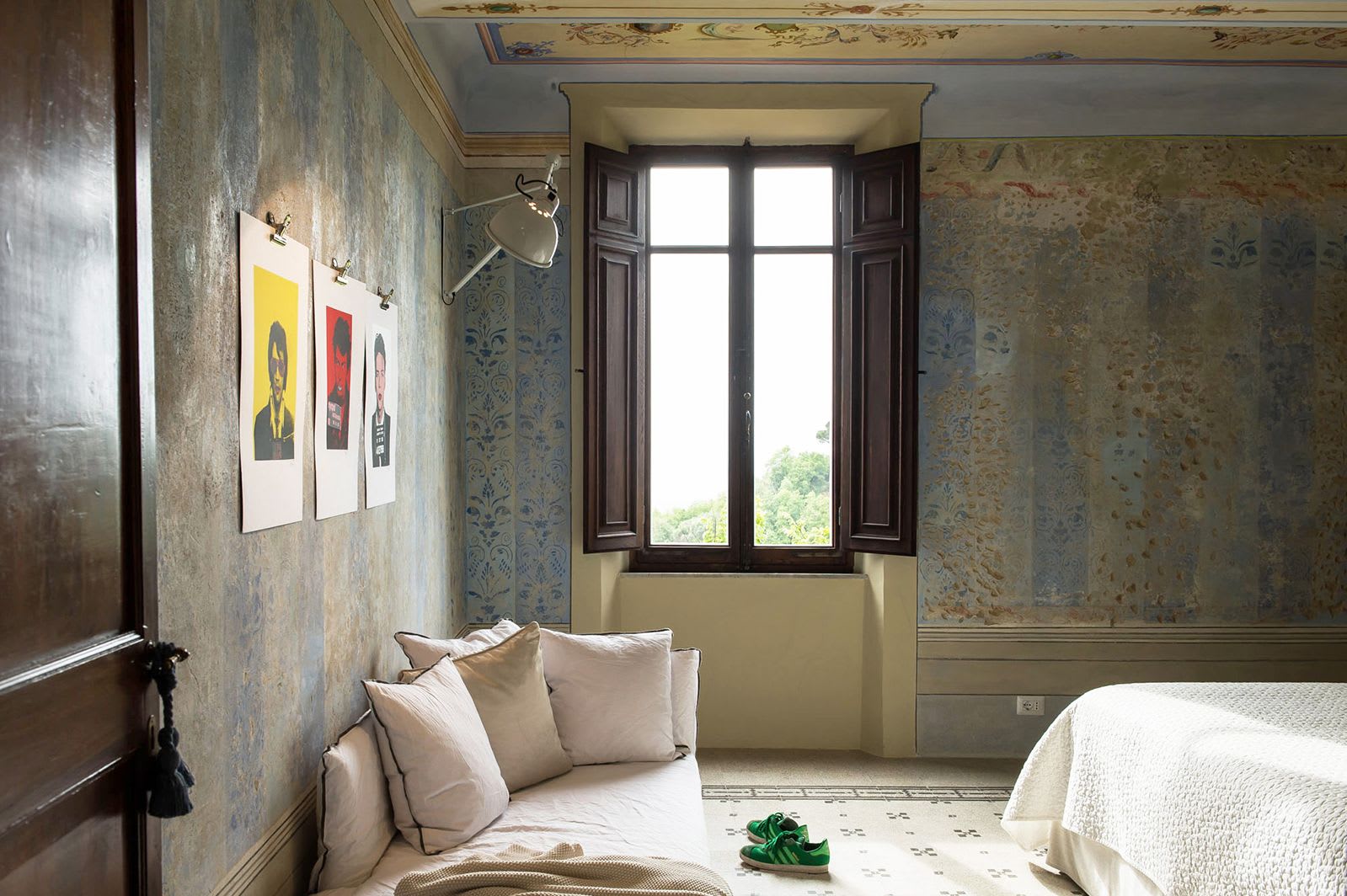 ​Mazzini 31 is composed of 3 bedrooms outfitted with high-end artworks & contemporary comforts, private all-season pool, a spa, and a wine cellar to store local wine and olive oil production.
The vibrant living space is adorned with marble fireplace, modern sofa, and bold credenza, complemented by preciously sourced candelabras, sheepskin-covered stools, and other antiques. Additionally, the living room's ceiling is filled with lunettes of imaginary landscapes in beautiful pink, yellow, and green color, and the floor is made of "terrazzo" tiles that give an eclectic feel to the entire palazzo.
Patrizio Fradiani's design mission was to bring as much light as possible into the medieval space, hence Mazzini 31 is elegantly illuminated with both candlelight and contemporary floor lamps.
​The frescoed stairway leads up to the bedrooms: charming spaces blending the bucolic and modernist styles. The headboard and linens are kept understated against the ceiling and floors, while the emerald green paisley cushions, screenprints, and contemporary floor lamps act like art pieces. The Calacatta marble sink and the crystal chandelier in the bathroom evoke a spa-like mood.
The kitchen offers an exquisite setting to prepare a classic Italian meal, and the doors open up to a grand terrace with a majestic view of a fertile Tuscan valley. It is hard to imagine a more beautiful spot to enjoy the sunset than this serene terrace looking over the Tuscan landscape-- olive orchards and vineyards, stone farmhouses, and fields of grain.
Created with love and passion, Mazzini 31 is a place where modern comforts meet old-world charm in a unique way! While providing privacy, Mazzini 31 makes for an enjoyable and memorable vacation home!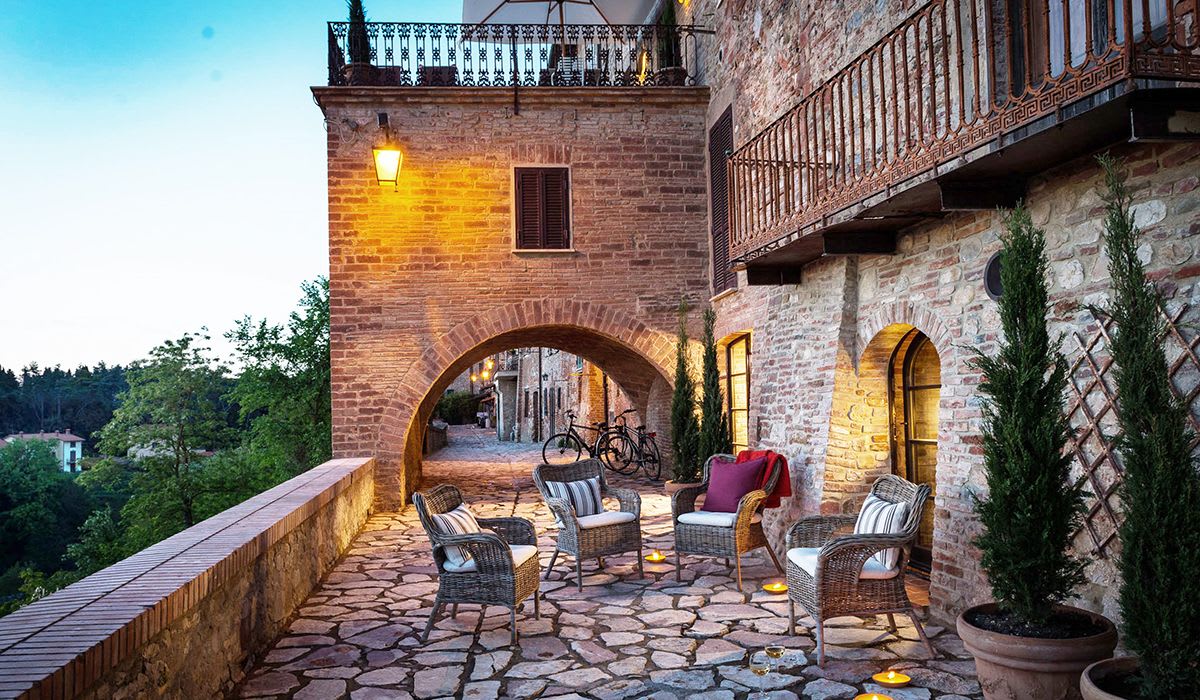 ​Mazzini 31
Via Mazzini, Monteleone D'orvieto, Italy
Tel. +39 0773 4255730