Della Femina's Capri Style Décor
Mediterranean by heritage, architect, interior and furniture designer, Francesco Della Femina designs original home décor and furniture pieces characterized by clean contemporary lines and inspired by the traditional historical beauty of the the island of Capri, where Francesca Della Femina was born.
​What is the most fascinating phase in creating such unique objects?
All the different steps in the making of a design piece fascinate me. Among them, three are the most important and exciting ones. The first is the invention, that ephemeral moment when an object starts taking shape in my mind. It is then that I feel the need to sketch it. That's why I always carry with me a block-notes and a pencil, although at times I found myself drawing on train tickets or cocktail napkins. The second step is the making of a prototype, when I create the first object with the help of the artisans. This is a magic moment, in which the energy, knowledge, and passion of each of us converge into giving life to an idea. The third step is the "christening" of the object, when it is introduced to the world or to a client. This gratifying moment generates new ideas and the necessary self-esteem needed to start the process all over again.
​Is tradition important to you?
To me, tradition is vital, even visceral. But tradition needs to be lived, renewed and transformed into something contemporary, fresh, and current. Only this way the object can claim its own story and I strongly believe that every well-made object has its own story made of craftsmanship, ideas, and experimentations. Tradition means history; it means belonging to something; it means culture. But it also means truth, modernity, imagination, and intellectual honesty.
What interested you and made you fall in love with this craft?
I think that are first and foremost my character and my insatiable curiosity that made me fall in love with this craft. There is also DNA: my father was a construction worker. My grandfather and great-grandfather were also artisans. I became an architect and a designer, but when I was a child I used to spend my summers on construction sites with my father. My passion comes from the love for this job and I am grateful every day to be able to do a job I have always loved.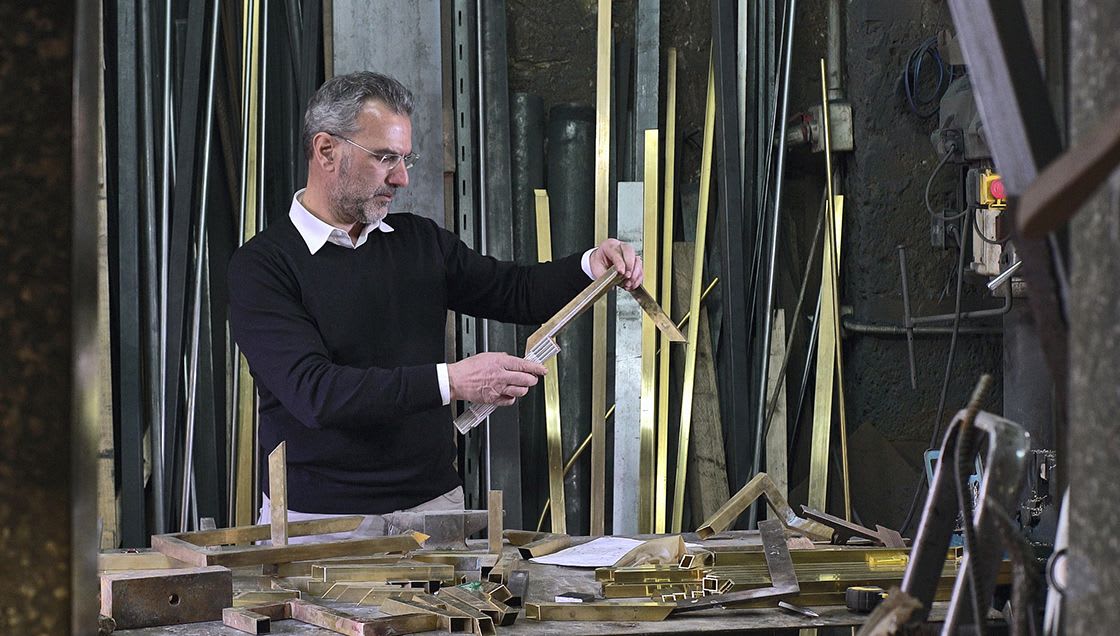 ​Tell us an anecdote linked to your direct experience of designer going to artisans' workshops.
It is difficult to recount all the anecdotes concerning the artisans with whom I work, since each of them is a real character. Among them, there is one named Fifì, who polishes metals before giving them a galvanic treatment. I have known him for years and, every time I meet him in his workshop, he is always covered in black metal dust, except for a white circle left clean by the mask that he wears over nose and mouth, and the two circles around the eyes where the glasses protect its lively eyes. One day, it was Sunday, I was in a very crowded shopping center and I heard somebody calling me. I saw a person waving at me but I couldn't recognize him, till I noticed his eyes: Fifì was all cleaned up and was shopping with his wife. This anecdote reminds me of something that I have always suspected: when artisans work, they transform themselves physically to become their own craft and this symbiosis in some of them is so evident that is almost innate. This should help us give the right value to all that they are capable of creating.