Hotel Parco dei Principi: Limitless Views by Gio Ponti
Dive into a serene Sorrento coast picture defined by the genius of Milanese Gio Ponti, an architect and designer capable of transforming an ancient Palazzo into a revolutionary project, borrowing nuances and lines from its surroundings
I did a hotel in Sorrento and, though there was no need for it, I decided each of its hundred rooms should have a different floor.
-
Gio Ponti
​Nestled on the top of a cliff in the Sorrentinian panorama, in the land that once belonged to the Order of the Jesuits, ​Hotel Parco dei Principi recites tales of royal history and court intrigues orchestrated by the King of Naples Ferdinand IV of Bourbon. The luscious structure was completely transformed at the peak of the revolutionary 60s by the genius of Gio Ponti, one of the most transcending design personalities.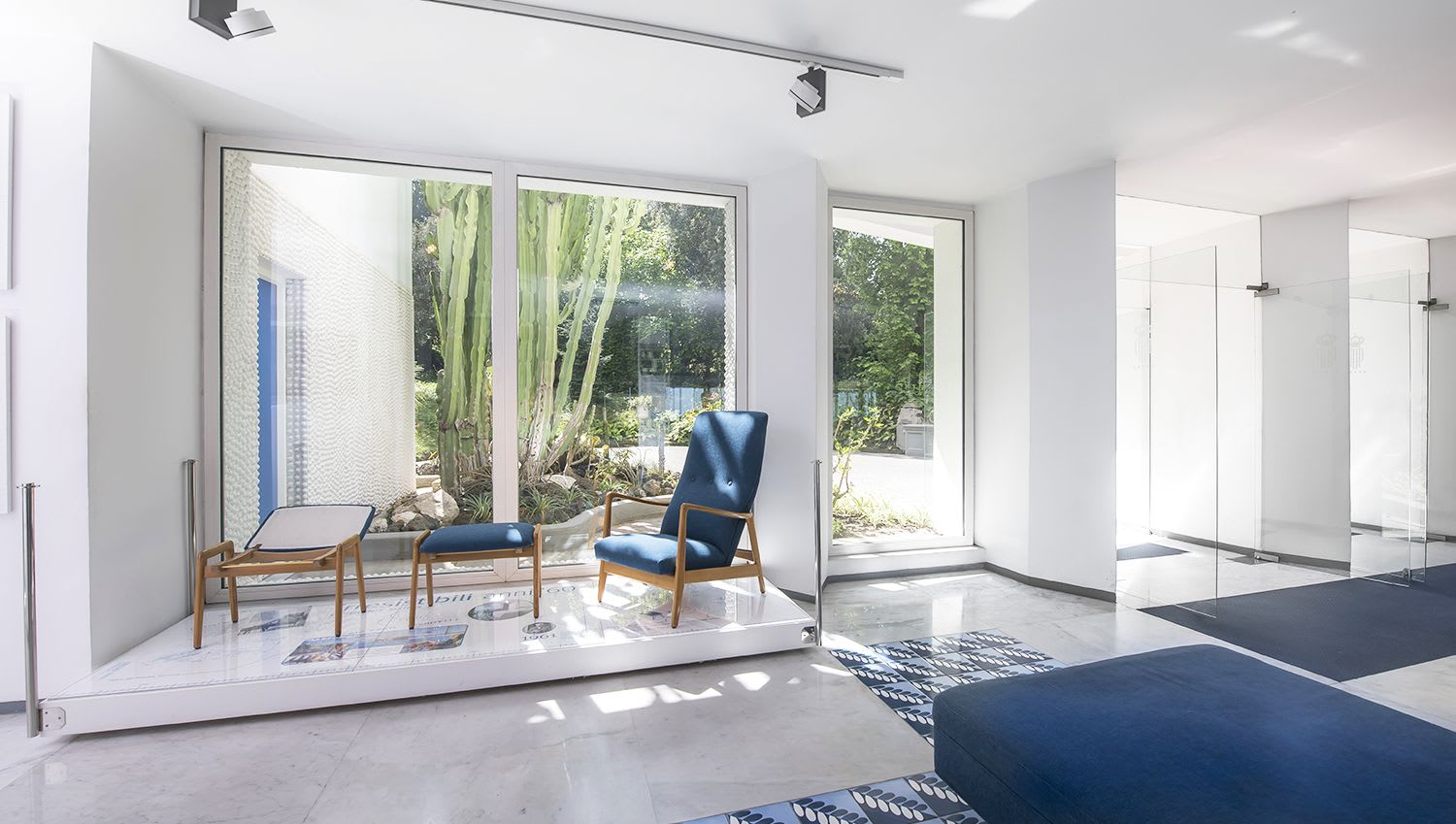 ​The iconic developer of modern architecture planned all the renovations on this first-ever Italian design hotel, turning the antique palazzo into a sumptuous hotel marking the boldness of this century, starting from the architecture of the exteriors to the tiles' nuances shrouding the interiors.
A gothic palazzo half-built within of the structure for Tsar Nicholas II of Russia served as a base to Ponti, who transformed the building and depicted a poetic atmosphere characterized by a minimal style, culminating in a work of art as every piece of furniture is conceived by the architect himself. Deeply rooted within the landscape, the structure aims at reflecting the nature surrounding it, reproducing the wonder of the Sorrento Coast into beautiful high-ceilinged rooms.
Blue sky, blue sea, blue islands, blue tiles, green trees, green waters, roses thrown to a princess, a dancer...
-
Gio Ponti
​Allocated all around the structure are the 96 rooms, transformed into tranquil paradises recalling the natural environment with a variety of ceramic floors in the tones of blue, azure and white, mirroring the serenity of the sky. The newly evolved approach of Ponti to design in these years, found him uncovering a keenness for geometric shapes and patterns, seeking clarity and transparency.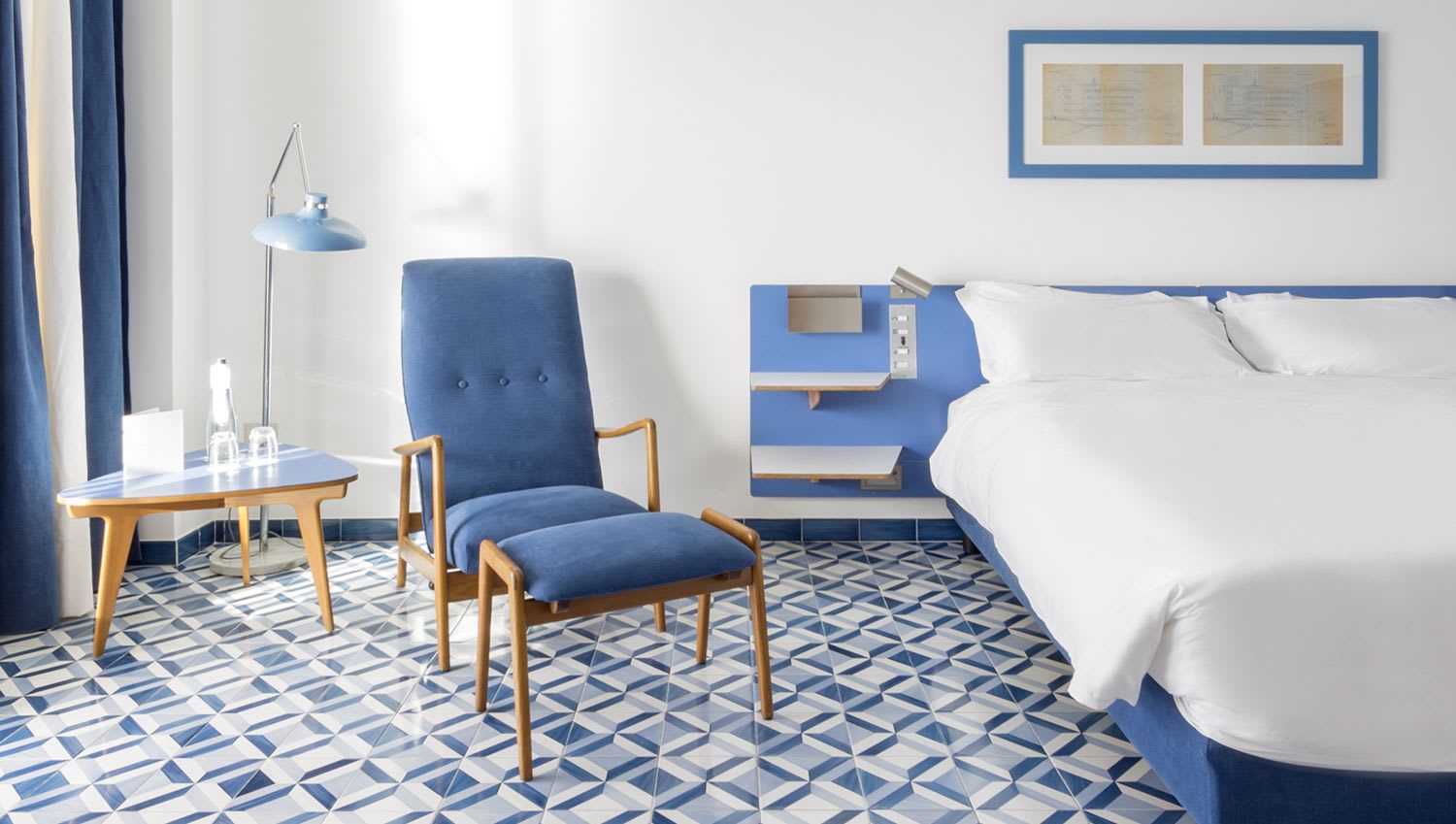 A green ambiance flourishes in the ancient part of the villa, a botanical garden curated in the minimal details and home to splendid antique structures and a seawater swimming pool designed by Ponti as a 'mirror of water to wood nymphs'. Descending the rocky cliff is an access to the hotel's private beach, touching the emerald waters of the Sorrentinian sea and ideally placed next to the nearby Poggio Siracusa restaurant for a taste of local delicacies.
The Vesuvio and Bagni della Regina Giovanna add a suggestive feeling to the structure, giving visitors the sensation of finding themselves in the middle of the narrations of Giovanna D'Angiò's and her lovers, the Siren Islands of Li Galli and the place where Ulisses once erected an epigraph dedicated to Athena.
Hotel Parco dei Principi di Sorrento
Via Bernardino Rota, 44, 80067 Sorrento NA
+39 081 87​8 4644
info@hotelparcoprincipi.com

​Considered as the godfather of Italian modern architecture and design, ​Gio Ponti is a great source of inspiration for many designers worldwide. Other than the great architectural works which carry his unmistakable signature, he created a vast amount of work in the furniture sector. Gio Ponti was an Italian promoter of industrial design and introduced the idea of interior furnishing ranges produced as being a "sophisticated," economic, "democratic" and modern.