The Italian Art of Mosaic by Sicis
Meet Sicis, a cornerstone of the Italian art of mosaic. After over 30 years of constant evolution, the brand still preserves the same visionary spirit, standing out for the pure elegance of its tactile creations. Discover the story of the brand from its very beginning in the 1980s to its present-day success.
The name ​Sicis is evocative yet mysterious - not many know that it reveals a hidden meaning, from the Latin Sic Immensos Clarosque Inceptos Somniavi: alluding to the dream of creating masterpieces that everyone can appreciate. Maurizio Leo Placuzzi founded the brand in 1987, with the aim of celebrating the prestige of mosaic art in all its facets. The headquarters soon moved to Ravenna, a centre of artistic mosaic production since the fall of the Roman Empire, which saw the company flourish and Placuzzi set his sights on international expansion.
Innovative techniques have always characterized Sicis's production, starting with creating masterfully composed mosaics, and eventually evolving into designing elevated furniture inspired by ancient splendor with a contemporary aesthetic. Sicis's signature identity is glimpsed in its sophisticated finishes and precious fabrics, reminiscent of mosaic patterns. The innovative drive and the need to push limits has led to the study of new production processes such as the double indirect method for applying mosaic and new materials such as Vetrite.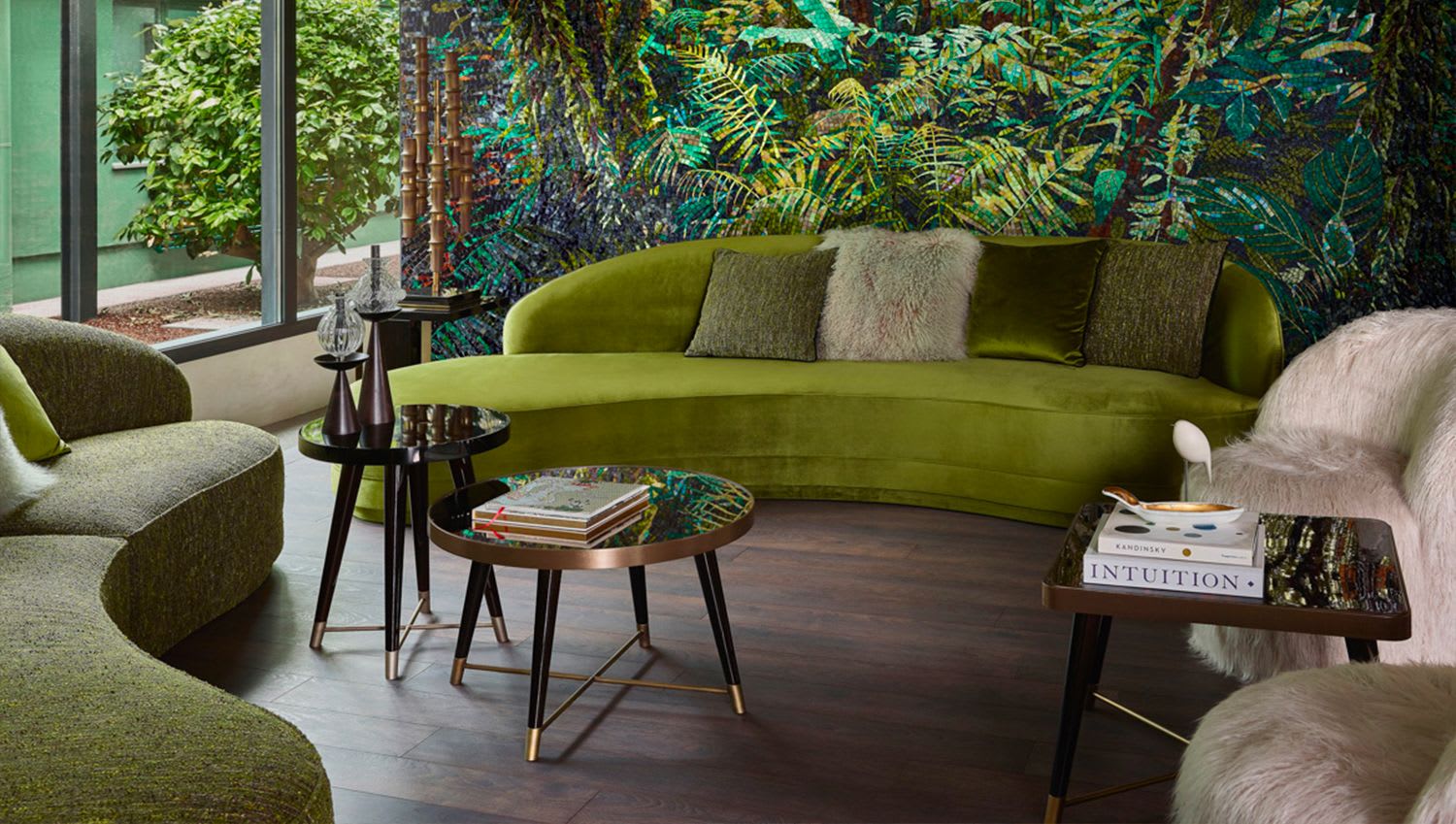 For over 30 years, Sicis has been a leader in mosaics in the international scene despite its deep roots in the city of Ravenna. How has the company's Italian identity successfully established itself in culturally diverse contexts?
Italy is the cradle of art and beauty, and Sicis' Italian identity is and always will be a source of strength. Much like other companies firmly rooted in tradition, we have been able to draw ideas from the past and skillfully incorporate ancient elements to create pieces that, while contemporary, are not limited by geographic borders.
Since its founding, Sicis has been involved in grand projects, from the Bellagio Resort in Las Vegas to the Burj Al Arab in Dubai. How do you combine the use of traditional processing techniques with the construction and aesthetic needs of these majestic contemporary architectural projects?
It has been possible through investing resources and developing cutting-edge systems for the production of materials and designs, all the while being careful to respect and reclaim ancient tenets. Sicis is not only known for its mosaics: the mosaic is simply the driving force, the spark that jump-started our brand, but we have been able to modernize mosaic art in line with current trends and to ensure it is valued by leading architects worldwide for all kinds of projects, from lavish hotels to public works in subway stations, temples, royal palaces, and mosques. We grew from there and opened ourselves up to the possibilities of eclectic design for exceptional interiors, including houses, hotels, furnishings, and prized structural elements. In all those instances, we bring a certain "distinction", "elegance", and harmony for blending furnishings, decorations, fabrics, walls, and decorative elements to create unique, fascinating environments.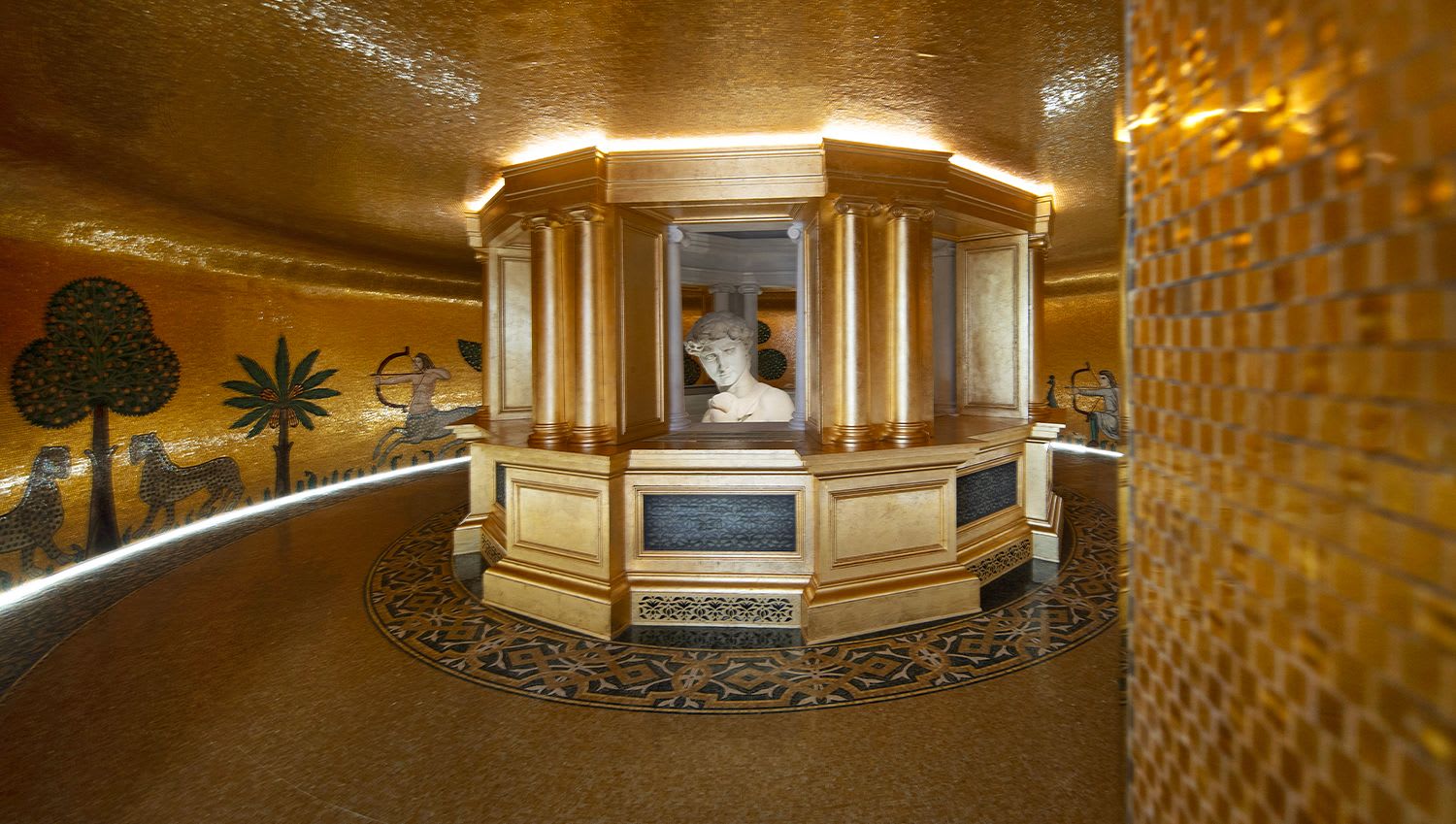 Vetrite is an innovative material, created and designed by glass specialists in the Sicis Research and Development department to have a modern edge while keeping an eye on ancient traditions. How did the idea for creating this new material come about?
Our President has always believed in R&D. He himself patented the system that allowed the artistic mosaic to be processed within the Ravenna ateliers and be easily shipped worldwide; in short, maintaining our traditions while developing new ways to improve laying techniques. This means that, from the very beginning, our company has never settled for simply creating high-quality products showcasing masterful skills and honoring our traditions, but rather, was always driven by a desire to go beyond, to put itself out there, and take risks. Vetrite is the result of years of study and research for a product that was aesthetically "beautiful" yet also showed outstanding technical performance, a coating that has evolved to become structural element, load-bearing wall, light, railing, and even a photovoltaic panel. Vetrite can replace porcelain stoneware, but it can also be the top of a furnishing, a door, a multifunctional home automation panel… all the while accumulating clean energy.
Sicis was founded in 1987 and has since grown over time thanks to the intuition of Maurizio Leo Placuzzi. What are the fundamental phases of the brand's development, from the composition of mosaics in a contemporary key to the creation of modern furnishing items?
Since the very beginning, Sicis captured important markets such as America, China, Japan, and Russia thanks to our founder's vision: we can say that the intuition of transforming the mosaic into a contemporary decoration, an artistic excellence, was a winning idea. Later on, we developed patents and innovations for the tiles themselves, now fashioned also in metal and several other materials. With each passing year, mosaics have become a language, a way of interpreting the world of design and architecture. In collaboration with international designers, the first collections of iconic chairs were born, where small mosaic tiles were paired with velvets in an unmistakable style, pieces that add light to the surroundings. The iconic mosaic patterns by Sicis were then translated into superb "haute couture" textiles for furnishings. Additionally, in light of various customer requests, over the years the company created a division entirely dedicated to interior design, bringing forth the complete SICIS Home collection. Sicis has long been a holding company housing several companies, such as ​Sicis Jewels, another remarkable success story borne out of research, creativity, reclaiming of the ancient art of micromosaics, and an insatiable desire to amaze and be amazed.​

Elegance and refinement have always characterized Sicis' creations. How has the style of the brand evolved over the years? What are your next steps in picking up on future trends in Italian and international design?
Sicis' style is in constant evolution, an intermingling of ideas in which design, colors, and shapes converge and interact with each other to generate atmospheres with a strong international flavor and, at the same time, celebrate "Italianness". It is a journey during which we collect hints of inspiration and let new sensations envelop us: needs emerge from the moment and the place. Feeling good in beauty, it is a synthesis of aesthetics, design, and culture. The company's strength lies in its ability to and knowledge of how to attune every creative idea to the right context, using materials and products that are created and shaped entirely in our laboratories.