Contemporary Lighting by Slamp
Eclectic and innovative, Slamp's design approach is a unique combination of sartorial virtuosity and masterful craftsmanship. Discover the story of the brand from 1994 to the present day and its international collaborations with some of the most important contemporary designers.
​Slamp was born in 1994 from Roberto Ziliani's revolutionary approach to design. Coming from the fashion industry, the designer decided to create a completely new product, to bridge the gap between artistic craftsmanship and the excellence of industrial production. From this groundbreaking push was born the Slamp Tube, a cylindrical lamp made of two sheets of Opalflex and conceived as a blank canvas for artistic graphics.
The first Arte collection has left its mark and laid the groundwork for the following steps in the definition of Slamp's identity: being unique, innovative and decorative. Since the beginning the brand has worked in close contact with some of the most relevant names of the design scene from Zaha Hadid, to Massimiliano Fuksas, Marc Sadler and Lorenza Bozzoli. Discover the story of Slamp and the inspirations behind its powerful aesthetics.
Thanks to the extensive know-how acquired over the course of 25 years of research, you have been able to create veritable works of art - design objects with a unique character. How has the history of Slamp developed from 1994 to today?
Since its inception, the brand's goal has been to create something completely new in the design scene. After almost 30 years of activity characterized by passionate blending with the art world, watershed collaborations with master architects, and a firm belief in using sustainable technologies, we can proudly claim to be truly one-of-a-kind in the market. On the one hand, [we are] an entity capable of successfully combining craftsmanship with the excellence of industrial production, and on the other, we are a company guided by fundamental "whys and wherefores" and a profound sense of belonging for those involved.
Important collaborations with internationally renowned designers and architects such as Zaha Hadid, Massimiliano Fuksas, Daniel Libeskind, and others have enabled you to bring iconic and recognizable products to life. How do you combine Slamp's identity with the strong personalities of these big international names?
Behind every successful and terrific encounter between Slamp and international Starchitect there has always been a desire to respect their vision and emphasize their genius, without losing sight of the brand's core values. Creating has become "creating together," while respecting one's individualities and aiming to bring truly timeless works of art to life.
One of Slamp production's value-adds is the use of innovative, lightweight, and high-performance materials. What is the reason for this aesthetic and production choice? Is it connected to sustainability?
Choosing innovative, lightweight, and high-performance materials stems from the desire to shape singular and recognizable designs. In fact, Slamp's technopolymers - exclusive, noble, and unbreakable - enable us to create shapes, decorations, and effects otherwise impossible with other materials. But that's not all: their intrinsic qualities and their processing technique have allowed the brand to have a low environmental impact from the very beginning. Additionally, each material we use has excellent thermal, electrical, and chemical properties and, above all, is recyclable.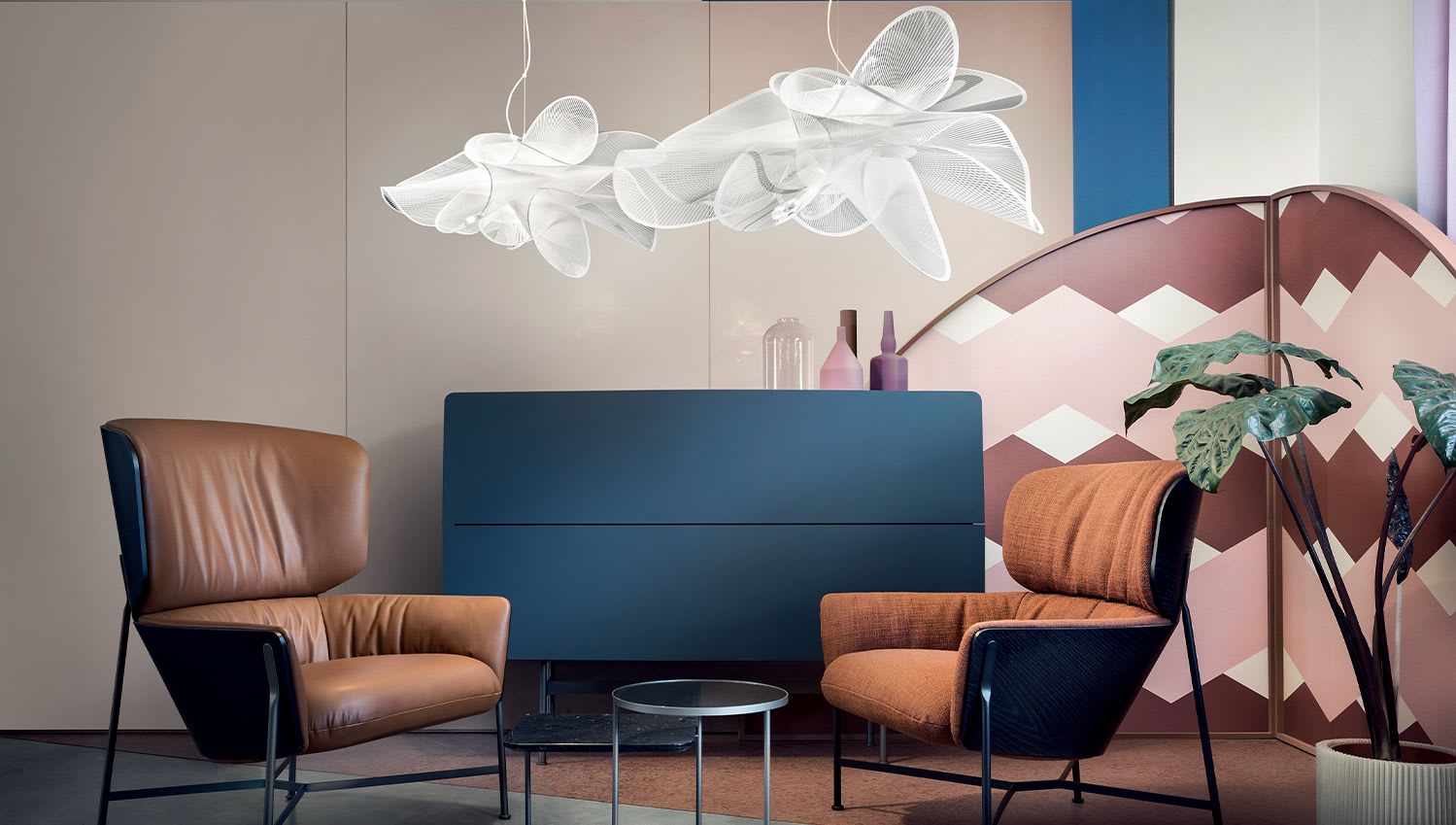 Slamp lamps are evocative and versatile design objects. Tell us about the creative process that leads from the conception to the creation of one of your pieces.
Each Slamp lamp is unique, because it is the result of a creative process that does not originate from a 3d file, but which requires the designer to "get his hands dirty": cutting, sewing and treating materials and values established in years of study, research and innovation. Each piece is set up in an Atelier, where every day the "lighting tailors", wearing their white gloves, are proud to bring to the world a design that stands out for its poetics and originality. As in a haute couture maison, the creation of a Slamp lamp passes through a precise ritual that transforms a flat sheet of techno polymer into a highly decorative three-dimensional volume through a system of cold working, joints and folds done by hand.
The Lollo lamp created in collaboration with Lorenza Bozzoli is a superb homage to the 1950s. What are its reference inspirations and how did you work in synergy with the designer?
A tribute to the fabulous 1950s, La Lollo is a light fixture with a graceful profile intended to conjure memories of divas and spotlights in the observer's imagination. Lorenza Bozzoli's creative idea - intangible, sophisticated, and ingenious - came to life by virtue of the designer's talent and the manual craft of Slamp's skilled "Sarte della Luce". The series of cylinders crafted of unbreakable, lightweight technopolymers are arranged organically around a central luminous ring, alternating prismatic colors, metallizations, textile-inspired textures, and contemporary color gradients.