Modern Mosaics with MNMVenezia
Discover the works of Michela Nardin, founder of MNMVenezia, a workshop were she creates and experiments with traditional glass mosaics following ancient techniques that she reinterprets in a series of contemporary self-portraits, classic tile patterns and geometric color-plays.
Michela Nardin started her career as a prolific artist in Rome and Venice, pursuing art in various form drawn to unconventional and bestowed techniques. After moving permanently to Venice over 24 years ago, she fell enamored with the ancient traditions of the city, including the world-renowned glass and mosaic manufacturing: by coming in contact with master craftsmen, she perfected her artistic knowledge and started producing authentic mosaics collections inspired by her many passions and influences. From contemporary self-portraits, to classic tile patterns and geometric color-plays, her works are stunning example of romantic storytelling and a unique personal taste.
Discover in our interview how Michela started her activity as an artisan, what inspires and shapes her collections and the intricate production process for each one of her pieces.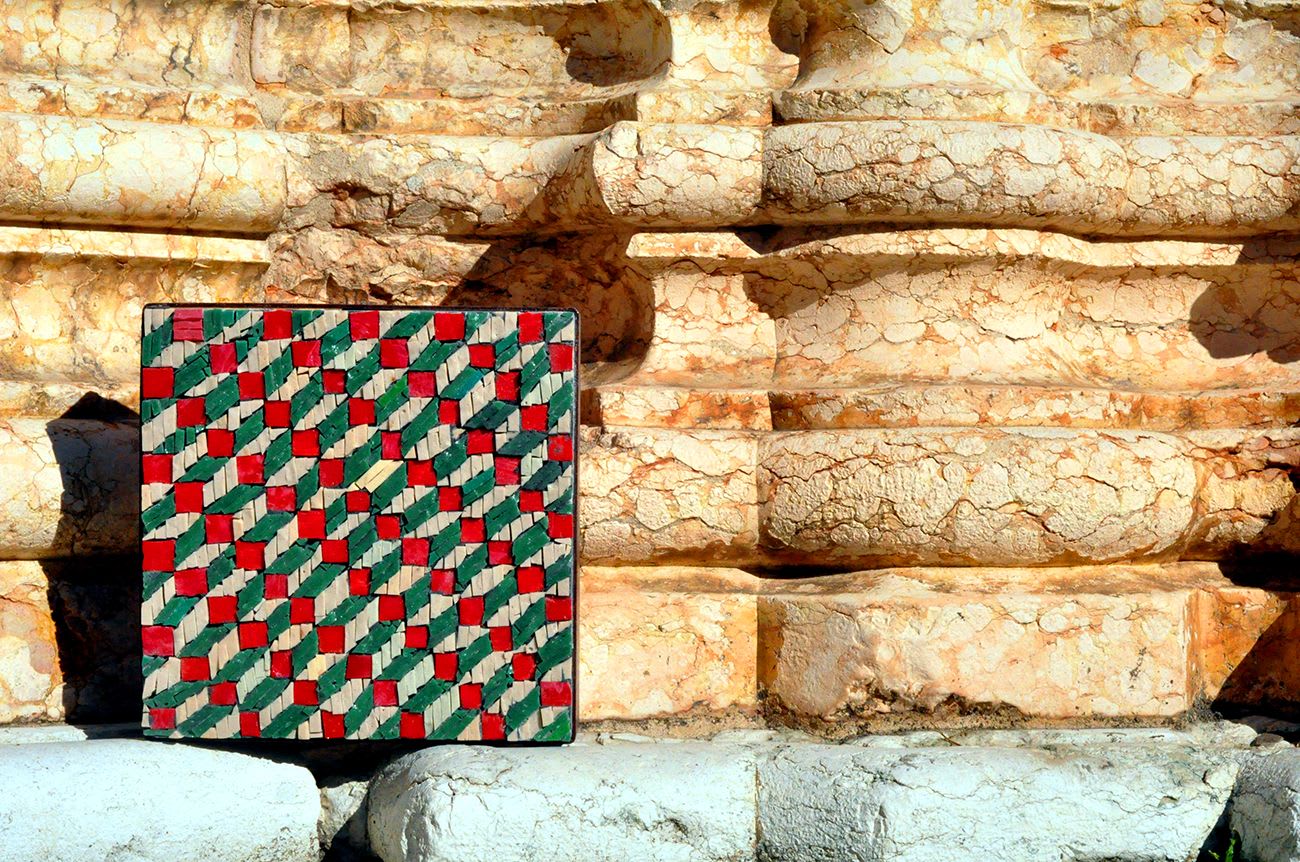 ​Why did you choose mosaics as a medium to express your art?
Five years ago, quite unexpectedly, I received a proposition from glasshouses and art galleries in Venice and Murano to craft, on commission, mosaic reproductions of works by great artists. I saw this offer as an opportunity to begin a new adventure in the artistic field, since my previous experiences laid in other disciplines, notably masonry restoration (mural paintings, frescos, and stuccos), and prior to that at the Academy of Fine Arts in Venice with a Masters in Printmaking. As a young woman, I had a brief experience in Olimpia Biasi's workshop, an artist from my hometown of Treviso, where I spent afternoons learning and experimenting with different painting techniques. It is there that I crafted my first mosaics made of pottery fragments, using different materials.
My job led me to travel a lot throughout the Italian territory, discovering, and experiencing first hand different artistic styles, each tied to places, traditions, and to a specific cultural and historic moment. I believe you never really stop learning with art, and by branching out my experiences, I got the chance to develop an eclectic approach towards the disciplines I learned. From there arose the opportunity and the possibility to sum up what I had learned over the years and employ it in a new form of artistic expression.
​Your workshop is located in Venice. How has this unique city influenced your work?
In line with what I just said, I'm aware that any artistic production is deeply influenced by the place where it is created. Venice, for me, represents Material: glass, stucco, wood. Certainly, glass could not be left out in this creative process: unique in its crafting, fully handmade, and changeable, as it depends on the temperature and the ability of the master glass blowers that shapes it. The same can be said of natural plasters: Venetian "pastelloni", an ancient Venetian technique made using lime and marble powders that, depending on the mix, can produce multiple results. Sand, oxides, powders, stones, fire, and artisan know-how: simple, base ingredients capable of achieving unbelievable results. This is what I like about my job.
You use prized glass tiles for your mosaics. Can you tell us the main steps behind the creation of your pieces?
I started my personal artistic journey by creating small collections inspired by themes I'm passionate about. They represent brief explorations into the "feminine", the arts and tributes to works by great artists. Stories told through the glass. Each piece I create has its own story, it is like an encounter, and very often stories and pieces are interconnected, as are the research and in-depth study of techniques, while I always maintain a curious outlook and desire to tell the story using my own language.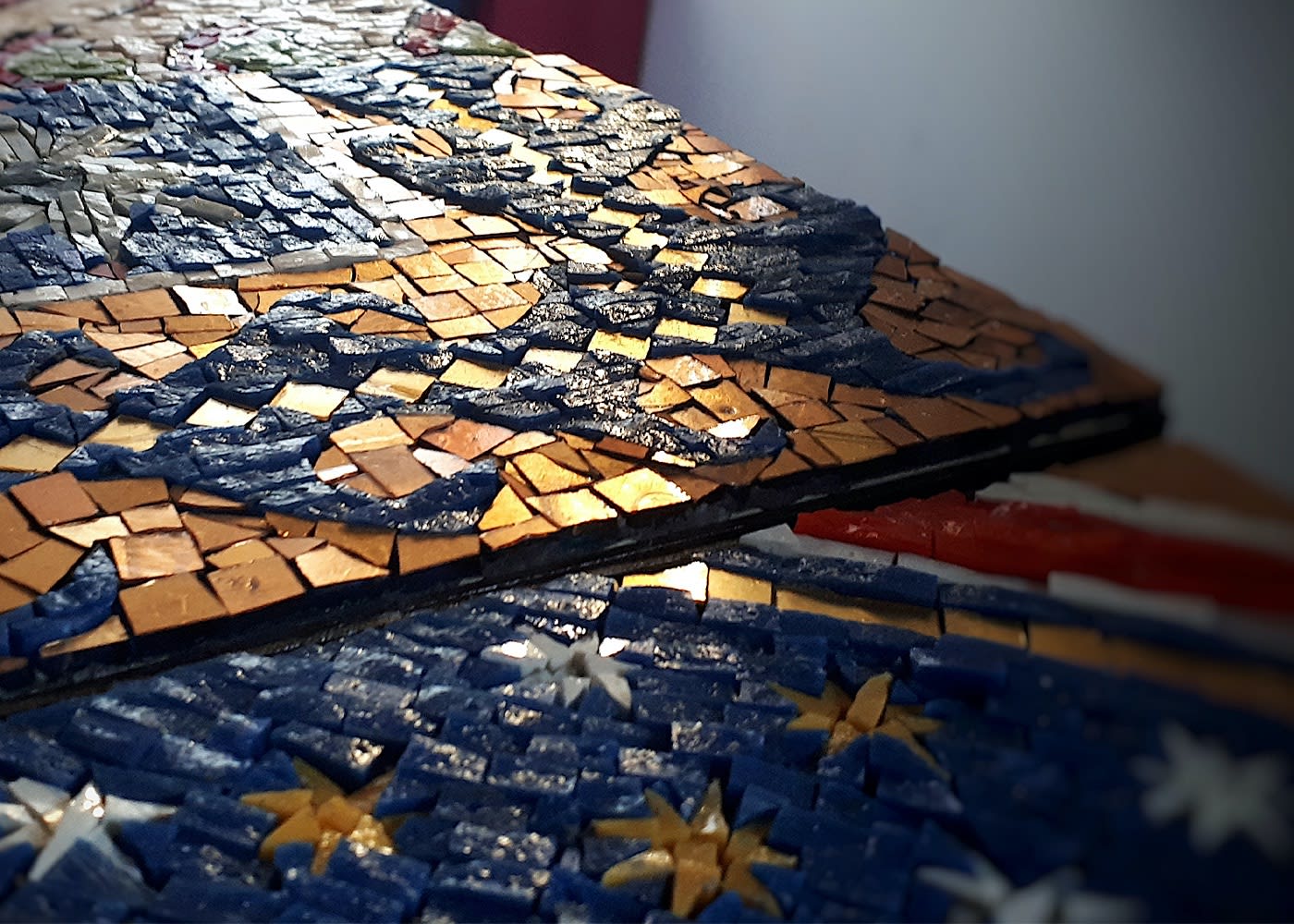 ​What makes your mosaics truly unique?
I have always tried to tailor the technique to the subject, breaking away from the patterns dictated by classical techniques that constrain the artistic compositional process. For instance, evoking a graphic or pictorial image, a textile, or a fresco by cutting and arranging the tiles in glass paste in such a way to harness the material's sparkle or opacity, and researching new compositional dynamics simply by putting together different materials, such as glass and plaster.
And for dimensions, the idea is to be able to indulge oneself in something precious but small that will not permanently alter the interior design of a house but rather enhance it, one that is versatile and easily movable, since its standard dimensions (20x20 cm) allow for interesting modular compositions.
​Your production consists of small collections of one-off pieces. Where do you draw inspiration to create them?
The theme is the starting point of it all. The inspiration branches out into different paths depending on the project. I start my research by examining the work of artists who have interpreted the same subject before me, I compare them and create connections. It is a meeting between art masters.
The desire is to depict Italian towns through those artistic elements that identify them, not necessarily to make a mere copy of a mosaic. I borrow the frescos from Treviso, the Fortuny fabrics from Venice, and so on. I started with places I am fond of, but the project is much broader and aims at outlining a true map of Italian artistic elements, so as to describe the places, create new connections, and make them mobile.
On the other hand, the wooden sculptures are borne out of the need not to pervert the material, but rather leave it free in its own expression. All the selected wood pieces are simply cleaned up and polished with microcrystalline wax. The glass is inserted into the wood's fissures and takes on the shape of the organic material (the wood), which suggests the final result. The composition is informed by each shape and achieved through the color. It sometimes happens that it transforms, as in the case of the Wood Lamp, while in others it evolves to emerge from the depth of the fissure, creating always different fascinating effects.
It is often a matter of practice: the same elements can offer multiple and different results, what changes is the observer's gaze and interpretation.