Kristine Paige: Vibrant and Whimsical Design
Step into the fabulous world of Kristine Paige. Based in Los Angeles, she has led Jackson Paige Interiors since 2001. Her signature style is a daring mix of bold hues, soft shapes and unexpected materials. Through thought-provoking design, she creates spaces that convey an exuberant vitality.
​Kristine Paige is the principal designer of​ J​ackson Paige Interiors, Inc., a Los Angeles based interior design firm specializing in high-end residential and unique commercial design. Since the firm's inception in 2001, Jackson Paige Interiors' projects follow a consistent philosophy; they reflect a daring yet refined conversation between architecture, environment, and a client's lifestyle. Kristine's passion for creating harmonious and timeless spaces permeates throughout the firm's varied projects. Kristine and her team approach each project with unbridled curiosity and the utmost consideration for their clients' needs and lifestyles.
With 20 years at the helm of her firm, Kristine brings a wealth of experience and understanding to her projects. She leads her team in all aspects of design renovation, and new construction projects, providing a wide array of services for her exclusive residential and commercial clients.
​How did you first become involved in the world of design? Tell us your story.
I was an actress in my late teens and early twenties, I then went to work at an international film and finance company. The travel to film markets and festivals was wonderful but after two grueling and somewhat unfulfilling years, I craved a creative outlet. I began taking design courses at night at UCLA. It was love at first class! After a few semesters, I knew I'd found my calling. I left the film world and began managing a fine linen and furnishing showroom as I continued classes. During that same period, my best friend, Sasha Jackson Premoli, and I began doing interior design jobs on the side. We formed our design firm and, once we had enough business to go out on our own, we quit our day jobs and decided to fly.
​Are there any specific trends that you're currently blending in your practice?
We are playing with bold marbles, variegated stones, thought-provoking shapes, Alpaca wool, lacquers, and hand-painted wallcoverings.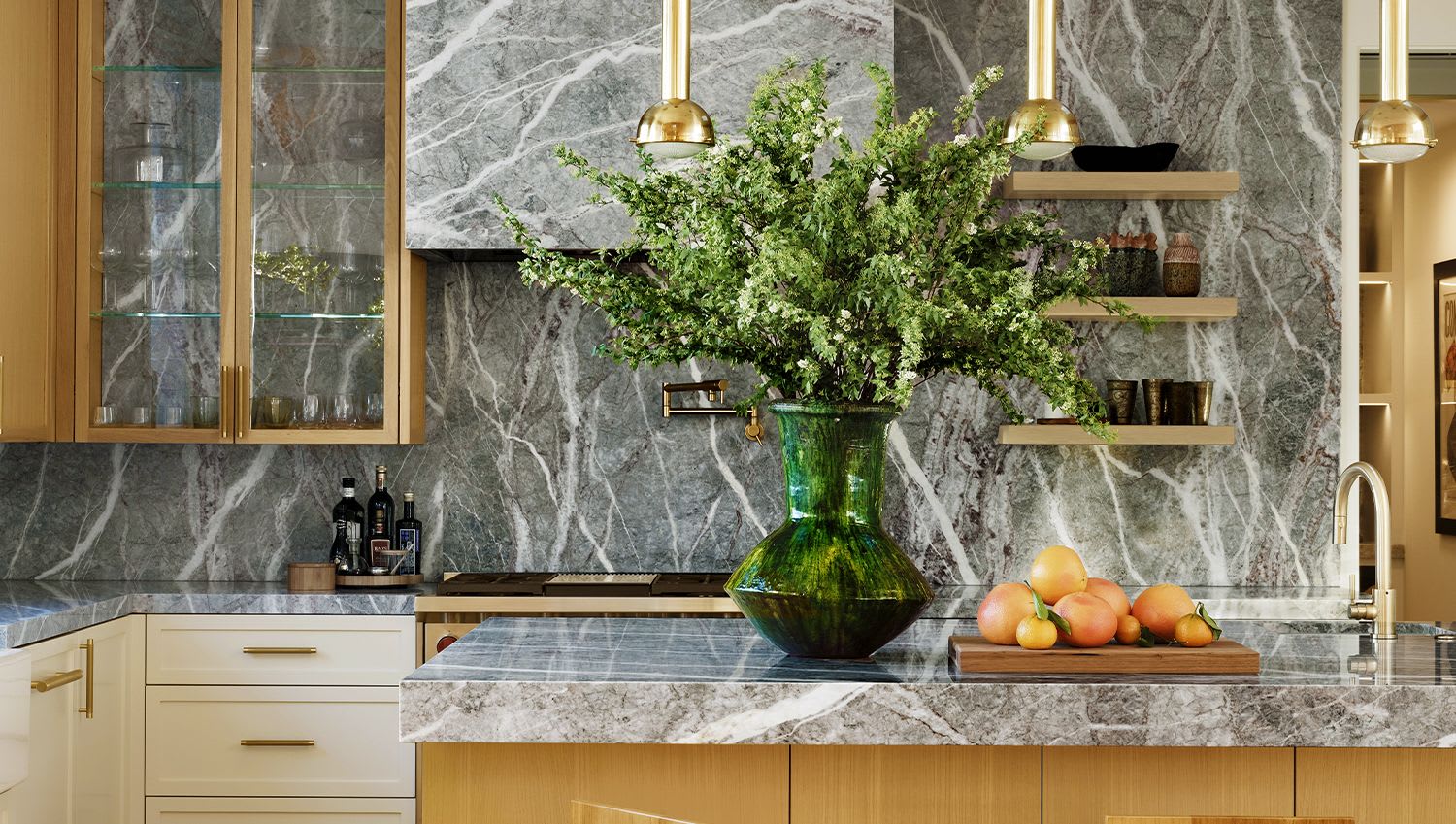 ​Where do you draw inspiration for your projects?
Our favorite source of inspiration is drawn from our clients and our work reflects our clients' personal essences. Jackson Paige's creative journey is to design spaces that awaken, cater to, and transform our clients' lives. I believe inspiration is visual, auditory, and experiential. In my own life, I draw inspiration from moments of time and experiences I have that I want to encapsulate and recreate; It might be the smell and finish of a French Bordeaux. Its velvety aroma can be translated into a luxuriously deep, silk velvet lounge chair, which envelops you as you sink into it. Surround that experience with a moody wallpaper or sumptuous paint color, marble fireplace, and sexy lighting, and your glass of wine has come to life.
​What's the decorative piece you enjoy selecting for your clients and why?
Definitely lighting! I am obsessed with it. To me, it is the most important element in design. First and foremost, on a practical and subconscious level, our brains operate optimally when we follow the laws of natural light. It is second nature, that our projects integrate every level of lighting; overhead lighting is optimal in the mornings and early afternoon, but as the sun begins its descent, lower-level lighting is ideal, and at night, we all benefit from dim lighting that tells our brains that it is time to slow down and get prepared to sleep. From an aesthetic point of view, we love sourcing unique lighting finds that speak of our clients' histories and points of view. A recent client's Italian heritage was highlighted by sourcing several midcentury Italian light fixtures that paid homage to her love of Italy.
​What is your favorite project you have worked on and why?
My favorite projects tend to be one of the current projects we are working on. Right now, one of the projects that brings me a lot of joy is actually a second home for our clients. They purchased a condominium in a very high-profile building in Los Angeles. The building is incredibly chic and modern. Our design works within that modern language but incorporates grace and elegance to better represent the nature of our clients. Every material we've selected and every piece of furniture we've designed speaks of the inherent sophistication of these particular clients. We've selected hand painted wallpapers, stylish European light fixtures, luscious rugs, and sumptuous bed line
​What do you think it's going to be the next big trend in interior design?
Right now, there is a trend towards muted, beachy tones; environments that are overly loose and unstructured. As the world opens up, I see a return to brighter hues, and riskier design. Shapes will be manipulated and twisted in unexpected ways, finishes will vary in both color and texture on the same medium. I hope that as people are once again surrounded by friends and encouraged to make new acquantances, they will strive to be more adventurous and risk-taking in their home environments. Design should become more personalized and thereby more varied.