Casa Galateo 20
Immerse yourself in the medieval authenticity of Casa Galateo 20. This stunning sixteen-century palazzo overlooking the Ionian coast of Salento goes beyond the b&b concept, and instead offers a personality filled vacation home.
Gallipoli derives its name from the Greek word "Kale Polis" which means 'a beautiful city', and it certainly lives up to the name. Located on an island immersed in the Ionian Sea, connected to the mainland by a very characteristic bridge, this scenic town is popularly known as the pearl of the Ionian Sea. The coastline of Gallipoli is formed by a series of long sandy beaches and transparent waters that enchants every sea lover. The historic center of the town holds a good portion of culture, historic significance and local aromas.

​In the heart of the medieval fortress town, lies a sixteenth century palazzo refined into a modern environment. The facade is adorned with distinctive anthropomorphic propitiatory figures and huge window-like balcony overlooking the street.
As you explore the address, you start absorbing the warmth and the delight of the medieval building with contemporary taste. ​Casa Galateo 20, is beyond an ordinary B&B, but an offbeat destination retaining the Apulian flavors and tradition along the Ionian shores.
​Milanese Architects Jacopo De Carlo and Andrea Gualla of​ De Carlo Gualla, have given a fresh makeover to the property preserving the original structure and the spatial distribution of the rooms. Combination of the large living areas and antique elements from the history of the place have successfully created an Apulian homely comfort.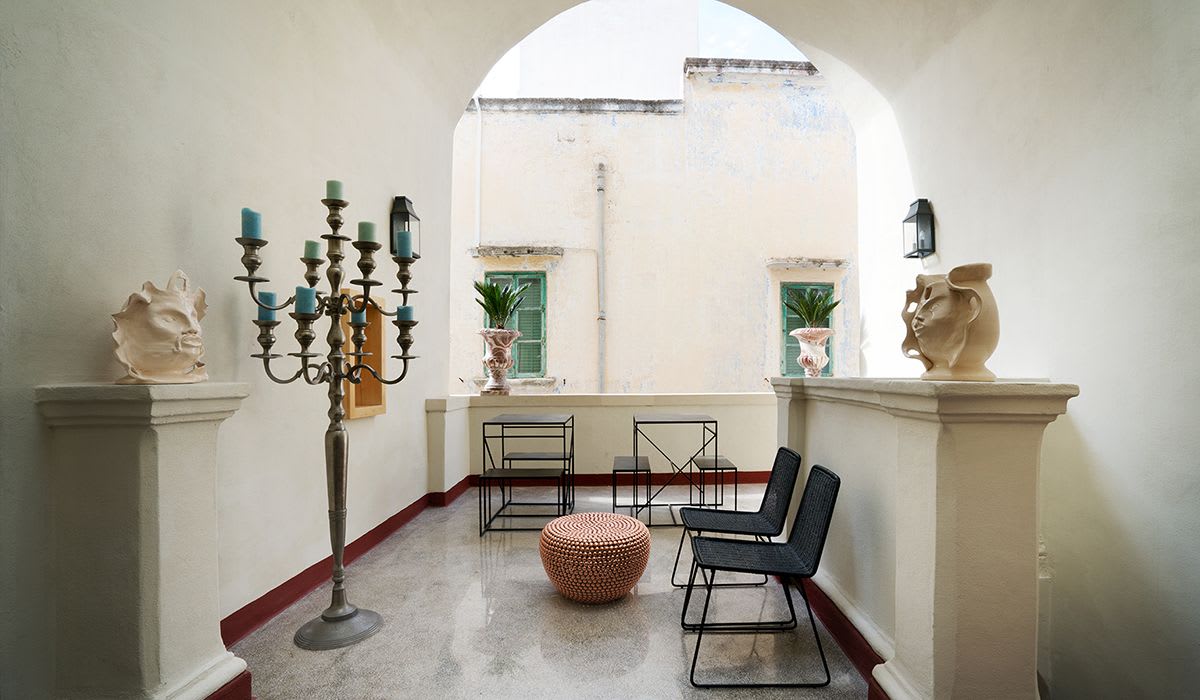 ​Step into the main hall, and you will notice the white star-shaped ceilings, in contrast with the textured walls, resembling a typical home of Salento. The oxidized iron and Murano glass chandelier hanging from the ceiling, illuminates the lustrous bronze poufs. Contemporary features such as the geometric iron furniture paired with bright tabletops often set the mood for breakfast and relaxation.
​There are six rooms of different style details and layouts, of which four rooms face the central hall. The apartment styled rooms, are equipped with a private kitchen and a terrace to spend you day relaxing in your personal space. A flight of stairs leads you the Junior suite, a cozy room embellished with extraordinary mix of artistic décor and authentic finishes that meet the needs of contemporary living.
​The most loved spot of Casa Galateo 20 is the multiple leveled terrace overlooking the cathedral. A series of pergolas, tables and sofas designed in white lacquered iron offer a cozy space for conversations over breakfast and travel stories. A small staircase that leads to the 'Coffa', a lookout tower to watch the sea.
Travelers are often surprised by how this historic building in the quaint town of Gallipoli is immaculately furnished with the updated décor and lighting. For those who want to preserve indelible memories of Gallipoli, Casa Galateo 20 offers perfect hospitality and gorgeous views of the pristine sea.
Casa Galateo 20
Via Galateo, 20, Gallipoli 73014, LE
Tel. +39 335 8174987