Metal and Myth at La Fucina di Efesto
The sculptor Alessando Rametta welcomes us in his forge and tells us about the tory and the values of "La Fucina di Efesto": a real experimentation laboratory where to attend the mixture of ancient techniques and innovative visions.
​​La Fucina di Efesto (Hephaestus' Forge) was founded in Milan in 1997 by the self-taught sculptor Alessando Rametta. The bold vision that drives his work is an innovative and pioneering approach to metal working, with the aim of designing real works of art.
In his laboratory of wonders, art, design and philosophy mingle to investigate and discover the unexplored behaviours of this extraordinary material. From 1997 onwards, Alessandro Rametta keeps experiencing different sculpting and painting techniques on metal and his stunning creations come to life with the contribution of the designer Andrea Capriotti and the entire workshop team.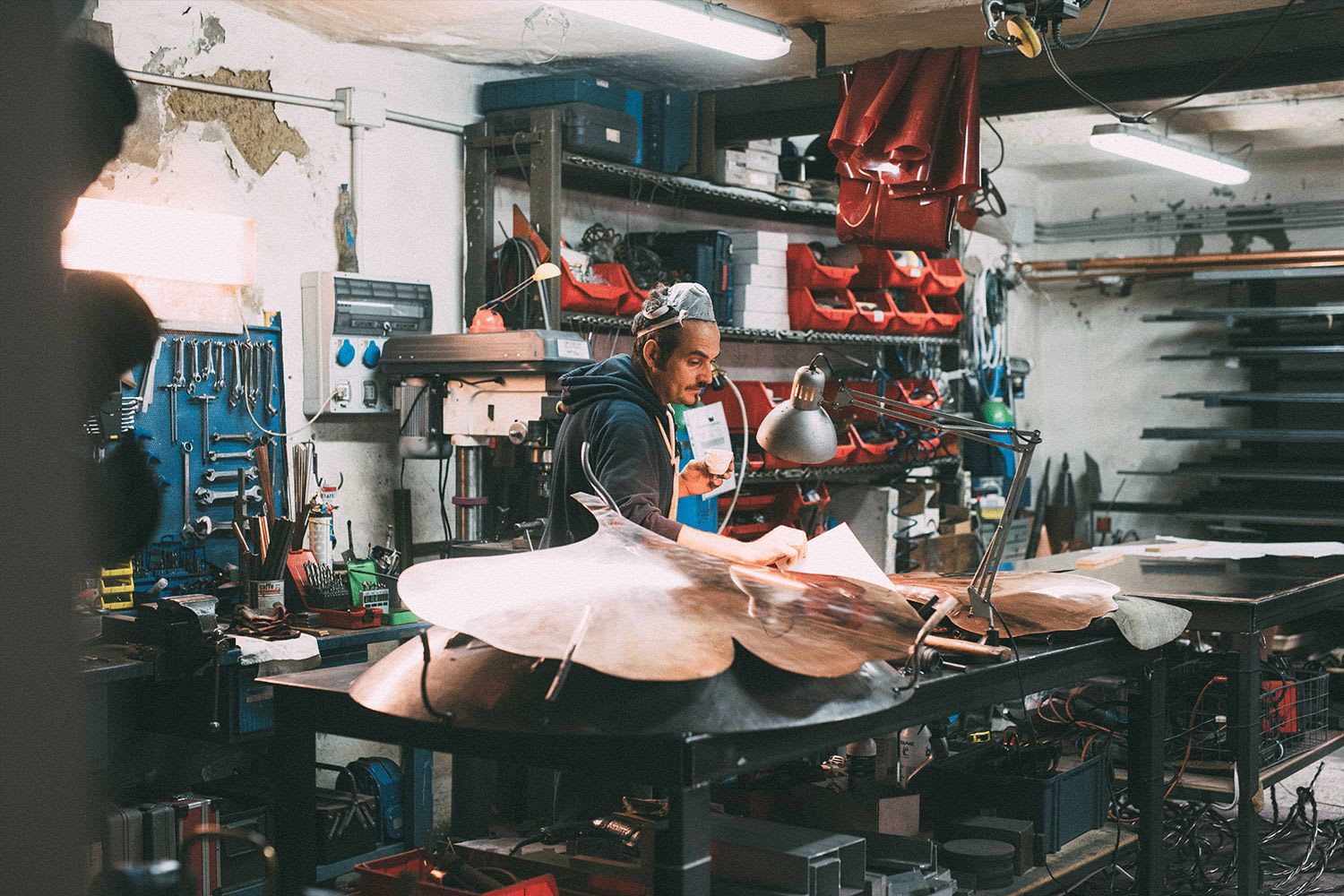 ​What philosophy lays behind La Fucina di Efesto?
"The forge is a sacred place where metal is transformed, a magic cave where fire nourishes the desire of anything evasive, a place where man becomes demiurge and abstracts from the primordial and incandescent metal. Behind this mysterious passage of metal from being solid to magmatic and then solid again, is concealed the boundless poetics of an ancestral language that is free from time, is eternally present, and gives off all the underground tension of perceivable matter and its intrinsic laws; behind this process is concealed the vital passion of tacit knowledge".
I chose these words to express my constant research on the relationship between man, matter, and technique: it is a complex dialectic inherent to art and philosophy, and I have been studying it for over twenty years with the aim of finding the womb, the ancient insight that lays behind this extraordinary relationship. The entire production of La Fucina di Efesto researches the profound meaning of art in relation to the theoretical and practical forces of experience. This creative process passes through the idea of Life, of genesis, of fertility and sacrifice; it is the sacred ritual of "passage", the metamorphosis and transformation that seals the eternal alliance between Masters of Fire and the Great Mater. This alliance materializes in the existential practice of repeating a gesture, nourished by the will of the Eternal, by the immortality of the work of art.
​The name of your brand is a truly unique one that clearly refers to Greek mythology. Why did you choose it?
The origin of metallurgy, as happened for many conquests of our human history, is found in myth. Efesto (or Hephaestus) symbolizes the historical heritage, and the Forge is the research and experimentation place. Our project, driven by art, design and philosophy, uses a particular symbolism that merges the evocative power of mythology with the alchemical charm of metal transmutation. "I keep learning and experiencing different sculpting and painting techniques on metals that I believe to still have, after millenniums, one of the highest expressive potentials to explore".
How was La Fucina di Efesto founded?
It was created by listening to distant memories, to the familiar call of a material that guards ancient secrets. Stroked by metal's infinite possibilities of expression, in 1997 I founded La Fucina di Efesto to create a space suitable for research and experimentation on metal, that would merge art, design, and architecture. Today, together with designer Andrea Capriotti, we work dynamically as a single entity: we create delicate balances between mind and body, planning and surprise, knowledge and research, experience and risk.
​Your splendid creations are all handmade using iron as the main material. What are the most essential steps in the production of one of your pieces?
Poetic inspiration, planning, and firing processes using innovative and experimental techniques are essential to our productions. Then there are coating and finishings of metals, and a positive attitude to wards technology which increases the chances of creating something new and unique. In every step of production the hand movement is the most essential. We often combine ancient techniques that belong to blacksmith, goldsmith, and silver smith craftsmanship, such as beating hot iron, embossing and chiseling, etching and coating, with an innovative vision of our designs.
Contrary to melting techniques, we shape metal by hand, looking for the balance between reinterpretation of ancient classics and a contemporary approach. I research and experiment with new techniques on every sculpture or other original creation of mine, with the aim of freeing and enhancing the potential of each metal expressed at a sculptural, pictorial, and chromatic level, to always look for unexplored behaviors of this extraordinary material.
How important are constant innovation and experimentation to you?
I could say they are everything. They are the real engine that fires our enthusiasm and creativity. I am a self-taught sculptor and since the beginning of my studies and research I developed a personal technique that is completely original. Learning and constantly experimenting with new and different sculptural and painting techniques on metal have become our raison d' être.