Bespoke Homes by Laura Hammett
Meet Laura Hammett and discover her signature modern classic aesthetic, meticulously tailored to each client's needs. Within the contemporary framework of refined British design, the London-based firm masterly designs bespoke homes all over the world, that are authentic, liveable, and timeless.
​Founded in 2008, ​Laura Hammett is a multi-award-winning, London-based interior architecture and design studio, run by husband and wife team, Aaron and Laura Hammett.
Specializing in luxury projects for private clients and property developers worldwide, the company provides 360-degree interior architecture and furnishing design services to some of the world's most discerning clients. Alongside their UK portfolio of townhouses and estates, recent and ongoing international projects include a penthouse in The Bahamas, three substantial family villas in the Middle East, a triplex apartment in Hong Kong, a lake house in Switzerland, private apartments in New York, Miami, Paris, and China, as well as an 18-seater private jet.
​Laura Hammett's designs respond to the architectural vernacular of each property, contextual and geographical cues, and the individual culture, lifestyle, and taste of each client. Bespoke design is integral to ​Laura Hammett's approach and every facet of a project is meticulously designed, ensuring that each home is just as practical as it is beautiful.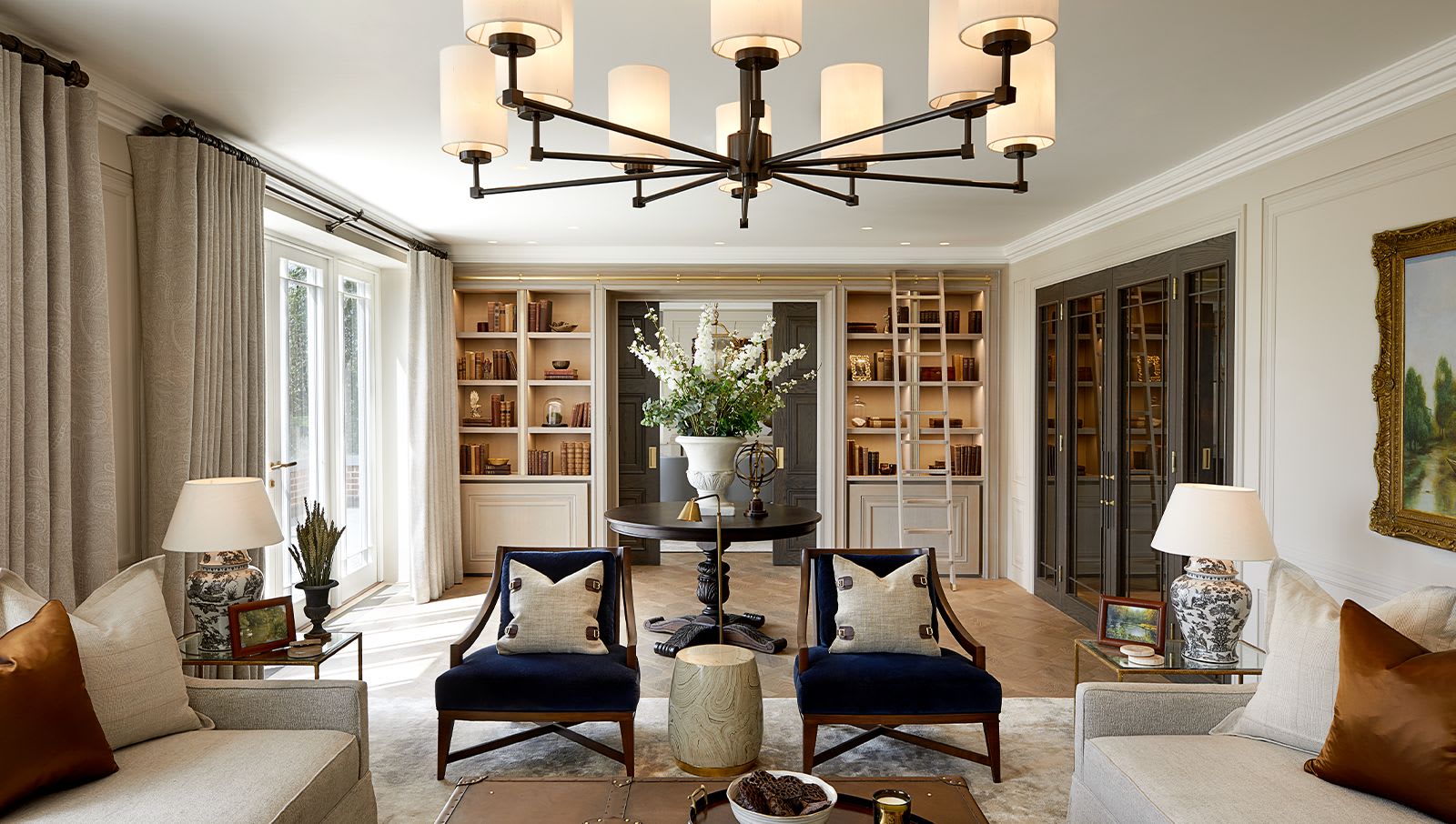 How did you first become involved in the world of design? Tell us your story.
The way the business was built was not glamorous at all, it's probably not what you'd expect from a luxury interior design business. I studied interior architecture at Brighton and started working at a London interior design studio after completing my degree.
However, personal circumstances intervened, and I suddenly found myself in a difficult time where I needed to be home. So, I thought, "what can I do from home?". I could sew, so I started making cushions to sell on eBay. Very unglamorous, but it was a desperate measure! As this progressed, I then bought a dummies guide and built a website from scratch, figuring out how to do all the coding myself. At the time I had a friend who had started selling artwork, and together we stumbled across an empty shop near Hammersmith in London. We tracked down the landlord and asked if we could do a rent-free pop-up for three months, and he accepted. We revamped the space and started our little shop, it was a really fun time in my life. The way this translated into designing people's homes is because I would often help customers in the shop with their interiors, for example, someone might buy a lamp and would then approach me to ask about something else related to interiors. From there, I eventually got my first interior design job.

For me, craftsmanship has always been paramount. Our aim is to create homes that stand the test of time. Wonderful design married with great quality is how we achieve that air of "timeless elegance" we seek in all our projects.
How would you describe your personal style and what's the personal signature that makes your project unique?
My signature style is classic contemporary, but we pride ourselves on adapting to complement every architectural style and client, drawing inspiration from the location, building vernacular, and the client's taste and lifestyle. So, whether it's classic, contemporary, masculine, or eclectic, bespoke design remains integral to our approach. Every facet of our projects can be custom-made to exacting specifications and that's what makes each one unique, paired with our attention to that fine intricate detailing.
Where do you draw inspiration for your projects?
It may be cliché, but inspiration really is everywhere, from the hotels I stay at, to restaurants I go to, or the places I travel. Nothing beats that '"feeling" of ambiance or awe for a space when you're in it. My team and I also do regular visits to beautiful showrooms, supplier warehouses, and industry shows and events, so it's easy to feel inspired when immersed in design and bouncing ideas off each other.
​Are there any specific trends that you're currently blending in your practice?
I've always said I don't follow trends, because I think they're so fast-moving these days that it's an easy way for a home to become dated very quickly. I love looking at designs from different eras but never jump on a quick trend.
What is your favorite project you have worked on and why?
So many to choose from, but we love working with families and repeat clients, so a current favorite is our incredible Bahamas project. We worked with the clients in London so we know them very well, but this is quite a different style, so it's the perfect balance of familiarity and personal relationship, making it a unique design challenge.
What would be your dream project to work on?
A small boutique hotel is a dream project for me. As much as we love designing private homes, it would be so rewarding to be able to show more people our projects firsthand. The "feeling" of a space is just as important as the visual, so it's impossible to capture that feeling fully in photography.