Locanda La Raia: True Essence of Piedmont
Amidst rolling hills and vineyards, the beautiful countryside resort, Locanda La Raia, welcomes you to experience a new concept of hospitality in a mindful way. Explore their bio-dynamic estate, breathtaking views, and home-like comfort.
​Set in the stunning Gavi hills, in the southern area of the Piedmont region, ​Locanda La Raia dwells in a territory, so rich in its history and beautiful landscapes.
A scenic one-hour drive away from the city of Genova, this green mansion was born from the desire to create a place where agriculture and architecture coexist. As a result, Locanda La Raia is not just a resort, but an invitation to interact with the beauty of the surrounding environment.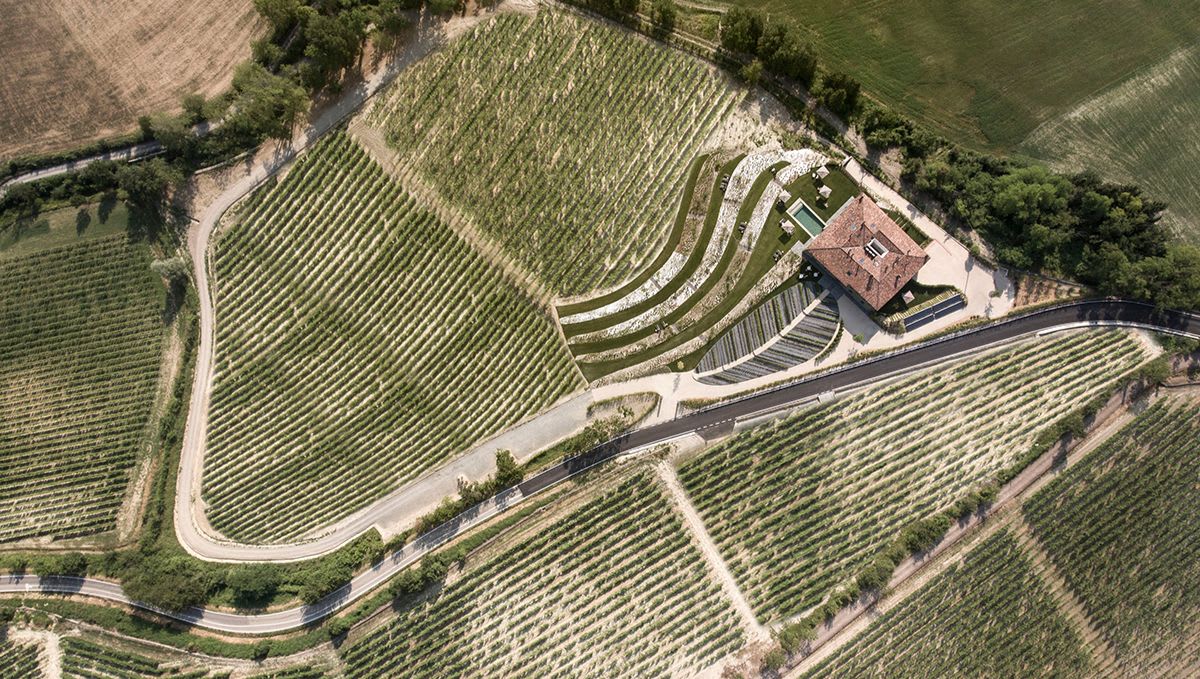 ​Owned by the Rossi Cairo family, the 180-hectare estate includes a beautiful holiday farm, Borgo Merlassino, a Waldorf school and the headquarters of Fondazione La Raia, devoted to arts, culture, and landscape, housing artworks signed by international artists.
De Amicis Architetti Studio worked on the renovation of this stunning retreat that offers a new concept of hospitality while maintaining the interaction with the beauty of the surrounding nature.
The entrance garden is an embellishment to the property: Italian styled garden with a selection of herbs, arranged in an esthetic way. As you go further, the garden fades into the vineyards from which La Raia produces biodynamic Barbera and white Gavi wine.

Step into the breezy living room on the ground floor, with large windows overlooking the vineyard. A basket of logs lays next to the iconic fireplace, surrounded by a selection of cozy armchairs and books, encourages guests to feel at home.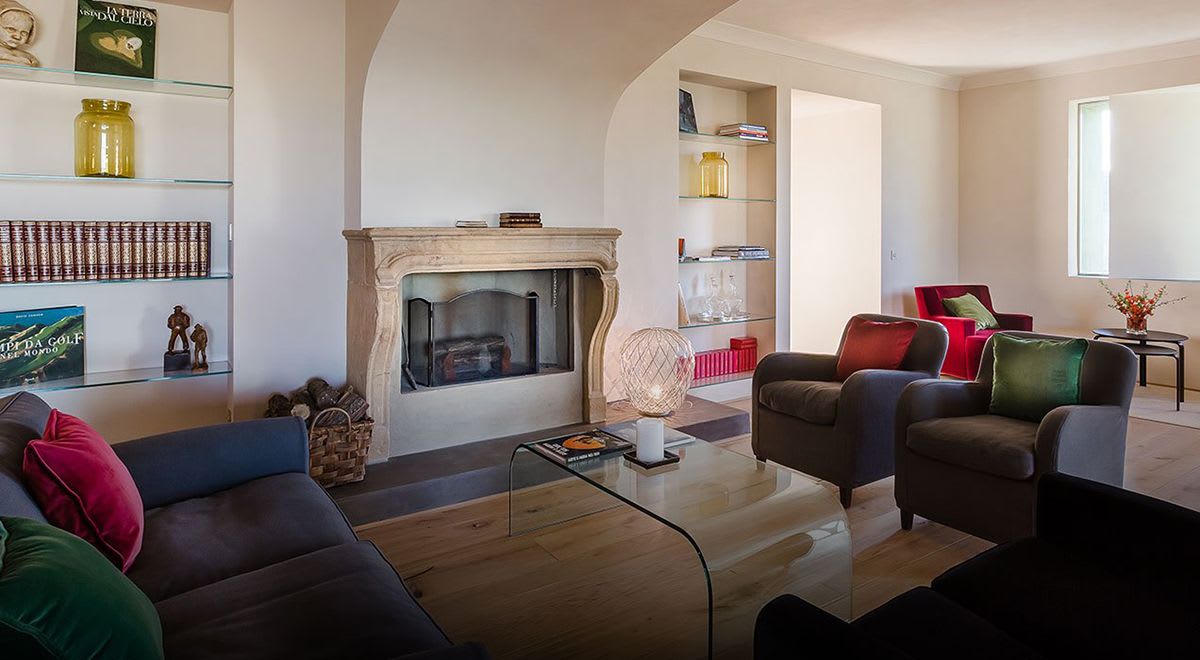 ​The resort offers different categories of rooms according to personal preference: suites and apartment-style rooms. The rustic charm of the old farmhouse is reflected in all the rooms and suites, however, there are custom-made elements and furnishings in each room that differ from one another, making each room unique.
Inspired by old and contemporary design, the rooms have colorful striped walls, printed armchairs, carved wooden cabinets and pieces of antique furniture that one cannot overlook. Playing with furnishings of natural wood, Carrara marble and silverware, Locanda La Raia, ensures a stylish relaxed ambiance.
​The relaxing experience extends to its outdoor facilities. You can choose to swim in the heated indoor and outdoor pool, or with a bio-sauna, a Turkish bath or book yourself a spa appointment for a relaxing evening.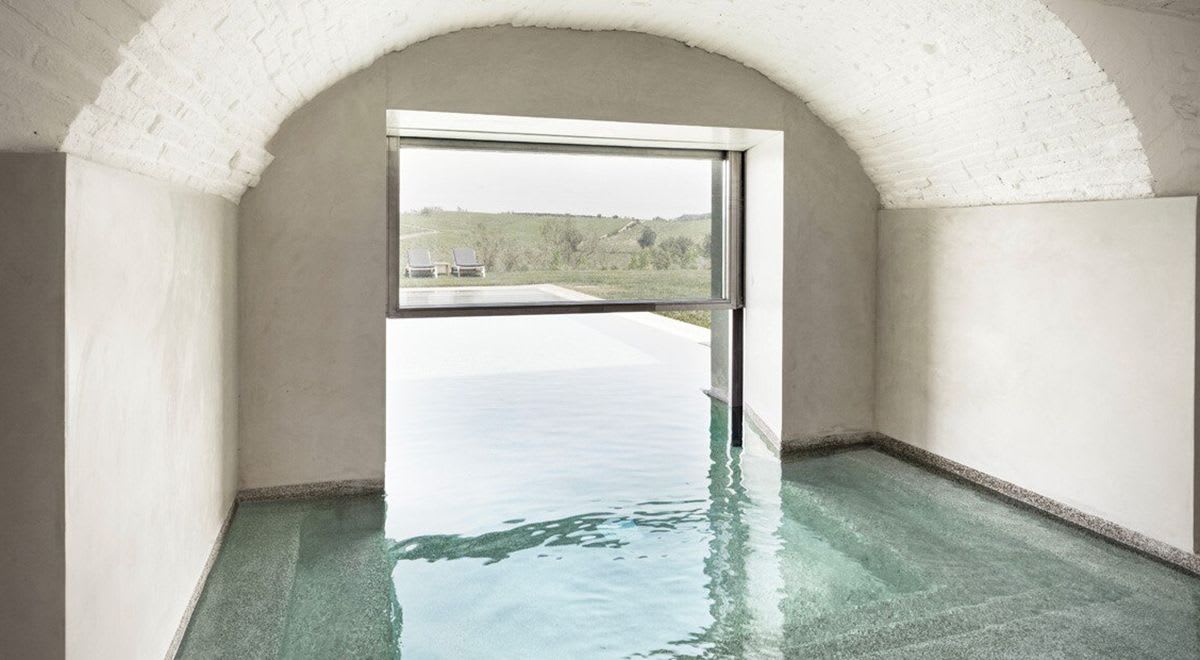 The biodynamic approach holds high regard for the La Raia territory and emphasizing on this value, they have been able to rediscover a relationship between art and landscape. Guests can explore the estate that houses varied works of art and installations by Korean artist Koo Jeong A, German artist Michael Beutler and many more.
Above all, the estate has mastered the principles of biodynamic agriculture by producing its own wine, organic honey, and cereal. A path through the fields leads you to the La Raia winery, where it is possible to taste their Piedmontese tradition of Gavi DOCG and Piemonte Barbera DOC.
​Dinner tables are usually decorated with garden flowers, candles, and white tablecloths create a sense of intimacy. Great wine accompanied by a great view of the tranquil landscapes, sets the mood for dinner.
Locanda La Raia harps on the beauty of its surrounding nature, and in its true essence, creates a dreamy countryside vacation!
Locanda La Raia
Via Gavi, 26, 15066 Gavi AL, Italy
0143 642860
reservations@la-raia.it