Artistic Craftsmanship by Berdondini 1926
Founded in 1926 in Faenza, Berdondini is an historical design firm, born to celebrate the quality of craftsmanship and promote Italian excellence and style. Antonio Berdondini tells us the story of the brand and the evolution of the family company from the small atelier to its present-day definition.
​Berdondini workshop opened its doors in 1926, when a young talented artisan – Antonio Berdondini – decided to emerge from the world of old-fashioned furniture manufacturing to join a new disruptive design culture. Due to the economic crisis of those years, the historical situation of Italy was inclement, representing the very first challenge of Antonio's work. At that time Faenza was an extremely lively center with an ingrained tradition in the furnishing sector and the small Berdondini Atelier quickly became a glorious example of Italian entrepreneurship.
Today Berdondini is an historical design firm that supports and celebrate the quality of Italian craftsmanship, boasting collaborations with many relevant icons of Italian design of the caliber of ​Ugo La Pietra. Berdondini design pieces are characterized by an exclusive design, result of a rigorous yet creative process inspired by history and brought to life by expert artisans. Meet Antonio Berdondini and discover his collection of design pieces inspired by his grandfather's work.​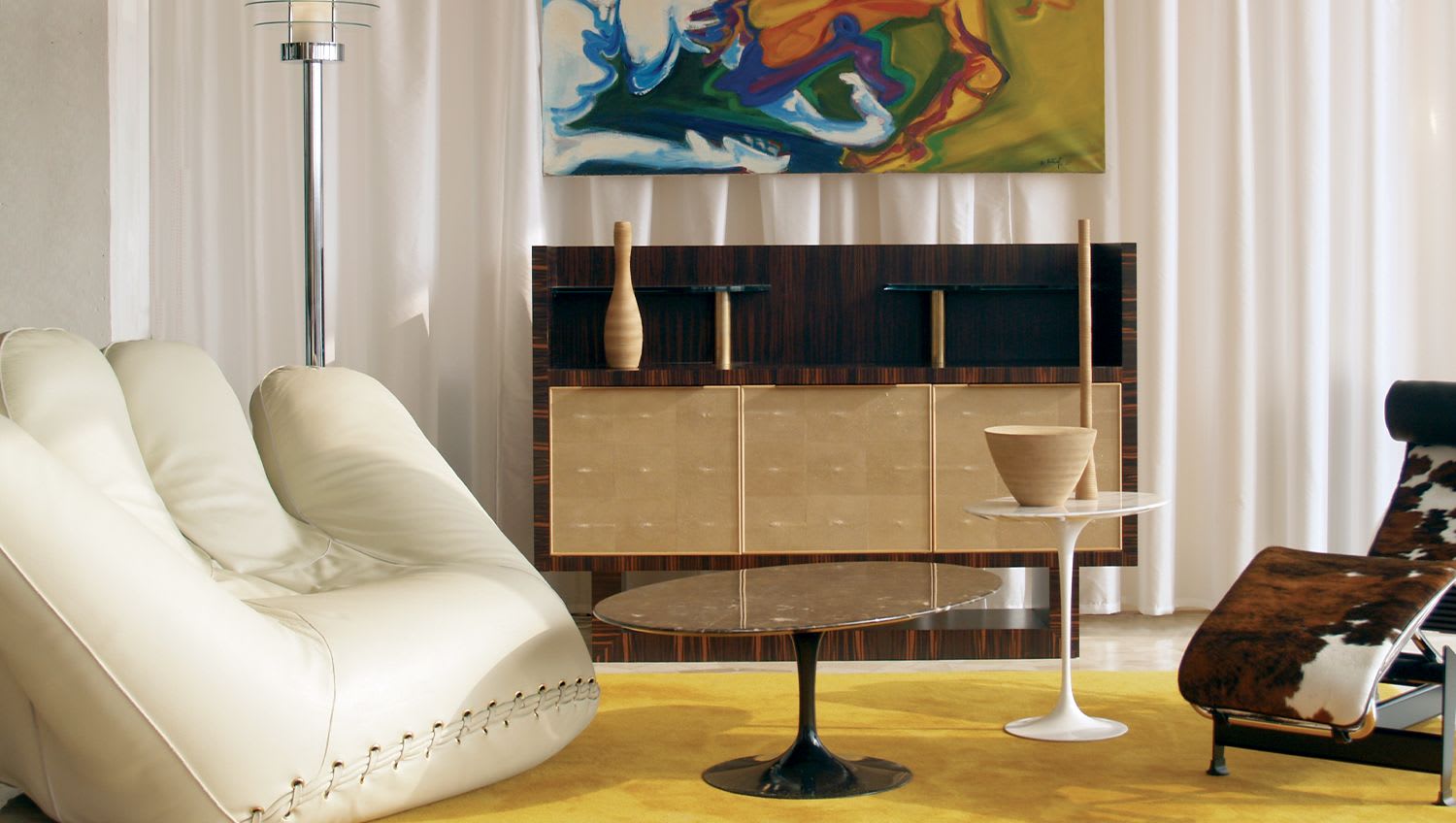 ​What are Berdondini 1926's origins?
Berdondini's furniture-making tradition began in 1926 when Antonio Berdondini opened his cabinet-making workshop after receiving a diploma in drawing from the "Tommaso Minardi" art school in Faenza, Italy. His remarkable works allowed him to stand out from the old-fashioned manufacturing production and become part of the new emerging culture: the ''Italian rationalist style.'' In fact, cultured individuals such as Giovanni Guerrini, Melchiorre Bega, G.Ballardini, Melandri, Matteucci, Gatti, Nonni, Drei, Ugonia, Rambelli, and Gentilini, among others, inspired the young Berdondini, who attended their meetings, debates, and discussions on ideality, art, and the future. Thanks to his success and certificates of merit from various exhibitions in Bologna, Florence, Rome, and Milan, the ''Antonio Berdondini cabinetmaker's shop'' finally became a benchmark of style at the national level.
How do your geographic roots influence your work?
We are from Faenza, a city renowned since the 13th century for its fine pottery as well as wrought iron and cabinetmaking. Here the various artisan workshops have always been in constant contact, passing on their experiences and secrets to each other; it's no coincidence that some Berdondini furniture produced in the 1930s to 1950s include ceramic panels by sculptors such as Giorgio Melandri, Bianchini, and Domenico Matteucci.
​The past serves as an unwavering inspiration for your work. Tell us why.
The idea of drawing from the 1930-1950 historical period for a furniture collection can be traced back to the time when Antonio Berdondini was especially active in developing his design and production activities. It is a less-studied historical period, whose aspects relating to applied arts have not been given due appreciation because it was often linked to the "regime" of that era. Nevertheless, it is a period that now can be considered "classic" thanks in part to the rediscovery of masters such as ​Gio Ponti, Guglielmo Ulrich, and Ico Parisi. A "style" that is gaining the interest of an increasingly wide audience and, as such, reasonably motivates some manufacturers to put objects on the market that are more or less directly inspired by this trend. To meet the growing interest in furniture made between the 30s and 40s, the Berdondini company has currently launched the first series of objects of a complete production line with my design contribution.
My stylistic references are, on the one hand, the inspiring suggestions I have found in my grandfather's archive, and on the other, what historian Rossana Bossaglia calls the "courtly Novecento," referring to a "way of doing things" that interprets the rationalist lesson reviving symbolic ancient models. The collection presents specific types of objects that retrace the attempts of that period to "modernize" the taste of the bourgeois home with sideboards, closets, desks, tables, and armchairs. In essence, the same variety that in his "Italian house" ​Gio P​onti reconciled with taste and that artisanal component so distinctive of all his works from that period.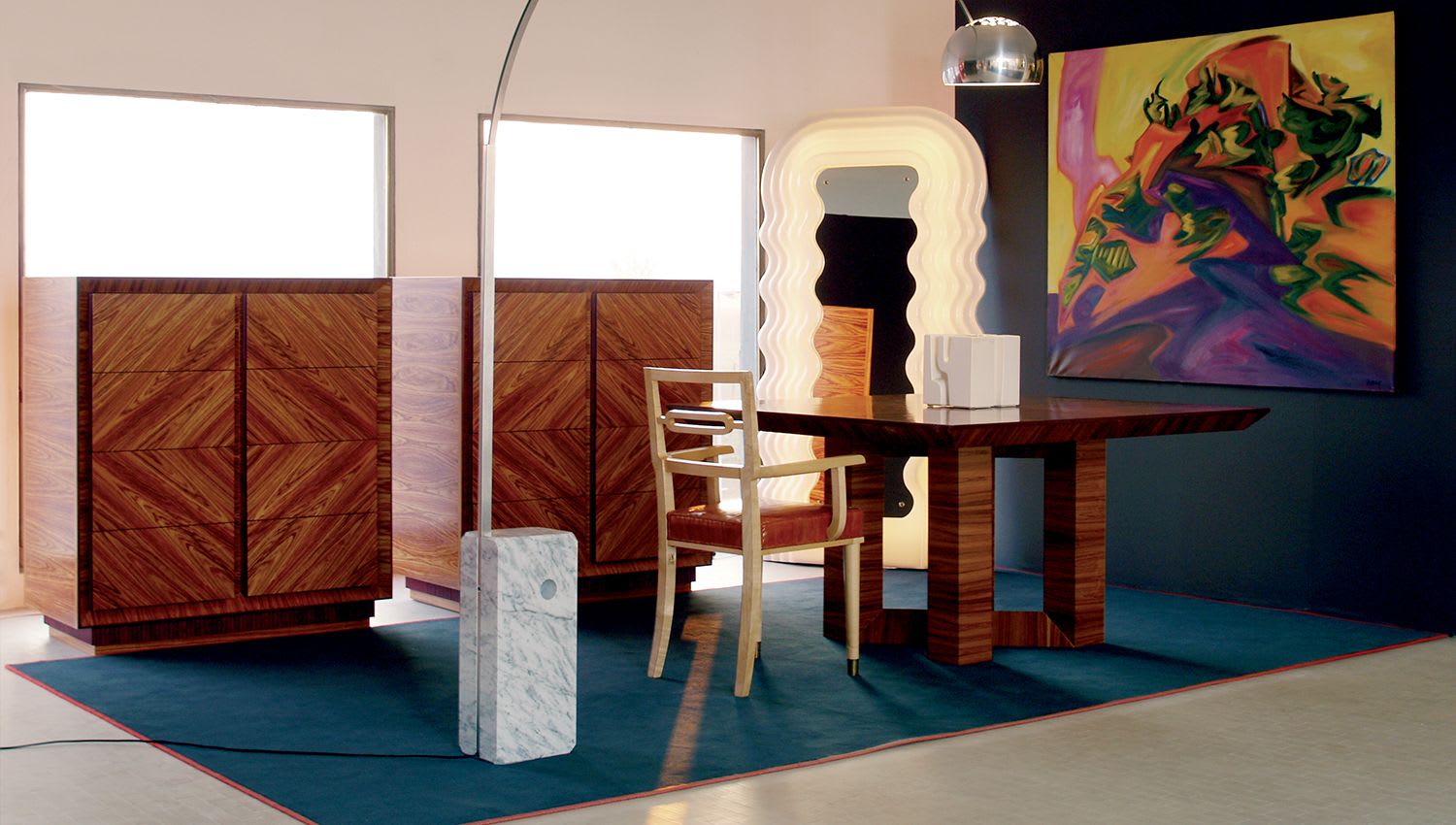 ​What materials do you use and explore the most?
The furniture pieces of the historic Berdondini Collection are constructed using precise and rigorous crafting techniques, following a method that has distinguished our brand for years. The frames are built using techniques that make use of planking, solid wood, and honeycomb panel. For the veneers are used exclusively natural essences of premium woods, such as Bois de rose, Makassar ebony, maple burl, ebony, amaranth wood, zebra wood, and thuya burl. In addition to these precious wood essences, fine leathers are also utilized, notably stingray skin (processed using the laborious and ancient "galosciat" technique), eel skin, and finally very fine parchment, made from the prized kidskin.
Other fine materials include honey onyx and bronze, the latter worked using the ancient lost-wax casting technique and finished with patinas of oxidized silver and copper. Each piece of furniture is handcrafted according to the most rigorous and ancient cabinet-making techniques. To witness their production process is like beholding the creation of a work of high-level artistic craftsmanship. Breathing in the scent of cut wood and seeing the skilled hands of a master cabinetmaker at work - who balances the wood grain and takes care of everything down to the smallest detail - is a unique experience.
​What makes your creations unique?
Design, craftsmanship, natural materials, and historical authenticity are the foundational values underpinning all Berdondini products. "Berdondini" creations have always been characterized by their timelessness and exclusive design, conceived and made according to the Italian standards of excellence and creativity. Handcrafted in Italy since 1926, each piece of furniture is the result of a long progression of different, delicate actions, each of which contributes to the creation of unique and unmistakable furniture pieces. A single product can take up to 160 hours of work, not including the setting time required for the glues and various layers of shellac applied to each section. Each piece of Berdondini furniture is a true jewel of artisan craftsmanship, in which creative mastery and aesthetics naturally complement each other.