Emotional Spaces by Liubasha Rose
Meet Miami-based designer Liubasha Rose, founder of Rose Ink Workshop, specialized in hospitality, and firm believer of art-directed environments. Emotion is at the core of Rose's design process: infused with texture and handcrafted touches sprinkled throughout, every space she designs weaves a new exciting story.
​Ukrainian by origin, Liubasha Rose is head of the Miami-based design firm ​Rose Ink Workshop since 2015.
After gathering significant experience in the Hospitality sector, working on boutique hotels and lifestyle brands around the world, the interior designer Liubasha Rose set out on her own to launch ​Rose Ink Workshop, a multidisciplinary firm specialized in unique hospitality environments and luxury residential projects.
Bolstered by the goal of becoming the premier hospitality design firm to the savviest hotel owners globally, Rose Ink's initial body of work, including the Wall Street Hotel and the repositioning of the Madeleine, Telluride an Auberge Resort has won the nation's most prestigious design awards.
Today ​Rose Ink Workshop is able to provide a 360-degree service to meet hospitality special clients' needs, thanks to a full capacity for customization and Liubasha's rich personal experience in creative direction.
Since its founding, ​Rose Ink places specific emphasis on the emotional factor when conceiving a space, in order to craft all compassing branded experiences.
Every culture in the world has a unique craft that has been honed through generations. As a Ukrainian, I'm in love with decorative arts, embellishment, and intricate woodworking. We always look to incorporate handcrafted details into our projects.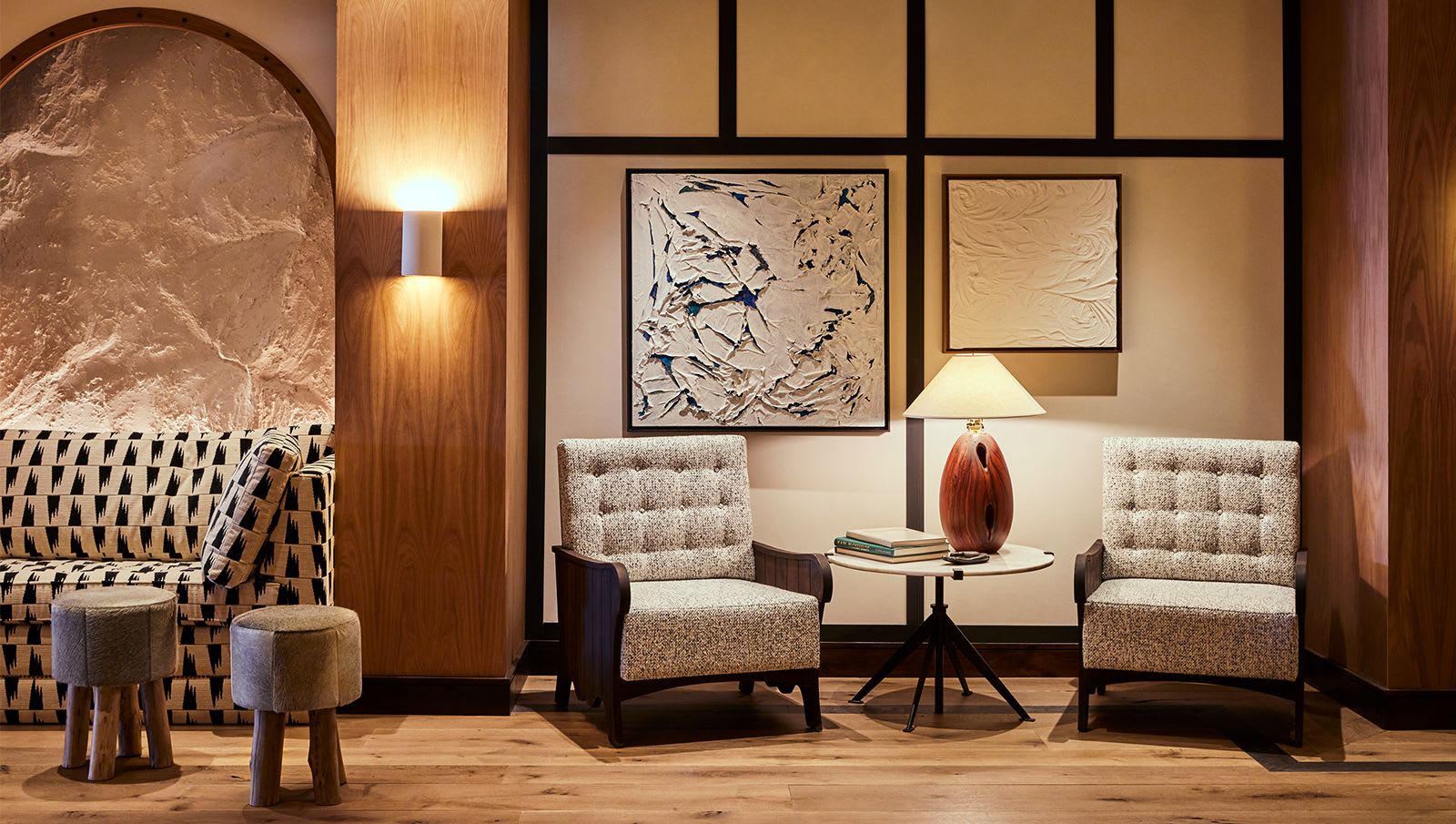 ​How did you first become involved in the world of design? Tell us your story.
In high school my mom cut out an article about Kelly Wearstler from the New York Times for me, planting a seed. While I was at Cornell, I saw that there was an Interior design and Fashion design major. Something pushed me to test that water with interiors, and even though I graduated with an English major, I had found my passion for design. I moved to New York, got an Associates from Parsons, and started my design journey.
How would you describe your personal style and what's the personal signature that makes your projects unique?
We are always looking to infuse spaces with texture and emotion. I think I have the eye to create interiors that are timeless, and luxurious, and at the same time succeed in making people smile and feel happy.
​Are there any specific trends that you're currently blending in your practice?
Traditional pottery from rustic to ultra-refined feels very of the moment. For the ​Madeline, the Auberge in Telluride, we commissioned custom handmade plates with an intricate folk pattern from a Ukrainian artist Rustem Skibin and used them as wall art in the guestrooms and in the restaurant.
What's the decorative piece you enjoy selecting for your clients and why?

We love selecting and designing furniture and accessories. The mix of furniture & fabrics in a project sets the tone for everything. We adore texture and color. For our ​​​hotel projects, we custom design so many pieces that I couldn't find in the marketplace, I am taking the next natural step and creating a furniture collection to launch in the next year. Our Wood Sleigh Lounge Chair and Palindrome Dining Table are in the restaurant and lobby of the ​Madeline, Telluride.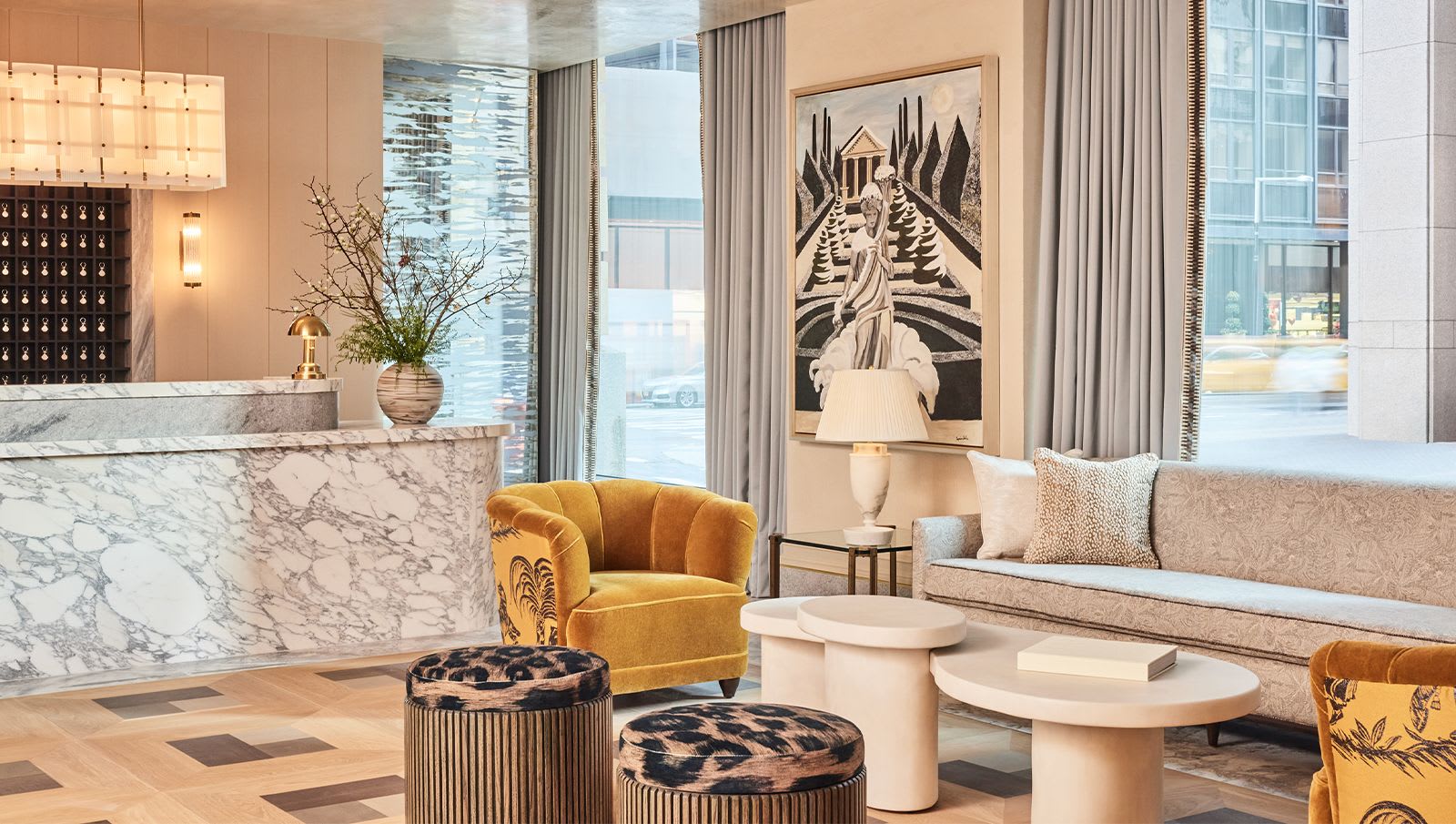 What is your favorite project you have worked on and why?
We just completed ​​The Wall Street Hotel, a luxury hotel in New York that was my dream for a long time. It's a special design to me because it feels unique and timeless. Our favorite room in the hotel is the Lobby Lounge. It's drenched in light and has incredible proportions with dramatic 20' high ceilings, custom vaulted coves at the windows, giant handmade gilded 20' high mirrors, a reclaimed fireplace from the Ambassador Suite at the Waldorf Astoria Hotel, hand-applied plaster on the ceiling by some of the country's finest craftsmen. It's wrapped in a hand-painted, De Gournay mural with scenes of downtown New York, custom created with Rose Ink Workshop.
In a hyper-digital world, do you often turn to social media for inspiration? If yes, which platform and why?

We find a lot of inspiration on Instagram. It opens up a world of artisans and we've made lasting relationships with artists and makers that we originally connected with on Instagram. For instance, we commissioned artworks from a dreamy British artist who paints magical landscapes, gardens, and flowers, Sarah Raphael Balme for ​The Madeline, an Auberge resort as well as for ​The Wall Street Hotel.
​Most recently, Liubasha made an outstanding debut in the wellness design sphere, with ​The Well, a holistic members-only club at the heart of Manhattan, New York. Mindfulness is expertly reflected in ethereal chalked spaces with softly curved walls and crystalline touches.
We wanted to create an ecosystem that channels positive energy so that people inhabiting the space take it in, expand their inner vessel and capacity for knowledge, spirit, and understanding of the universe, and when they leave—spread those feelings to do good and be well.