Les First: Vanguard of a New Tradition
Rooted in Italian tradition, Les First is a unique brand-atelier born to combine design, sensory experience and craftsmanship. Meet founder Massimo Marcomini and discover his sartorial approach to interior design.
Massimo Marcomini founded ​Les First in 2015, together with Nadia Marconato, as a natural development of his architect's work. Born to reimagine Italy's unique tradition of outstanding quality and style and relying on a set of local craft firms from Lombardy and Veneto, Les First creates interior décor combining age-old workmanship and sustainable high-tech – with an alluring attitude made of a contemporary, anti-minimal taste and a bold touch. In a world ruled by large delocalized groups, Les First chooses to work on a human scale, to stay rooted in Italian tradition by adding to it a contemporary spin.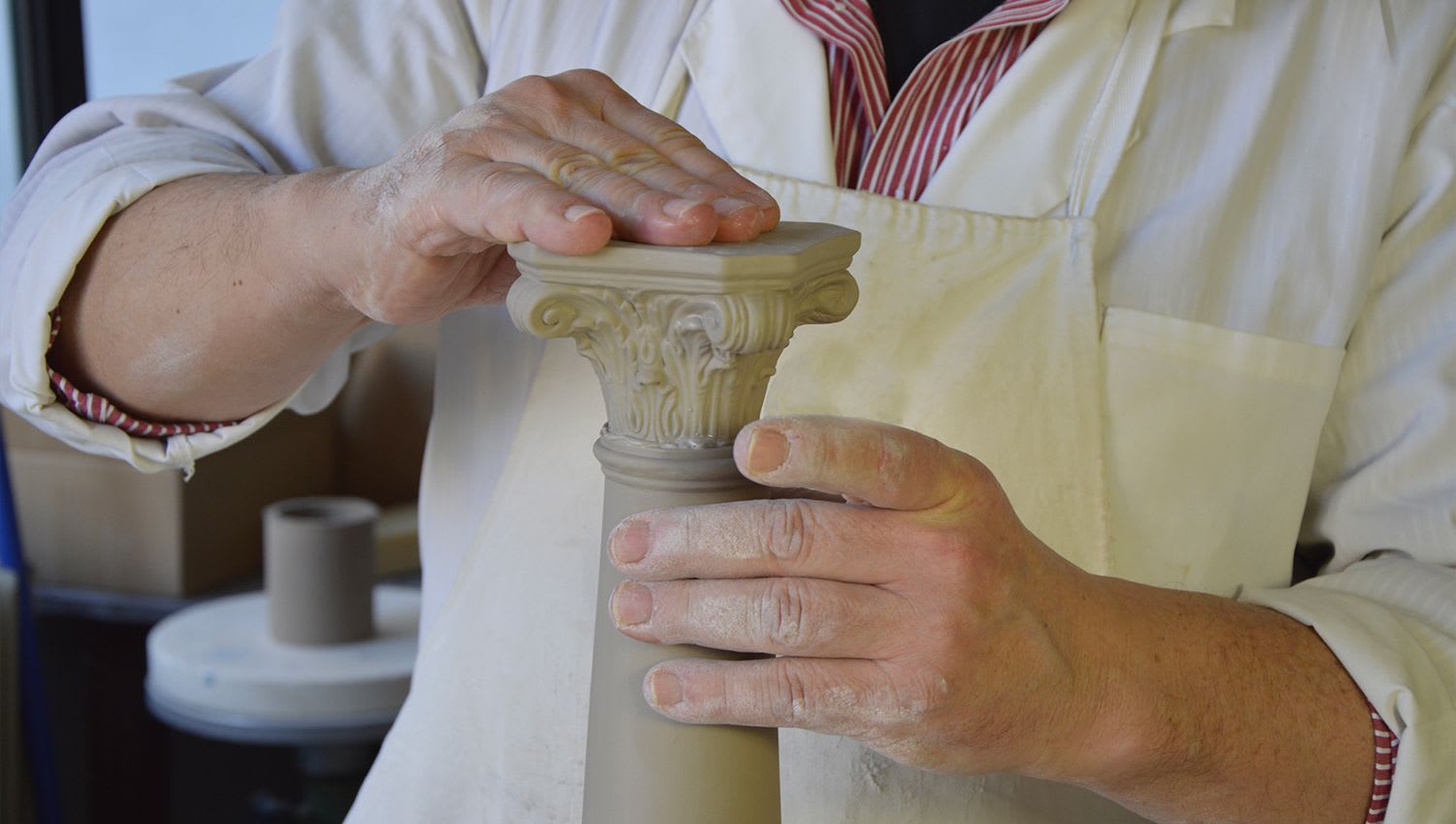 ​Les First emerged from the creative need to combine hi-tech and century-old artisanal mastery, consequently becoming "the vanguard of a new tradition". How do Les First pieces convey this dialogue between craftsmanship and innovation?
My lamps are designed to connect the tradition of historic artisan workshops with the most advanced technology, thus paving the way for high Italian craftsmanship in our radically changing world. The Les First project came about from the idea of revitalizing historic Venetian and Italian handmade ceramic production by way of integrating innovative lighting technology.
Moreover, technological innovation redefines tradition even in the newly created areas of the digital revolution - from the study-design phase to the production and control processes. My "new tradition" seeks to merge the singularity of the entire Italian historical manual production with digital processes, LED lights, and innovative software, following new rules for the production of contemporary artistic craftsmanship.
​In line with the idea of having a "sartorial" approach to a space, your journey across architecture and design took shape in a spontaneous and natural way. How did your experience in designing interiors influence the creative vision for Les First pieces?
There is a virtually seamless continuity between my decidedly modern architectural training, my field experiences - from sophisticated residential interiors to museum installations - and my design of furniture and accessories. The transition was smooth, responding to the needs of clients who requested that I complete and illuminate my spaces in a harmonious and exclusive way.
The constant relationship with the myriad of artisan realities scattered between Lombardy and Veneto was fundamental from a conceptual and professional point of view. I began by designing decorative lamps for lighting companies and I eventually discovered the world of classic Venetian ceramic objects.
Les First was established in 2015, precisely during this research journey, and is characterized by the contrast and complementarity between minimalist spaces and post-modern, theatrical, maximalist lamp-sculptures.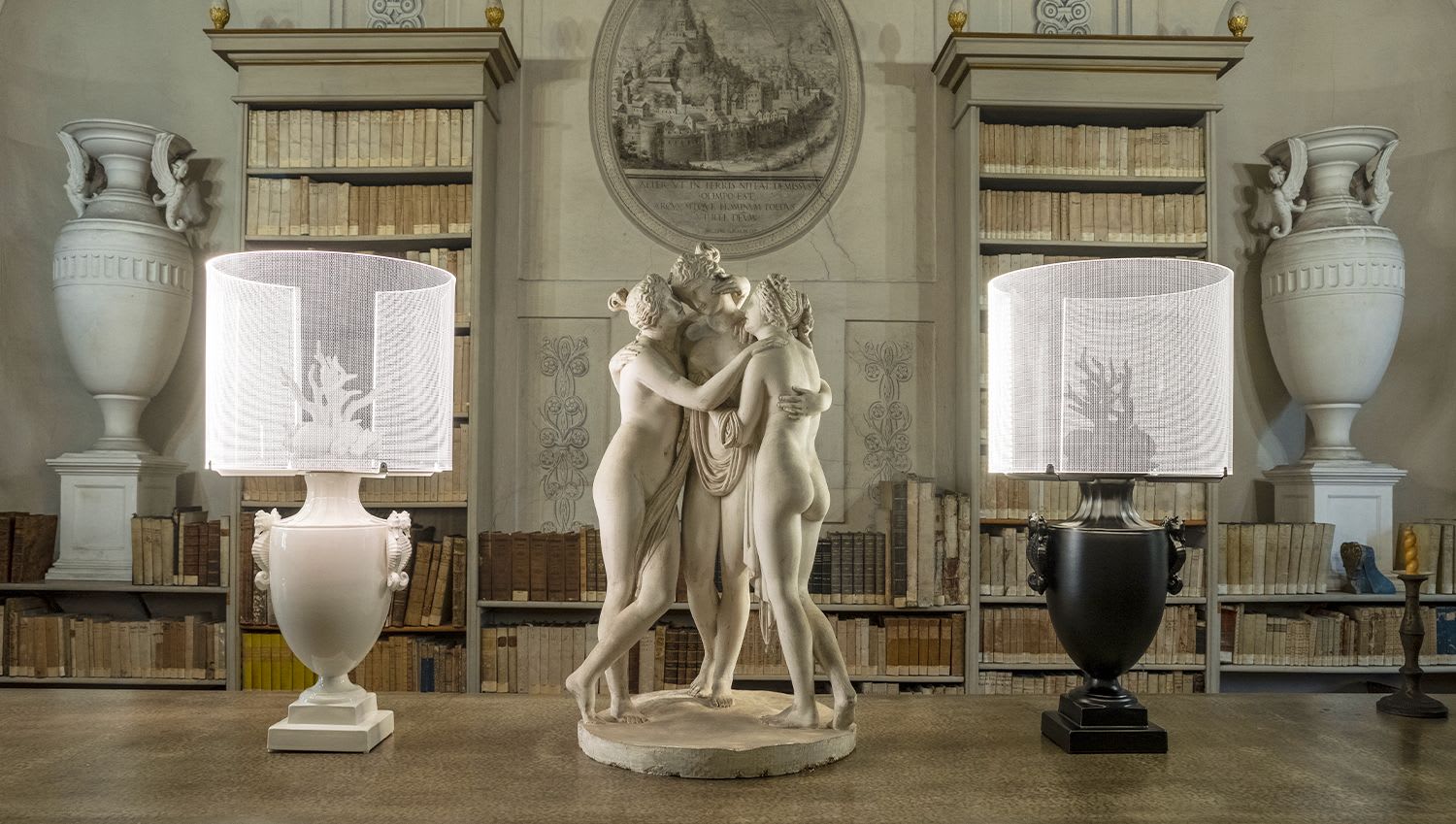 ​Les First style represents a strong and decisive response to the needs of contemporary design, proposing a bold and anti-minimalist vision. How would you describe the design and style of your pieces?
The collection of lamp-sculptures "Luce degli dei" (Light of the Gods) is a project that embodies the Made in Italy aesthetic, freely reinterpreting our art history and reimagining the themes of classical Western mythology in an emotional and contemporary key. My design reveals an unequivocal reference to a precise history and territory. I mostly hark back to Mantua, my hometown, and at the genius of Giulio Romano, who reinterpreted classic myths - such as Cupid and Psyche and the Giants captured in the rooms of the Palazzo Te designed for Federico II Gonzaga, Duke of Mantua - with all the expressive energy of the Renaissance.
My lamps seek to evoke the same vital, colorful exuberance, the same physicality - unsurprisingly, they are touch-activated - and the same penchant for theatrical illusion. It is indeed this essential way of combining ceramic tradition with applied high technology that makes Les First light sculptures an exercise of extreme minimalist ready-mades.
Made in Italy and sustainability: two important issues that, in some ways, can be interrelated. In your opinion, how can Italian craftsmanship represent a starting point for a more proper and sustainable design?
I believe that the core issue of sustainability is addressed very ambiguously by the media; there is a call to turn our current lifestyle and mass consumption on its head, whereas, in reality, nowadays "throwaway culture" is pervasive.
In my opinion, ethical and sustainable design is what creates high-quality products destined to last, with positive effects for all workers who embrace the values of the territory. True Italian craftsmanship - with its slow rhythms, short supply chains, and focus on conserving resources - has always represented a proper model of sustainability. The evolution of new generations of artisans, open to innovative production processes with low environmental impact, completes the picture of sustainable design.
The Corallo Collection of lamps evokes strong elements of a quintessentially elegant and Mediterranean style. What was your inspiration in creating these pieces?
Coralli is inspired by the Wunderkammer, the "chambers of wonders" of the Renaissance courts, such as the Gonzaga in Mantua, places where legends intertwined with scientific curiosity. I immediately felt that the coral branches preserved there were perfect for Les First: vivid colors, elegant shapes, the enduring ancient myth of Medusa, and, above all, the spirit of wonder that pushes humanity to explore the world, to experience it and convey it through the timeless lens of beauty.​