Composition and Tailoring with Vanessa Rome
Discover Vanessa Rome, interior designer based in New York, and explore her residential projects that reflect her vision of airy, bright and timeless spaces. With incredible attention to composition and a tailored approach to the needs of her clients and style, Vanessa Rome creates a sense of relaxed unassuming luxury in every room.
Vanessa Rome is the lead designer and founder of ​Vanessa Rome Interiors, an award-winning studio based in New York City.
Her growing design teams works closely with each client, creating stunning visuals and interesting spaces tailored to the needs of every projects. Combining functionality and a sense of relaxed, unassuming luxury, Vanessa works on the composition of the spaces to reflect her vision of timeless, clean, and tailored results. Layered with textured fabrics, refined materials, calming palettes, and custom furniture sourced from all over the world, Vanessa offers her clients homes that are more than just living spaces.
Explore her residential project in Water Mill, New York, a fresh yet sumptuous home that plays with relaxing shades of white and gold accents, and read our interview with Vanessa to discover how she first started her career in the design world, her favorite décor pieces and where she draws her inspiration from.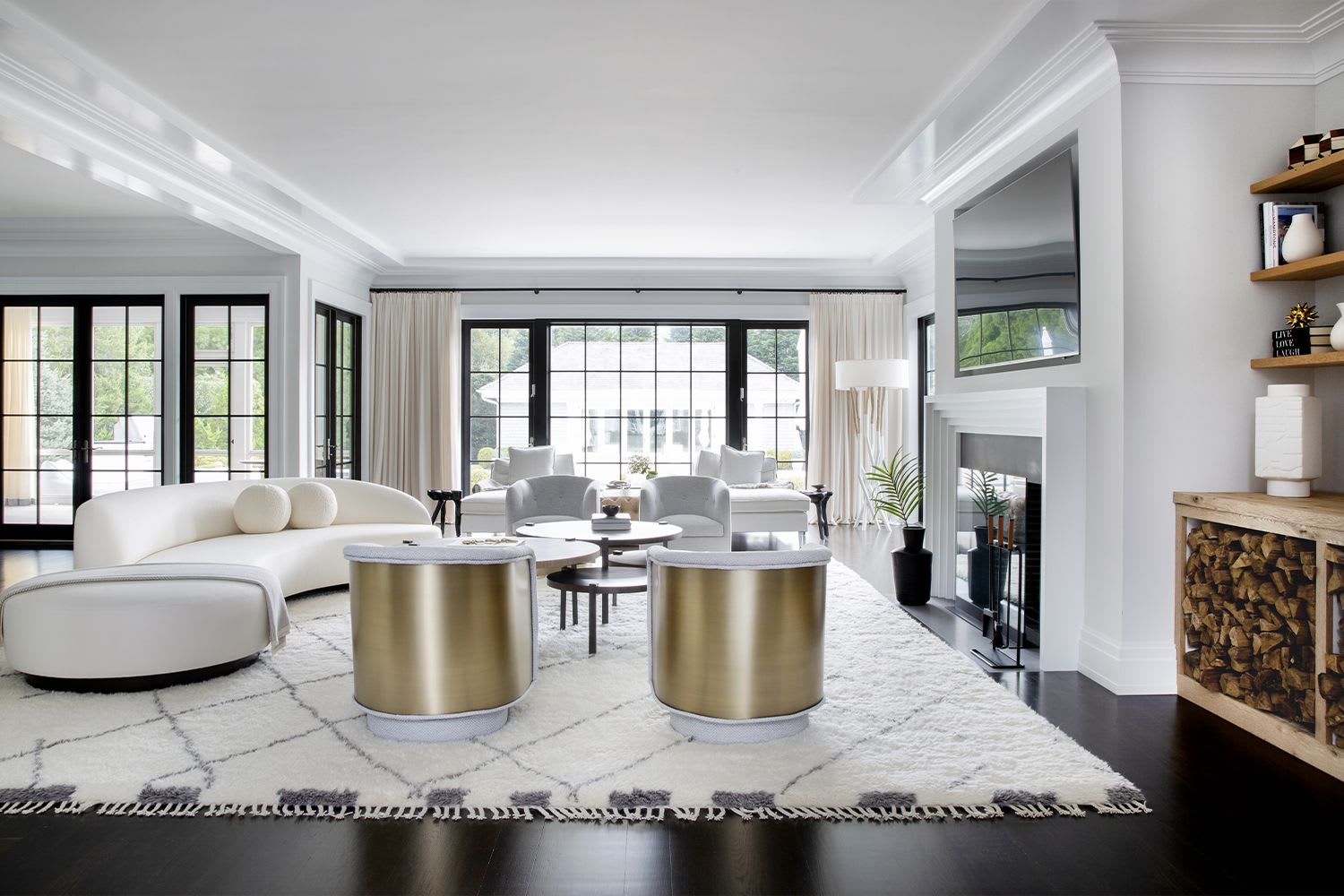 How did you become involved in the world of interior design?
I became intrigued with design when I was working in the film industry in LA . I was living in my first home since university and I became obsessed with scouring the flea markets and local shops for unexpected furniture and unique finds. While working on movie sets, I became fascinated by how the set designers set the scene. Undoubtedly, that's when I started to fall in love with creating a mood and shifting the energy of a space with design. It wasn't until I built our house in Sag Harbor from the ground up that I fully understood that my instinct and passion for designing spaces was my next career.
How would you describe your personal style and what's the personal signature that makes your projects unique?
My personal style is actually very much like my design aesthetic. Timeless, clean, tailored. I have a carefully selected wardrobe of well-made neutrals. I love to integrate color in subtle yet impactful ways. I cherish harmony and joy in my personal life and lean toward creating composed and calming environments At the end of a long day, I want to come home and relax in an uncluttered, personalized and considered home.
​Are there any specific trends that you're currently blending in your practice?
I strive to create spaces that are bespoke to the clients who live in them- there's no place for trends in a design that is timeless.
What is the decorative piece you enjoy the most selecting or styling for your projects and why?
Lighting, Lighting, Lighting. I adore finding unique lighting solutions and fixtures. I often customize lighting for the spaces I design. The way a room is lit sets the mood and functionality for each room in the house. Knowing where to spend is one of my strengths and I always tell my clients "you can never get away with cheap lighting or cheap shoes!"
In a hyper-digital world, do you often turn to social media and online moodboards for inspiration? If yes, which is the social media platform you use and why?
Instagram has become an incredible resource for finding and sharing design inspiration and unique, hand-crafted products. It's a useful tool that allows me to find rare products from around the world and connects me directly with the maker which is how I like to work.
​What is your favorite project you have worked on and why?
Tough one! I have so many favorites as I love the collaborative process of creating them all. My first major project was a ground up build in Southampton which was an invaluable experience. I am eternally grateful to them for believing in me just as I was starting out in my career and they have since hired me to design their newest residence in Palm Beach. I am also excited about working with a new design-centric client on a modern and gorgeous residence in Greenwich, CT. I see designing a home as a foundation for building the life one wants to live so I am always honored to be chosen as a partner in bringing my clients closer to that vision.
What would be your dream project to work on?
My dream project would be a residential project in Paris. I love Parisian architecture, the high ceilings and ornate mouldings against clean, modern furnishings. Plus, I speak French, which I know guarantees it will happen one of these days!