Grand Tour Inspiration by Vito Nesta
Read our interview with Vito Nesta, Apulian designer based in Milan, who introduces his new brand Grand Tour on Artemest. The collection proposes exquisite objects inspired by exotic worlds and remote journeys, reinterpreting traditional art with contemporary aesthetics.
Designer, art director, interior decorator and artisan, Vito Nesta is a visionary artist who was born in Apulia. The many collaborations undertook with renowned brands and craftsmen, such as Les Ottomans and Texturae, allowed Nesta to experiment with different materials and production techniques, developing stunning collections and works of art inspired to his extensive travels around the world.
Tell us how your project "Vito Nesta Grand Tour" started.
"Vito Nesta Grand Tour" tells stories of far away worlds and describes my own personal visions through objects and accessories that have decoration as their main theme.
In the past edition of Maison Objet I have introduced the plates of the Las Palmas collection, in which I have described the world of Brazilian colonies through the exotic allure of palm trees; and Natsumi, where the poetic world of Japan was told through the combination of red and white, with small blue details. In Anatomica, I decorated porcelain hands; while in Wagasa, I created patterns of fans blending into one another.
The idea is to make objects that are not simply functional, but that inspire people to travel. These are not only decorative pieces: they evoke an emotion and tell stories.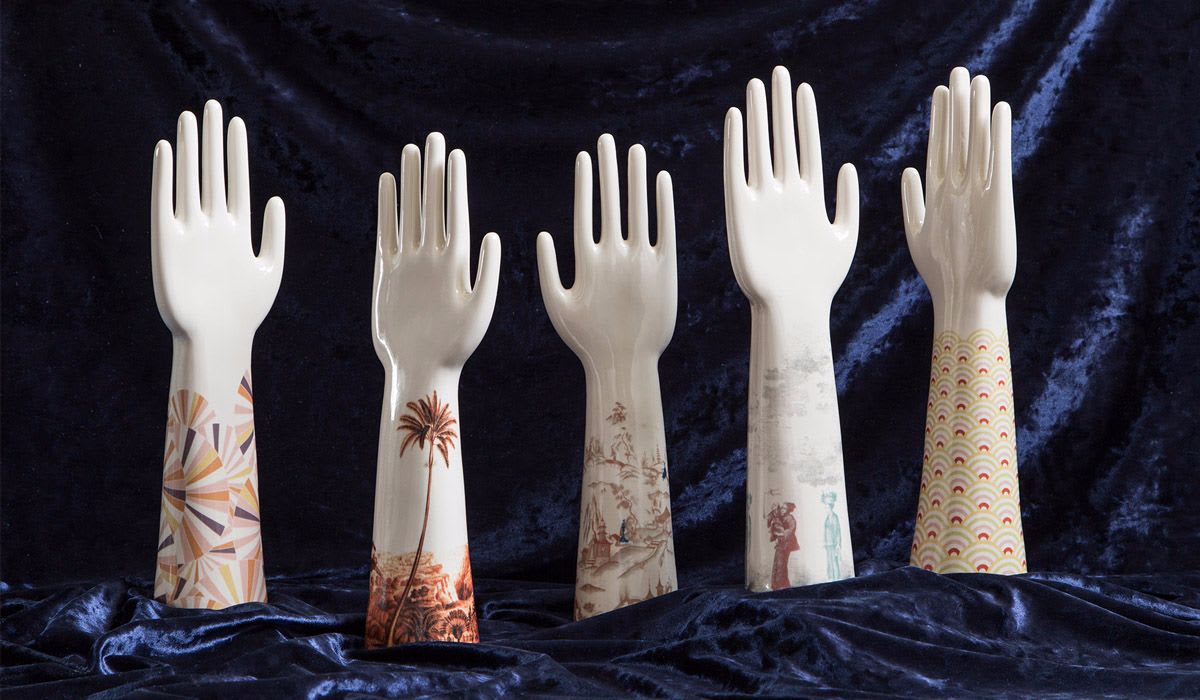 You have collaborated with many brands and craftsmen, experimenting with different materials. Which crafting process are you most passionate about?
So far I have worked with wood, ceramic, porcelain, fabric, glass, metal, and more. I can't choose the crafting process that I am most passionate about, because with each of them I have experienced a discovery that changed me professionally. Each material gave me knowledge that I didn't have before and that now I can use as I please.
What excited me the most was closely collaborating with craftsmen such as the master glassmakers of Effetto Vetro, because they taught me so much – especially on a personal level.
What is the main inspiration for your creations?
Traveling is still my greatest source of inspiration – wether going to the other side of the planet or simply crossing into another neighborhood in my city. When I visit places that I have never seen before, I look around and absorb images, scents, anything that attracts my attention.
It might seem like what I see is not useful or I'm not soaking it in, and yet, when I start creating for a new project, these images magically come to the surface, with the same intensity as when I first saw them.
In what way your surroundings influence your work?
I'm originally from Apulia, but I consider myself a citizen of the world. Apulia undoubtedly gave me the passion for traditions and a love for beauty – but I have learned everything else during my travels.
Is there a project or a collaboration you are particularly attached to?
I'm particularly attached to the collaboration with ​Les Ottomans, a brand for which I have designed several products and with which I have started a partnership.
This brand has Turkish origins and the first project was almost a gamble. I designed a set of plates that later became the collection Costantinopoli that interprets the Ottoman world. I have created these pieces before going there. This way, I realized what the writers and artists of the 19th century did when making "turqueries", interpreting Constantinople, the golden city, even if they had never visited it.
Commercially and from a marketing point of view, it was a great a success. This collaboration was very fruitful, both on a professional and on a human level: with Bertrando Di Renzo, the founder of the brand, we are in fact very good friends.